PlayStation offers a free theme for PS4 in commemoration of the tenth anniversary of PlayStation Plus. This is the image and the chosen icons.
PlayStation Plus is celebrating. The tenth anniversary of the subscription brings with it a small detail. From this moment you can get a static theme for the interface of your PS4. A gesture with which the trip with the players in this last decade is appreciated.
The theme, which you can download at no additional cost, can be found at this link. Its weight is only 7.01 MB. As you will see in the image below, the chosen theme blends its characteristic yellow color with several of the iconic characters on the console. We can recognize games like Destiny, Nioh, Dark Souls, For Honor, Ratchet & Clank, Bloodborne and Just Cause 4, among others.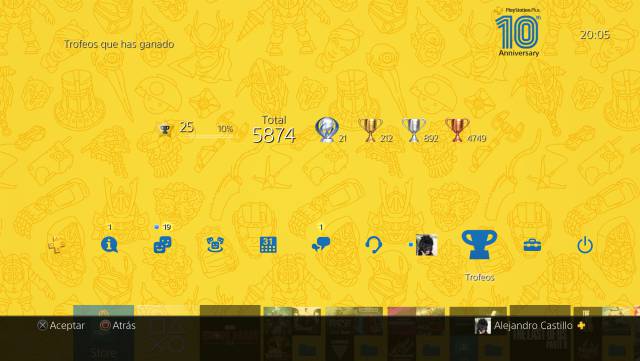 The menu symbols, on the other hand, remain unchanged, just a deep bluish hue, alongside the anniversary logo at the top right. By switching to the bottom part of the theme, the one related to games, there is no transition of images, nor any background sound.
Free PS Plus games for PS4 in July
Before closing the month of June, we learned what the titles selected for July would be. As part of the anniversary, the company will offer four games tied to your membership. You can get free with NBA 2K20, Rise of the Tomb Raider: 20th Anniversary, Nubla 2 and Erica. On the first weekend of the month they will enable a free online multiplayer period. If you are not part of PS Plus, you can test its functionalities online on July 4 and 5.
Rise of the Tomb Raider is the second installment in the Lara Croft reboot trilogy. Specifically, the edition available on PS4 corresponds to the most complete, since it includes all the downloadable content it received, including the return to the mythical mansion of the series. On the other hand, NBA 2K20 allows us to enjoy the world of basketball now that the break will last a few more weeks.