We take note of the full schedule of options to access the beta of Ubisoft's new free to play free game for PS4, Xbox One and PC.
Ubisoft Montreal this week revealed its ambitious new multiplayer free-to-play game with battle royale modes for this year on PS4, Xbox One and PC, Hyper Scape. Although the game does not yet have an exact release date – only the commitment to see the light on these platforms in 2020 -, from this July 2 a beta called Technical Test is already available in which we explain here how to sign up. Now what are your dates and times? Let's review the opening and closing of servers.
Dates and times – Hyper Scape Technical Test
Take note so that you do not miss the opportunity to try Hyper Scape if you get access for registration: the servers open on July 2 and will close on July 8 at 08:59 (CEST); that is, when we wake up next Wednesday.
We have several options to register on PC to the beta of the game. The first is to link our Twitch and uPlay account. The second, go to the Hyper Space streams on Twitch, where well-known streamers will broadcast their games live. Finally, download the uPlay launcher to start playing.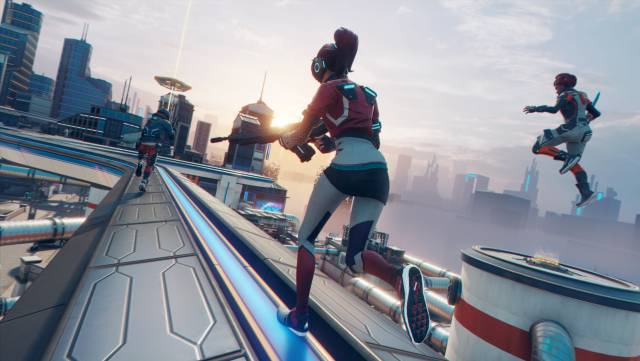 These are the PC specifications of the game during the technical test; they don't have to be the same in the final version of the game:
Minimum Specifications: (Low settings, 1080p @ 60fps)
Intel Core i3 3220 or AMD FX-4130 with 6 GB RAM
Nvidia GTX 660 or AMD Radeon HD 7870 with 2GB dedicated VRAM
Recommended Specifications: (High settings, 1080p @ 60fps)
Intel Core i7 4790 or AMD Ryzen 5 1500X with 8 GB RAM
Nvidia GTX 970 or AMD Radeon RX 480 with 4GB dedicated VRAM
Optimal Specifications: (Ultra High settings, up to 4K @ 60fps)
Intel Core i9 7900 X, AMD Ryzen 5 PRO 3600 with 16 GB RAM
Nvidia 2080Ti or AMD Radeon RX 5700 XT with 11GB dedicated VRAM
From FreeGameTips we have already been able to play Hyper Scape. According to Alejandro Castillo, our specialized editor, "Hyper Scape is not just any battle royale. Bet on something different in an overcrowded field of proposals cut by the same pattern. It is really different. " If all goes well, we can start playing the final version of the title on PS4, Xbox One, and PC before the end of 2020.