We tested the final version of the new Hyrule Warriors, which aims to look back on one of the key moments that precede Breath of the Wild.
A musou will always be a musou, said Adrián Suárez, a fellow press officer not long ago. And he is right in something as simple as that the genre that we have resembled for years to titles like Dynasty Warriors has very clear bases that are not for everyone. But this is as true as there have been musous in recent times who have known how to adapt to all kinds of situations and licenses. Hyrule Warriors himself inherited proposals from The Legend of Zelda and, based on characters and enemies from different installments, interested not only fans of the genre. Or the Dragon Quest, surely the best examples of how to play here and there to offer something that is still a musou, but also something more.
Hyrule Warriors: Age of Cataclysm is not The Legend of Zelda: Age of Cataclysm. And this, which seems obvious, is also a warning to sailors. There is no doubt about the appeal of the game that Nintendo and Omega Force are up to: showing the events of a hundred years ago regarding Breath of the Wild is a huge door to knowing what the memories of the 2017 title told us about , than was once in Hyrule, but never lived. The appeal is there, though not with the officialdom or canon that some may expect. Because this is Hyrule Warriors, not The Legend of Zelda.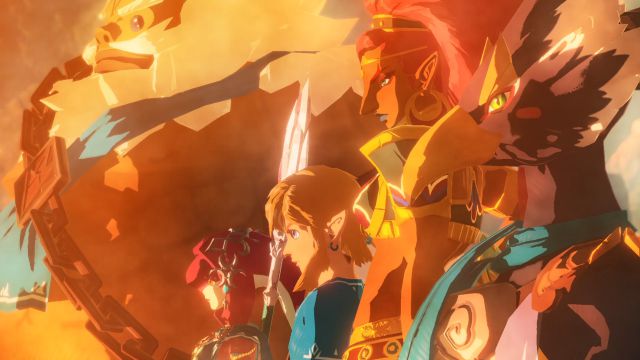 We are not going to spoil the story because of the limitations we have to talk about it, but we will focus on what has already been seen in chapter 1, available via free demo: the little guardian. The game chronicles the events just before Ganon wipes out Hyrule. The little guardian, a contraption hidden in Zelda's room, generates a time portal and ends up moving a while back. On the one hand, this allows us to rewind and see from the beginnings of Link standing out as a Knight of the Guard to our role recruiting those who will be the Chosen to accompany Zelda in this battle. On the other hand, yes, in a different timeline, a concept that we have already seen in Ocarina of Time, without going any further, so it is not exactly the 1: 1 facts of Breath of the Wild but the moment and the place where they occurred. For the Reviews we will delve into whether this works or not, but for now, being able to see certain relationships and key moments is appreciated for any fan of the saga.
The new installment of Hyrule Warriors is very respectful of aesthetics and the place in which it is located. We see this in the chosen graphic and artistic style, which follows step by step everything we saw in Breath of the Wild, unlike the first Hyrule Warriors that featured its own character designs and locations. Not here: we fought around the Zora kingdom, climbed Death Mountain, and flew over the Orni air currents. The enemies are also recreated in the same way: the bokoblin, invocantis, moblins, octorok, the Yiga clan or the guardians are present. And many others to unveil. Breathe the Breath of the Wild universe on all four sides. Also in characters.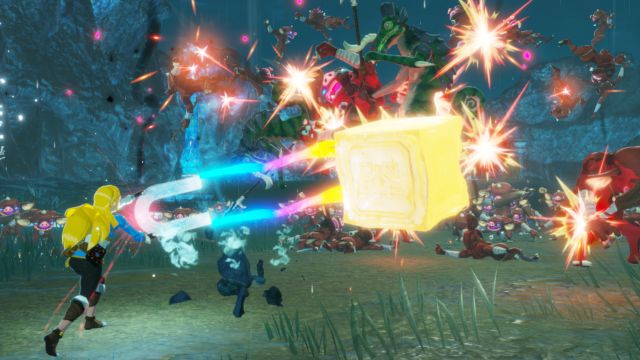 Massive battles with the essence of Breath of the Wild
Because going into the matter, a musou is an action game with hundreds of enemies to eliminate with various controllable characters. Of which we can talk, the main ones: Link, Zelda, Daruk, Revali, Urbosa, Mipha and Impa. All of them with their own skills and outstanding actions, and with elements taken from the Nintendo game. On the one hand Link has a moveset reminiscent of the one we saw in Breath of the Wild, especially because it adopts the movements of the different weapons with which it goes. The double knob, the halberd, the sword with shield … each one has actions inspired by the game of 2017, in the same way that Daruk hits hard with his huge weapon, he can roll and take away enemies and make columns of magma appear for them to explode. They all have exclusive actions: Link shoots arrows, Revali can fly, and Mipha creates torrents of water to spawn, while Urbosa electrifies his weapon.
The characters have weak attacks, strong attacks, a button to dodge (there is no jump, it is linked to specific actions we do) and blocking, as well as a special attack with A when we fill a bar. We can fix important enemies, like sub bosses or bosses, and one of the key mechanics of Breath of the Wild is here: the perfect dodge that allows us to slow down time and crush enemies. To all this, we have the abilities of the sheika stone: the bombs, which each one throws them differently, the iceberg to create a block of ice, the magnet to attract magnetic objects and the paralyzer to block enemy movements, in addition to scepters of fire, electricity and ice.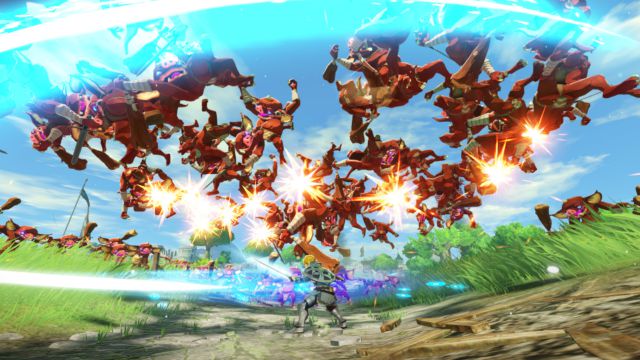 It's funny how despite being a musou, because it continues to be, the introduction of these mechanics are used to execute at key moments against certain enemies and to interact with our environment. Something that, together with the different styles of combat, makes us really feel that fighting with Link is not the same as with Zelda, although the objective is the same: eliminate dozens of enemies at the same time. It will be necessary to see how it evolves after the first two chapters, but for now at the playable level it offers enough variety.
During the games we have to go to different missions: kill sub-bosses, go to help settlements that are suffering from enemy attacks, unlock certain paths that are not seen with the naked eye and others. We can order teammates to go to certain areas – although they are slow and don't always arrive as quickly as we would like – and change characters at any time with a single button. At the moment, in these first two chapters, we have not found great tasks to perform beyond what is required in these games: to end everything and with the objectives set. One of the most curious phases, which has already been officially seen, is to control the Divine Beasts as we advance destroying the enemies by thousands, using totally devastating and spectacular attacks, although playable they are quite simple at least the ones tested so far .
Beyond the fighting
All while we collect a varied loot of materials, weapons and food. The integration of these mechanics with respect to Breath of the Wild is as follows: food allows us to recover life, but we can also create various dishes that empower us before starting a game if we have the recipe. As for weapons, we can buy them in different posts that we unlock, and merge them with each other to get more powerful weapons and with assigned passive elements of various kinds.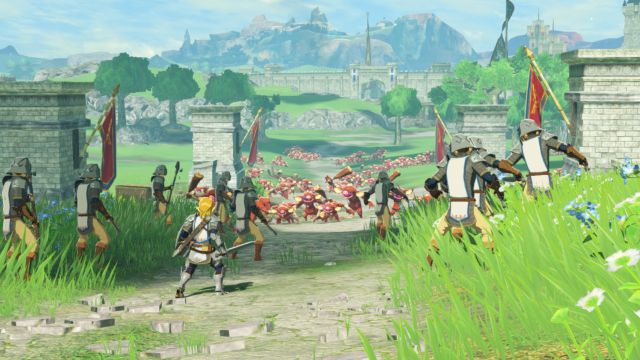 In addition to the main missions of each chapter, by overcoming them we unlock other tasks such as extra battles to level up, areas in which if we invest part of our loot they give us rewards and varied facilities: a training place, shops of different materials, shops weapons, a space to level up characters that we do not use often, etc. A way to manage and develop Hyrule for our benefit while we get new weapons, improve them and we also level up: we will be able to win hearts, new combos and more as we invest in all this present in the menu.
Although on an artistic level it looks especially good and the video scenes are more than attractive, the title presents obvious problems to maintain the 30 frames per second both in dock and in portable mode. It is not something that makes it unplayable, but it does show that the game suffers when we have many enemies and effects on the screen. It was already seen in the demo and it remains here waiting to know if there will be a performance patch or something similar soon. It's not a Deadly Premonition case, be clear, but it lacks optimization.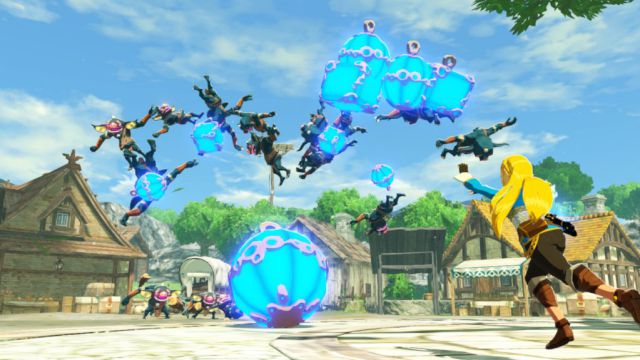 Hyrule Warriors: Age of Cataclysm is a musou, yes. But it is a musou set in The Legend of Zelda, and that at an artistic level, characters, abilities and certain mechanics that are adopted from Breath of the Wild make it a very attractive game for the fan and, of course, for lovers of the gender. Its start (first two chapters) promises in battles, in management options and invites us to know a war that we never knew first-hand. It remains to be seen how far all their attractive proposals go, but that will be in the final Reviews.