The Nintendo game reaches the equator of its fourth season and does so by premiering the other nine challenges, where a couple of them stand out.
Mario Kart Tour starts today, November 13, Week 2 of the Paris Season. After a first cycle starring Peach in its Holiday version, Nintendo has inaugurated the new pipeline led by Shy Guy Pastelero, which bursts in accompanied by an exclusive kart and hang glider. We review the new challenges.
As we see, the banner that starts this Wednesday will end next Wednesday, November 20 at 06: 59h, just when the fifth season will begin. Meanwhile, the Pipeline includes the Megasingular kart called Turbobulbo, necessary for one of the circuits of the qualifying Cup this week, the Yoshi Cup, if we want to aim for the highest score. We continue with the Tricolor Superala, the Megasingular delta wing of this pipe, both compatible with Shy Guy Pastelero.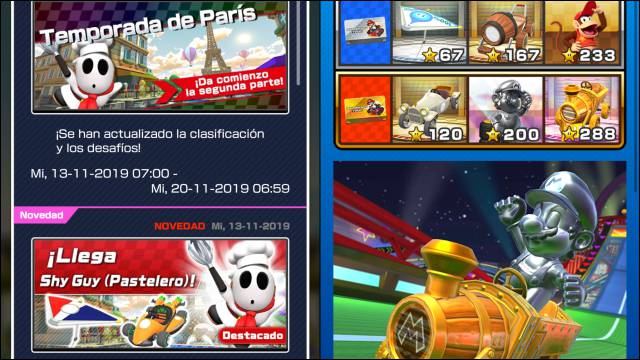 Mario Kart Tour – Paris Season
With regard to the challenges, as we see, one of the challenges based on breaking 5 vessels, whose achievement is in the Shy Guy Bazar circuit, stands out. Others like eliminating 5 crabs we will have to complete it in Koopa Beach. The challenges that may be more difficult can be addressed individually during the next few days.
Paris Season Challenges (Week 2)
Hit 5 times with bananas
Get a total of 100 coins
Remove 5 traffic cones
Remove 5 crabs
Hit 3 times with the Bowser shell
Remove 5 Piranha Plants
Break 5 vessels
Get first place without suffering any overturn
Get 7000 points or more using a crown pilot
We remind you that there are exclusive challenges of the Golden Pass, a season pass that we can try for free for 15 days in a very simple way; If we want to continue using it later we have to pay 5.49 euros per month. In addition, we explain below how to get rubies easily and for free to get us with additional runs and get unique items.