We play the demo of Monster Hunter Rise, the new game in the saga for Nintendo Switch, and we tell you our first detailed impressions.
After the great success with Monster Hunter World and its great expansion, Iceborne, Capcom proposes us to join a new hunt. If we have a Nintendo Switch console, starting next March 26 we can enter Monster Hunter Rise, which has a free demo that we have already been able to play. Below we explain what it consists of and what we found after spending several hours and making the most of it. Capcom leaves us with honey on our lips and allows us to discover a small fragment of what will be a promising delivery loaded with various novelties, but will also mean a few steps back in its technical and graphic sections.
Kamura village, land of ninjas and hunters
The Rise demo is quite schematic and for this reason we will not find the beginning of the adventure in it, but four missions: two of them tutorials and two hunting (one easy and the other intermediate). We can repeat each of these tasks up to 30 times in order to test different types of weapons, strategies to defeat the main enemies and explore the available map, which is medium in size but full of corners to discover and where to test the new playable features that Rise gives us.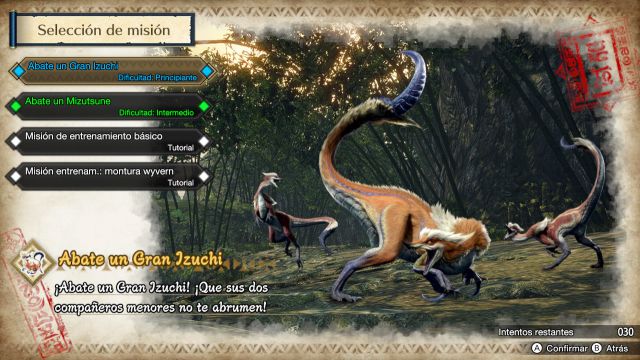 As for the story itself, we have not yet been able to know much about it, since as we indicated earlier, this demo only offers us a training to start getting the mechanics of the game and therefore does not contain lore, important characters beyond our mentor, Master Utsushi, or key locations. Even so, thanks to the information Capcom has been releasing as a dropper over the past weeks, we know that the main adventure will take place around Kamura Village, a land inspired by the ninjas in which hunters will learn the secret and infallible techniques of this class of elusive, agile and versatile warriors.
The story takes place one hundred years after the terrible devastation caused by the so-called "Last Calamity". With it, new types of monsters came to roam the lands once inhabited by humans and peaceful beings. The role of the hunters is to reduce this threat as much as possible, in order to regain peace in the different ecosystems that surround the Kamura Village and thus be able to live in harmony and without the constant fear that a variant of the powerful Rathalos will decide. burn down their homes.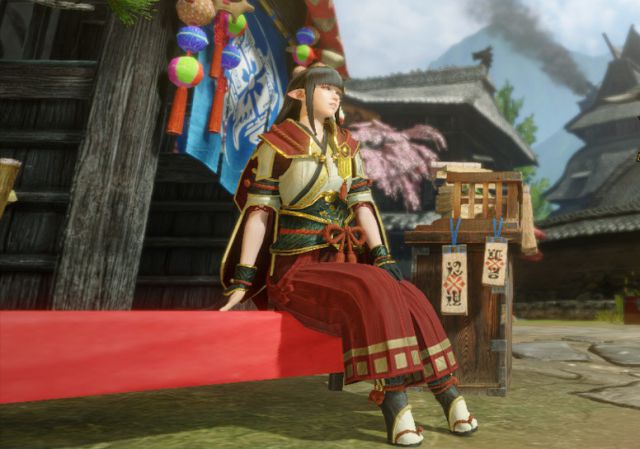 New holds and other playable news
Every self-respecting hunter will know that before a great hunt we must prepare thoroughly to be able to face the challenges that await us and overcome them without posing an insurmountable barrier. The first thing on a long list of provisioning and equipping tasks is choosing the type of weapon to wield. If you have played before a title in the Monster Hunter saga, you will know that each of the fourteen types of weapons is unique and special, with skills and types of attacks that are complicated to a greater or lesser extent, which we have to master based on practice and add dozens of completed missions to our history.
In Rise we will not find new types of weapons, but we will find more original variants of those we already know. Examples of this are the Great Sword or the Ax, which we have already handled in previous installments but which this time we can enjoy with slight improvements and a greater degree of versatility. Due to being a somewhat restricted demo and with a previous private pass for the press, we have not been able to play together with other fellow hunters, something that makes the experience richer because each of us can carry a weapon and thus distribute roles and hunting tasks efficiently.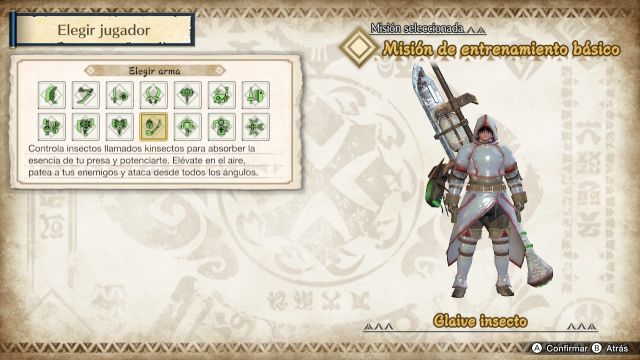 Once on the stage where the mission itself takes place, we can stock up on rations, bombs, potions and everything we need to deal with the monsters that roam the different areas of a map totally enveloped by nature. All those items that we are familiar with from previous installments that we are familiar with from previous installments await us in that classic trunk from the initial camp, but there are also several new features. To begin with, something that we learned in the first basic training tutorial and that we can put into practice in the mission to take down a Great Izuchi is the use of the chordoptera.
It is a kind of flying critter that we have under our belt (two base charges with cooling that can be expanded by collecting more units on the map) and that we can launch with an attached rope to move quickly through the scenarios. Monster Hunter Rise therefore gains a lot of verticality in its scenarios, since thanks to these chordoptera we can climb mountains and overcome obstacles with greater agility and without the need for ferns or other natural resources. But that's not the only use of chordoptera, far from it. In fact, while staying within the scope of movement, this new tool allows us to perform quick maneuvers with the action of the so-called "cordoesprint", very useful to escape in time from the clutches of a certain monster. If it still hits us, the "cordocaída" will allow us to rejoin easily.
In the field of combat, the "cordoamarre" opens up a series of new strategies, since thanks to it we can lay a trap on the ground for monsters or mount some of them. Yes, as you read, in Rise we can weaken the creatures and climb on their backs to use them as temporary mounts or to attack other opponents. Even if the objective of the mission is a Great Izuchi, for example, we can mount it to launch it against a stone structure and thus cause a large amount of damage. For all these reasons, the chordopter is a success that fits like a glove to a new delivery of these characteristics.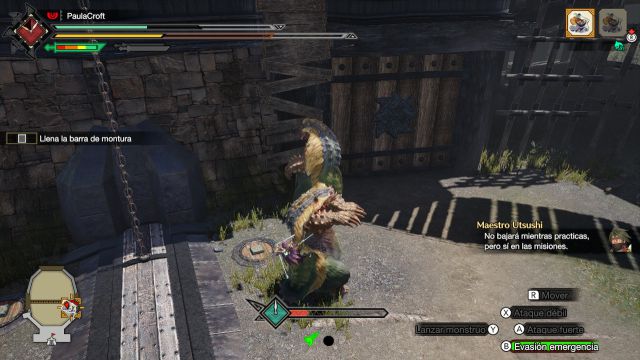 In addition, even if we play alone we will never be alone, since a comrade Felyne will come with us to help us in the battle and a Canyne that we can ride whenever we want in order to move with greater ease and speed. We have not yet been able to discover much about these companions, so we do not know the customization options and improvements that they will have beyond the simple passive help that we have seen in the demo played.
Beyond the aforementioned, in the demo we could not find other important news, but we did find the classic essence of Monster Hunter that we fans of the saga like so much. It shines even more in the mission of intermediate difficulty in which we must take down a Mizutsune. It is a majestic and dangerous creature in the same way, which fills the stage with bubbles that cause adverse effects and it will be necessary to dodge. Since in the demo we cannot improve our equipment and armor with the parts of another animal and return to try (as we would in the base game), what we have to do is try and error with various weapons and tactics until we achieve the desired result success that we look for when starting each hunt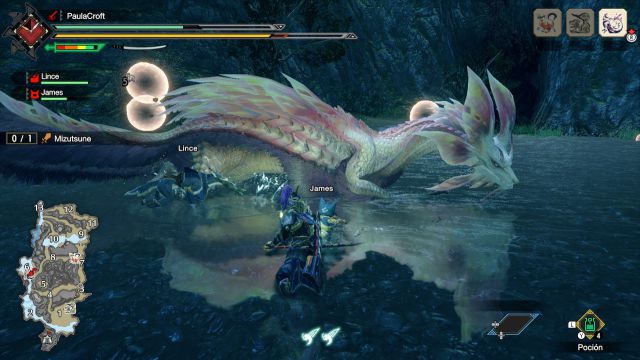 A jump back in its technical and graphic sections
We come from Monster Hunter World, a graphic marvel that surprised us both on PC and on previous generation desktop consoles. Many players asked Capcom to adapt it to Nintendo Switch, but from the Japanese company they answered with a firm negative: "We treat each title as unique in its concept, and you cannot ignore the hardware in which you are going to launch it when you design the game. . If you have something like Nintendo Switch, which is more about grab and play, you can play anywhere; you don't necessarily want to have the same playable experience as if you assume that you're playing in front of a big television lying on your couch for four hours, "commented Ryōzō Tsujimoto a few weeks ago.
Even so, after having tested the demo both in portable mode and in a dock connected to the TV, we must affirm that we have been somewhat disappointed in terms of graphics. We don't ask it to look like World, but what we find reminds us too much of the Monster Hunter Freedom titles that landed on Sony's PSP laptop a few years ago. On Switch it is something better, obviously, and in aspects such as the lighting it has improved considerably compared to previous deliveries for laptops, but it still does not measure up to other triple A releases that have reached the Nintendo console since the platform is available.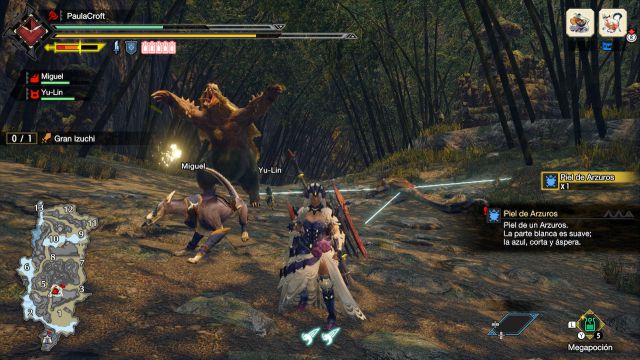 Technically, we have not found problems beyond a slight and specific drop in frames and an uncomfortable camera angle that did not allow us to correctly observe our prey. It should be mentioned that it is a fairly limited demo and that they have probably spent many hours perfecting it, so we cannot extract the results of this test and apply them to the final version of the work. To establish a verdict on this, we will have to wait until the end of this coming March.
Finally, the fragment of the sound section of Rise that we have been able to enjoy has received us with a nostalgic hug with its collection of classic sound effects that we already know, some new melodies that make up an OST that promises to be memorable and the option to choose between Japanese, English or the "invented" language of Monster Hunter for the voices of the characters, which always tend to surprise us with their high level of quality.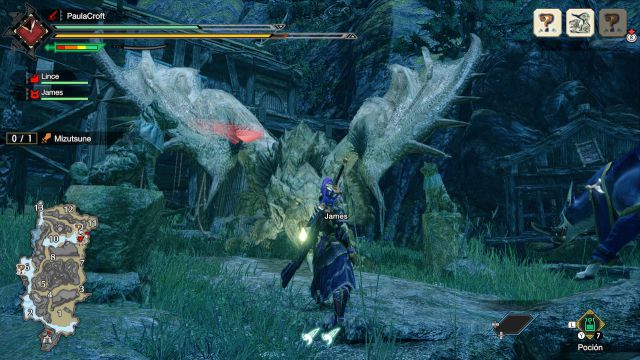 Definitely…
Monster Hunter Rise adds a healthy dose of novelty to the classic formula that fans of the series love so much. It is a work that follows in the wake of the deliveries for portable consoles and therefore it is not as big, ambitious or surprising a project as it was and is World. However, we think Capcom has done a good job of bringing the Monster Hunter universe to Nintendo Switch. While it is true that we would have liked to see a more polished graphic and technical quality, the result that we have directly verified for now in the demo is quite satisfactory.
At the end of March we will get rid of doubts and we will be able to discover the entire adventure of the hunter clan of the Kamura Village, but for now we can enjoy this limited but interesting free trial that will allow us to discover the tip of the iceberg of a project directed by Yasunori Ichinose that we do not doubt that it will be an essential for every fan of the franchise and will be a gateway to it for novice players who want to discover a rich universe full of possibilities.