We begin the seventh month of the year with news on Eggs of all categories. We also review all the Galar and Alola shapes.
Summer is here and Pokémon GO wants us to have one of the busiest activities in history. On the occasion of the fourth anniversary of the game we will have many activities, apart from everything that awaits us this month (here the full breakdown); But now we are going to focus on the Pokémon we can get through hatching 2, 5, 7 and 10 km Eggs updated to July 2020.
We recall that since June 8, the rotation of Eggs in Alola and Galar forms was carried out, so that new Alola forms can be seen in the 7 km Eggs. As always, we highlight with an asterisk (*) those Pokémon that we can find in their shiny or varicolored form.
Before we start, a breaking news story in the Pokémon GO universe: Professor Willow has tipped us off to some strange pieces of paper from Team GO Rocket. Blanche has supplied this material to the Professor, so surely a summer of new confrontations against them awaits us.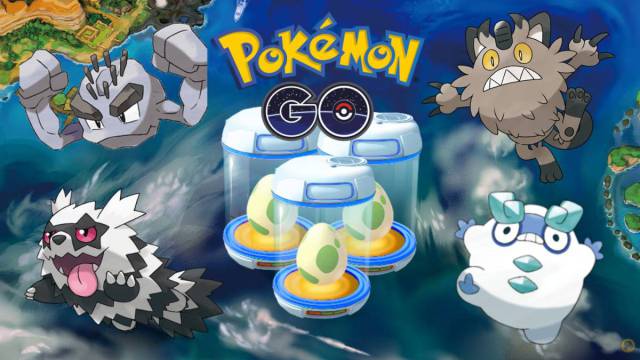 Pokémon GO: all Eggs of 2, 5, 7 and 10 km (July 2020)
2 km eggs in July 2020
Chimchar *
Lillipup *
Luvdisc *
Magikarp *
Oshawott
Patrat *
Piplup *
Purrloin
Snivy
Swablu *
Tepig
Turtwig *
Wailmer *
Woobat
5 km eggs in July 2020
Buizel
Burmy (plant shape) *
Burmy (sand form) *
Burmy (garbage form) *
Cherubi
Clamperl *
Cubone *
Dwebble *
Eevee *
Gligar *
Gothite
Grimer *
Joltik
Karrablast
Ledyba
Minccino *
Pineco *
Ponyta *
Roggenrola
Scyther *
Shelmet
Skarmory *
Skorupi *
Solosis
Spinarak
Trubbish
Tympole
Venipede
Yanma *
7 km eggs in July 2020
Alola Diglett *
Alola Geodude *
Alola Grimer *
Alola's Meowth *
Alola Sandshrew *
Alola vulpix *
Darumaka of Galar
Farfetch'd de Galar
Meowth de Galar
Galar's Stunfisk
Galar Zigzagoon
10 km eggs in July 2020
Absol *
Alomomola
Archen
Audino
Axew
Darumaka
Deino
Feebas *
Ferroseed
Gible *
Golett
Klink *
Litwick
Riolu *
Shinx *
Timburr *
Tirtouga
Regional eggs (Alola and Galar regions)
5 km regional eggs
Carnivine
Chatot
Corsola
Durant
Farfetch'd *
Heatmor
Heracross
Illumise
Kangaskhan *
Lunatone *
Maractus
Mime Jr. *
Pachirisu
Panpour
Pansage
Think
Relicanth
Seviper *
Solrock *
Tauros *
Torkoal
Tropius
Volbeat
Zangoose *
10 km regional eggs