PlayStation offers a 1-month subscription to its video game on demand service for less than 5 euros: an opportunity to test all its benefits.
PS Now, the video game service on demand from PlayStation, is currently promoting, through which we can get a one-month subscription at half price, that is, for 4.99 euros instead of the € 9.99 usual, a perfect opportunity for all those who have not yet enjoyed the benefits of PlayStation Now as a catalog of more than 700 titles for PS4, PS3 and PS2, with the possibility of playing them in streaming or downloading them on your console , play them on PC with your DualShock 4 or enjoy the new video game additions every month, among others.
Access to over 700 on-demand games
Thus, PS Now offers hundreds of games on demand with more than 700 PS4, PS3 and PS2 titles available from the start to be enjoyed from your PlayStation 5, PlayStation 4 or Windows PC along with your DualShock 4. In addition, with With your subscription to PlayStation Now you have instant access to a large selection of video games belonging to all genres, with which each player will find their favorite games through the most varied themes. In addition, new titles are added every month, from the latest exclusive news to the most famous video games in the PS4 catalog.
And is that with PS Now you get access to a large catalog of video games from Sony consoles, both PS4 and PS3 and PS2, with new features every month that are added to a unique selection of games, with titles from the past and the latest PS4 news. Thus, depending on the system to which each game belongs, you can choose between playing via streaming (both on PS4 and on PC using the PS Now app for Windows) or downloading it on the PS4 itself if it is a title from that console, with the possibility of enjoying them in a resolution of up to 4K in the case of PS4 Pro and PS5. Likewise, whether in streaming or downloaded, you can access the online multiplayer modes of those games that offer it.
As we say, the PS Now video game catalog is as wide in number as its offer of genres and themes is varied, with numerous titles that will adjust to the most varied tastes of the players. From the most popcorn action adventures to the most frenetic first-person shooters, through all kinds of RPG's, sports and driving titles, puzzles, family games and even for the smallest of the house, as well as some of the indies that more trends have been set in recent years. Each player will find their ideal selection of games on PS Now, with the addition of monthly updates.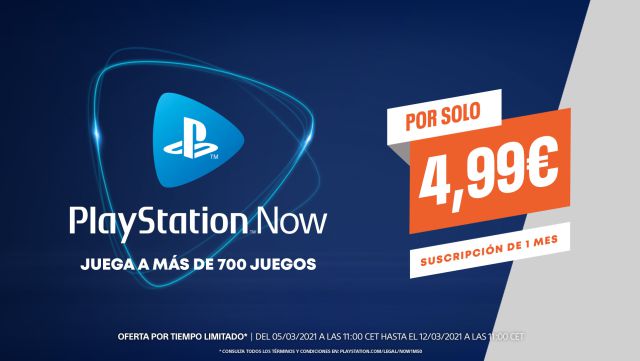 Among the most prominent titles of PS Now we find video games such as Horizon Zero Dawn, F1 2020, Call of Duty Black Ops III, Detroit Become Human, Darksiders Genesis, The Crew, Little Nightmares, Ratchet & Clank, Doom, Until Dawn, Metal Gear Solid V: The Phantom Pain or Bloodborne, among many others. Without going any further, this March 2021 games of proven quality such as Ace Combat 7: Skies Unknown, World War Z, SUPERHOT and inFAMOUS Second Son have been added to the catalog, to which we must add many other titles that will arrive during the next months.
For all this and much more, this new PS Now promotion comes as a unique opportunity for any PlayStation user to try the benefits of an on-demand service with hundreds of games of all genres from the most popular Sony consoles and the versatility to enjoy their titles on both PS4 and PC, either in streaming or by downloading them on the console. All this for 4.99 euros the first month instead of the usual 9.99 euros; Of course, the promotion is only valid until March 12, so if you plan to try PS Now, it is better to hurry before the offer expires.