We thoroughly tested the new Kiyo Pro, a camera that stands out for its lossless resolution and good performance in environments without too much light.
The world of streaming cameras is in a world-class competitive sea. Not only because there are several brands that are launching cameras with different functionalities and options, but because users are also getting used to trying many other devices. From professional cameras that were not designed for this to the phones themselves. In the midst of all this, Razer last year brought out its Razer Kiyo, a well-performing camera that featured a ring of light built into the device itself. Being able to calibrate said light was its main addition. But now comes Kiyo Pro, an important qualitative leap in which sharpness plays in another league, plain and simple.
A few days ago we already talked about the main features of the new Razer Kiyo Pro, which is already on sale for 209.99 euros. A camera that shines with its own light due to the great fidelity of its image, whether in streams or in conferences. The possibility of broadcasting at 1080p and 60fps is not new, but the fact of being able to offer an image without compression, which increases the quality of the same in a remarkable way. In the same environment without too much light, the result is most surprising. On this occasion, Razer is not betting on the integrated ring but on a light sensor with STARVIS technology that adjusts according to the needs of each moment.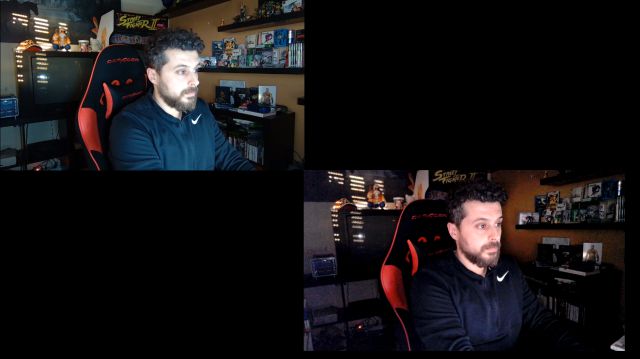 Kiyo Pro above, with a huge difference in sharpness and use of light.
The words are very nice and highlighting what a camera does is relatively simple in text, but what makes the difference is the performance we get from it when we are testing it on site. In the image that we have just above you can see the notable differences between a current camera and the Kiyo Pro (click to see it in greater detail). With the same degree of light, the absorption made by the camera in question is more than remarkable, while at the definition level more of the same (and that both are at 1080p). You can identify the consoles behind the capture and many details that in the other image are simply blurred.
The Razer Kiyo Pro has left us surprised with the image quality in all kinds of conditions: having a certain backlight from one side of the scene, when we have the image off if we want to do a horror streaming or in a normal state of light, without have spotlights or other professional elements. To all this, other characteristics are added that also make it recommendable. On the one hand, the HDR that it is capable of applying (at 30fps) and that gives an important boost of colors to the image. To this we have to add the presence of a wide-angle lens to capture a much wider screen width. We have three angular types: the normal one (80 degrees), a more elongated one (90 degrees) and the one that uses the wide angle (103 degrees) to get an extra sense of depth.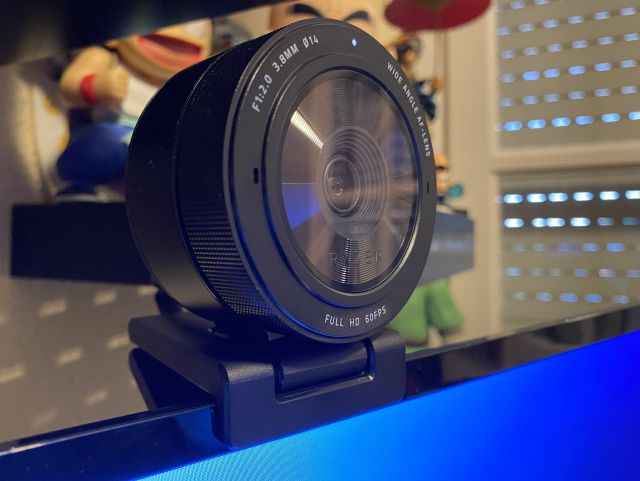 All this can be carried out with Synapse, the Razer application that allows us to fiddle not only with the characteristics that we have just discussed, but also with the treatment of the image through brightness, contrast, saturation or white balance. It also gives us control of the camera through zoom, focus, exposure and the possibility of compensating even more for the little light present. It is true that in the middle of a stream we surely miss being able to activate some of these possibilities quickly, without going through Synapse (for example, changing the wide angle from the fixed camera itself), but doing it with the app is not complex at all .
There are two more details about the camera that are worth noting. On the one hand, that its connection is USB 3.0, something key to understanding the image without compression and quality without losses. So without an entry of these, already common in current PCs, part of its charm can be lost. On the other hand, the base and manageability that the camera has to adapt and position itself in many different ways. The camera can rotate on itself, lift or dive with ease and has an arm that allows it to be handled and positioned in many different ways. Finally, it should be noted that it comes with a privacy cover for those who want to cover the lens when they are not using it and an integrated microphone that works well, although it is not a solution for streams because the quality is naturally far from what is needed in these. situations and that is only given to you by a microphone for that purpose. For more camera details:

Kiyo on one side and Kiyo Pro on the other.
Check here its technical specifications in detail.
State of Play (Salva) issued with Kiyo Pro
Pokémon Presents (Salva) issued with Kiyo Pro
Conclution
Razer Kiyo Pro is surely the camera that has given us the best performance in terms of image and possibilities when it comes to streaming. The improvement over the already remarkable Razer Kiyo is evident, and stands out especially for the image quality, for the wide angle and for how it adapts to all kinds of situations where the light is not the best. We are talking about a premium camera, but with high performance and an amazing response in almost everything it offers. In our tests, including streams, we have been very satisfied with the qualitative leap that it offers us in a simple way: plug and play.
We miss being able to directly change some aspect without going through Synapse, and the microphone – as happens in 99% of cameras – is not a real substitute for streaming, although it is more than enough for certain meetings or video calls. Beyond this, Kiyo Pro sets a standard for image quality and treatment of light that is well worth it.