Pioneer of the video game industry and veteran of SEGA, broke the molds of the genre of the genre rolero with Phantasy Star.
Time travel is one of the most recurring themes in science fiction. Through this fantasy we can visit moments of which we keep a faint memory, even you were only known through the eyes of those who did live them first. The console and the computer, in turn, have a door through which we can move to titles that forged digital entertainment for years. This is the case of SEGA Ages, the collection of classics of the Japanese company, such as Outrun or Sonic The Hedgehog 2, which today we can relive on Nintendo Switch. In command of this ship in the past is Rieko Kodama, who built much of SEGA's history for more than thirty years. Nicknamed by Nintendo Power as the first lady of the RPGs, this industry pioneer took the role-playing genre one step further with Phantasy Star. Her career earned her the pioneer prize of Game Developers Choice Awards in 2018.
Rieko Kodama (1963, Kanagawa, Japan), like other ladies like Brenda Romero or Jennell Jacquays, gave a refreshing perspective to the fantastic genre in the video-media medium. In the case of the Japanese designer, her passion for science fiction influenced her creative vision. As for video games, they accompanied her since her teens, as she told Destructoid (2018): "My family ran a coffee, and I became familiar with video games at the institute, since they were very present. After closing the cafeteria, I was leaving with Space Invaders and Galaxian. My parents also watched video games with good eyes. "
The birth of Phoenix Rie
Rieko Kodama, during his time at the institute, cultivated his professional interest in advertising; She saw herself designing advertising material for products, while doubting between two paths: graphic design and archeology, since she also loved Ancient Egypt. Finally, Rieko chose to study graphic design in a professional institute, where she realized her true vocation: "The truth is that I was not interested in working on purely advertising designs, I preferred to create. And video game development was a totally new profession then, "describes the designer in Women in Gaming – 100 Professionals at Play (Meagan Marie, 2018).
The video game industry had just been born, and for Kodama it was still a mystery how the construction of a video game itself worked. However, this did not stop her to embark on a professional adventure that would allow her to unleash her creativity. In One Million Power (2019) he listed the reasons that led her to respond to a job offer published by SEGA: "One of my colleagues, from a major course, had started working at SEGA ,. The SG-1000 home console had just come out, and there weren't many opportunities for marketing design. As for the recreational ones, there were things like the posters themselves. So when I joined (SEGA) it was like 'to see what I can do'. "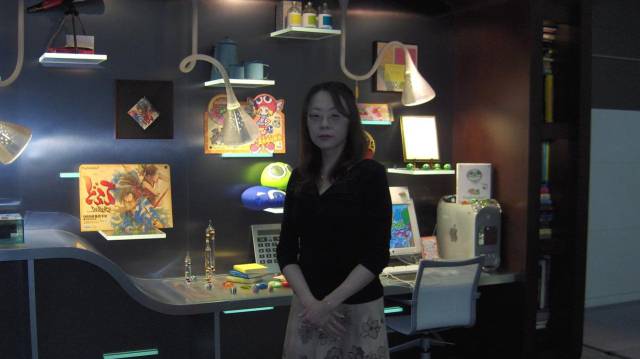 Rieko Kodama photographed by The Next Level.
When Rieko Kodama entered SEGA in 1984, he thought that his contribution would consist of making commercial material. However, shortly after becoming familiar with the company, the designer embarked on the character design of Champion Boxing. Rieko knew how to draw, but creating characters that required animation was a new challenge for which her classmates helped her to arm herself, according to One Million Power: "In the video game industry, you have to keep in mind that character design must be moved to animation. Veterans of my department taught me how to do it without needing additional storage space. I learned a lot at work, as techniques to make the characters look good on a tube TV and all that. "Also, Kodama not only learned to master technological tools, but to develop characters with soul:" It was wrong because it was not Able to give personality to my characters. Then I received advice from Yu (Suzuki), Yoji Ishii (director of Fantasy Zone) and Yoshiki Kawasaki (graphic designer of Flicky). This resulted in a more comical design, with smaller heads and bodies for the characters, even though it was a boxing game. Kawasaki made the designs for the player character, but I took care of the enemies and the scenarios. "
After his first mission in Champion Boxing, Kodama embarked on the design of characters from titles such as The Ninja, Quartet and Alex in the Miracle World, as well as other works from the 8-bit SEGA era. The designer recalls in Women in Gaming – 100 Professionals of Play how the development processes were very short then, which allowed her to work on 5 or 6 projects per year, carried out by very small teams: "When we created a set of 8 bits, each team consisted of one or two programmers, a designer, one or two artists and another person who was in charge of the sound ". If we take a look at the titles signed by Rieko Kodama, we will see that it appears under the pseudonym "Phoenix Rie", according to her, taken from a character from a manga that she liked then. The custom of not signing with the real name was widespread in the Japanese video industry, since companies were protecting themselves from the competition tempting their employees with a better offer.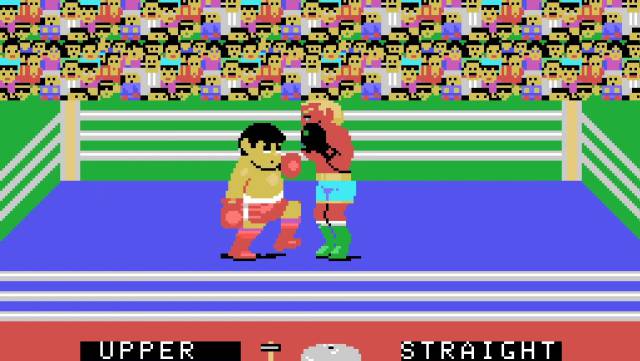 Champion Boxing Image
SEGA's star
Rieko Kodama's masterpiece came in 1987: Phantasy Star, which had its reissue in SEGA Ages. SEGA wanted to create a striking title in the role-playing genre, whose greatest reference was Dragon Quest and Final Fantasy. The Japanese company also wanted to squeeze the capacity of the 4-megabyte cartridges, and dazzled the community with innovative audiovisual improvements: 3D dungeons and animated monsters during the battle.
Rieko Kodama, inspired by Star Wars – one of his favorite sagas – created a unique universe for Phantasy Star, in which sci-fi elements were mixed with fantastic-medieval aesthetics, which made him stand out against other RPGs framed in worlds Fantastic more traditional. "Dragon Quest, for example, seems like a pure and simple fantasy game, and I wanted to do something different. Something like Star Wars, but not the same, "says Kodama in RetroMegaBit (2012). "Star Wars seems based on Western culture, but with Japanese additions. That is, it is a science fiction movie, but Luke's clothing looks like a judo uniform, and the lightsabers are handled much like samurai swords. With Phantasy Star I applied what I learned from Star Wars, to take elements from a radically different universe. So it seemed to me that it would be ideal for the world in which people were creating to wear medieval clothes in a science fiction story, with robots out there. "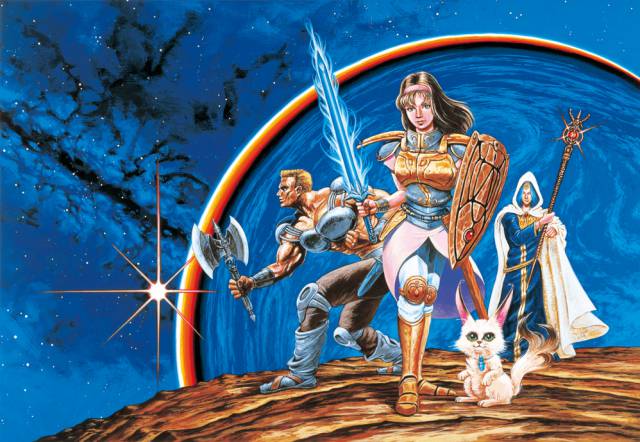 Cover of Phantasy Star. In front of the group, Alis Landale.
In addition, the setting was not the only revolutionary aspect, but the very incorporation of Alis, one of the first major heroines of an RPG. The designer herself qualifies how this decision, which sought to make a difference in gender, was a considerable challenge: "I think there are few games with female heroines because most of the players are men. Since the nature of a role-playing video game lies in the fact that the player feels as if he were the protagonist, it seems imperative that there are so many male heroes to satisfy the majority of users, "says the designer to G Wie Gorilla in 2006. "One of the challenges during the creative process of Phantasy Star was to create a female protagonist and we felt fit to overcome the challenge. And, now that you say it, I suppose in the 80s there were even fewer players than now, so looking back was a rather risky decision. "In 2004, Rieko pointed to The Next Level a growing interest of women in video games, and He pointed out the role as a favorite genre for the female audience. Kodama, in addition, is not the only designer who broke schemes with a leading lady. Roberta Williams faced a similar situation with Princess Rosella in King's Quest IV.
Alis Landale – also known as Alisa – challenged the social conventions of the moment with a role that had little to do with being a passive damsel: she was sweet and beautiful, but also strong, brave and daring, and was willing to avenge the death of her brother. His partner Lutz was also groundbreaking in terms of gender stereotypes: "In the sketches of the original Phantasy Star story, Lutz was a hermaphrodite, and when Alisa grew older, Lutz could become a man or woman. I found it very interesting and that's why I gave it that androgynous look "(The World of Phantasy Star, 1993).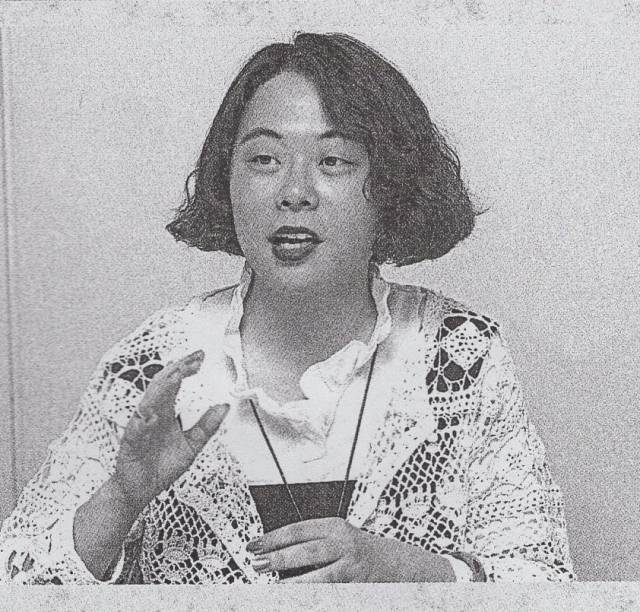 Rieko Kodama photographed by Famitsu magazine in 1993.
Phantasy Star shone in its genre and was described by the press as a milestone that would revolutionize the world of video games. Electronic Game Player placed in this title "the beginning of a new era for RPGs" and ranked it as one of the 200 best games in history. and Boy's Life said that this SEGA masterpiece would represent the future of home video games, combining the graphic quality of recreational games with the complexity of computer games. It was also the beginning of a saga that has remained alive until today; Its latest release has been Idola Phantasy Star Saga, which commemorates the 30th anniversary of the first title. Rieko Kodama remained in the making of the first titles of the saga, raised the level and promoted the specialization of game director in Phantasy Star IV: The End of the Millenium. He also supervised the development of Phantasy Star Collection and the remakes of the first two installments for PlayStation 2.
Take off to Arcadia
Phantasy Star was not the only main mission of Rieko Kodama in SEGA. Parallel to her work in the series, the designer also participated in the artistic section of other jewels such as Altered Beast, Alex Kidd in the Enchanted Castle or Sonic The Hedgehog, which would raise the hedgehog as the company's pet. In 1995, Kodama resumed the role of director for Magic Knight Rayearth (1995), an RPG for Sega Saturn whose target audience was young women. In Women in Gaming – 100 Professionals of Play, the designer describes this professional adventure as a challenge that is not negligible: "It was my first experience creating an adorable aesthetic game that girls liked. The original story was based on a manga of the famous CLAMP, so at the time of directing the project I had to keep in mind not only the video game enthusiasts, but also the fans of the original manga. The target consumer was very different from other titles in which I had worked, and that generated many reflections and concerns at the beginning of development. " Kodama not only participated in the creative process of the game, but also in its production and marketing. However, the reception of these magical girls was not as positive as other works by Rieko. Famitsu magazine awarded him a 26/40, and Western media such as GameSpot punished its location in English, as well as aspects of the gameplay that were already perceived as obsolete.
However, the first lady of the RPGs had many more feats to complete in the industry. Magic Knight Rayearth had given him valuable experience as a producer in Skies of Arcadia (2000), one of the titles that the new SEGA console: Dreamcast would release. In Destructoid, the designer affirms that she remembers her adventure with love in this project: "After Dreamcast, we launched a version for GameCube with new stories, characters and places to explore, and where we had solved technical failures. I think we managed to make the game we dreamed. However, if I have to look for a defect, it is that the two combat systems were a bit complicated, and I wonder if we could not have done that part easier. "In Women in Gaming – 100 Professionals of Play, Rieko highlights how the hardware provided a significant improvement in development: "The hardware was responsible for many aspects, such as graphics processing. His design had great regard for the developer, and it was very comfortable working with him. "Skies of Arcadia obtained a resounding success, and its Metacritic average amounts to 93/100. GameInformer included it in its list of the 10 best games for Dreamcast. Rieko Kodama, meanwhile, remained a producer of more SEGA titles, such as 7th Dragon, Project Altered Beast and Mind Quiz.
Currently, Rieko Kodama is the main producer of SEGA Ages, with which the Japanese company revives on Nintendo Switch the titles that made it a titan in the history of the game. Rieko Kodama, likewise, has become an influential figure in the industry for how he managed to break the molds in the narrative of role-playing videogames, with ladies who took the reins of their history into unique, eclectic and captivating universes.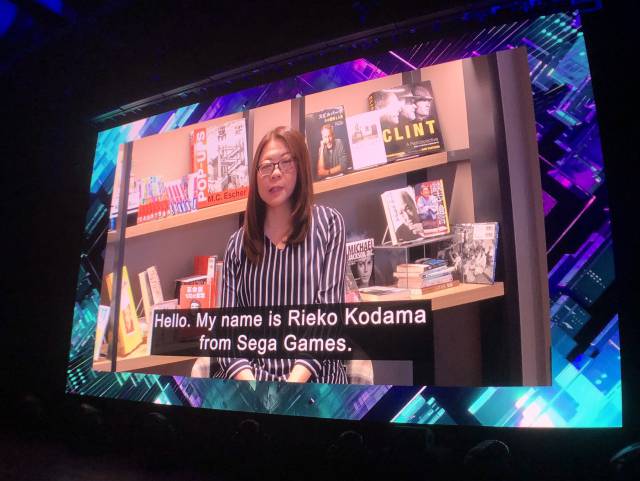 Rieko Kodama during the thank-you speech for the Pioneer Award of the Game Developers Choice Awards.