We tested the first Tactical Adventures video game, an Early Access CRPG that has a good fantasy story, and very tactical gameplay.
Tactical Adventures, a French development studio, was born with a team full of seasoned veterans of the industry, which has set out to gather all its experience for the creation of games. All their knowledge has been raised in a small study of 15 to 20 people, efficient, ambitious and focused on creating great games with powerful narratives that offer a unique experience. Solasta: Crown of the Magister is his first title, a CRPG video game for those fans of board games and role-playing games. Without a doubt, a very remarkable, admirable first video game approach with a very promising future. It should be noted that the month of October has experienced other releases within the same genre such as the expected Baldur's Gate III, but Solasta: Crown of the Magister has nothing to envy as it maintains its own essence and a role-playing game system of Very complete Dungeons and Dragons.
Now it was the turn of testing its Early Access version, with content that rotates around 12-15 hours, we were able to enjoy and experience some of the most tactical and strategic battles, as well as a very complete character creation. If you are both one of those who rate games for their graphics and animations, one who hates turn-based battles or those who really love tabletop role-playing games, with Solasta: Crown of the Magister, you will be able to discover a new game and interesting.
Rain of information in character creation
As with most role-playing games, we have the ability to create our own character in various ways. Solasta: Crown of the Magister is no exception, since it will allow us to create the four characters that we will use throughout our adventure with a rain of information that can be somewhat overwhelming at first. Our first step in the creation of the character is to select a race from the five types that they offer us: Human, Elf, Half-elf, Medium and Dwarf, as well as different sub-races such as the snow and hill dwarves or the forest elves and noble elves. The choice of races and sub-races will determine not only our appearance, but also our abilities, statistics, ranks, and relationships with other inhabitants of the world. After having chosen the race, it is the turn of each character's class. Those that will be available are: Cleric, Warrior, Paladin, Archer, Rogue and Wizard. Within the classes they will give us the possibility to choose our starting equipment, with sets of weapons, armor and even a hiking set. A way to pigeonhole the gameplay that we will give to each of them.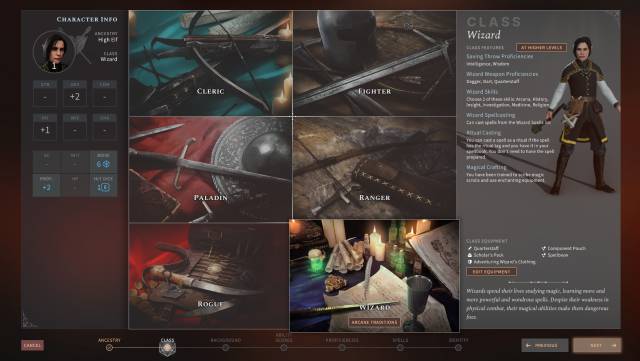 As soon as we have the race and class ready, it is the turn of the origin of our character, that is, of the formation of his personality. For example, we can say that he was raised on the street or that he is well versed in high society. This will determine the social behavior you have during the narrative sequences. Although the dialogues lack content at times, they will give us the option to choose an answer according to the personality they have and in part will influence the plot. After choosing the origin of our character, we continue with the creation and this time with the skill points. These points will define the most important characteristics: strength, dexterity, constitution, intelligence, wisdom and charisma. The first impression may give you confusion with all the information they offer us, but don't worry, the video game gives you the option on several occasions to roll the dice for you and in this way make an automatic distribution. The creation section ends with an aesthetic customization: eye color, hair, face shape… etc. Although the previous sections are full of information, the latter offers us some minimal visual options that we hope will add more aesthetic options later.
A good story line
His story is as follows: it is unknown how a rift arose in the world of Solasta: Crown of the Magister, but the cataclysm had begun and was destroying everything in its path, including the empire of the High Elves. Now, only the bravest approach the rift in search of fanatic treasures, but in the depths something is happening that is not good, but is unknown. In the central city, which is made up of a neutral organization with all the representatives from all the Eastern Kingdoms, they cannot hold out any longer and have issued a call to four adventurers to strengthen their reinforcements and explore these dangerous inhospitable lands. This is our turn and it will be when we will have to be ready to take on this great challenge.
Our goal will be to solve the great problem that has arisen in the lands and in the world of Solasta: Crown of the Magister, but do not be impatient because the approach will be as follows. As you well know and after the creation of each of your characters, in the story we will be four adventurers who have just arrived in the city and will show a humble personality, without being the typical epic heroes, so throughout our adventure they will go growing little by little as adventurers. Each one will have its own story, a total of four, and in each case we will be transferred to a map with a specific tutorial to familiarize ourselves with the mechanics of all of them. For example, with one of the characters they will explain to us how he escapes from prison, manipulating our environment and escaping through small cracks in the wall. And with another character they will explain those basic combat mechanics that we will have to use throughout the story, saving him from the attack of a pack of wolves.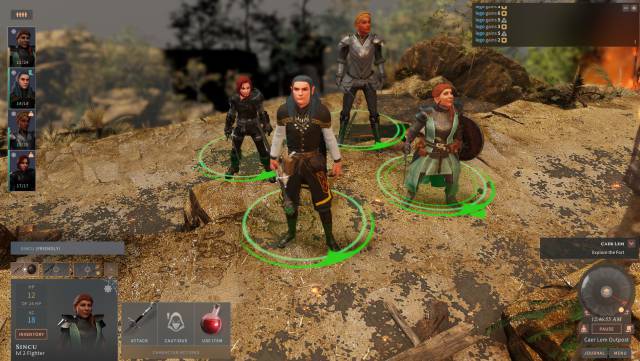 Very tactical and detailed combat
The combat system is the best approach they have developed for Solasta: Crown of the Magister. It has an adequate mechanic and very close to the rules of tabletop RPGs with skill checks and save locations. Maps are made up of various interactive elements and despite not offering unbridled imagination, their development is on the right track. Of course, in battles do not think in a two-dimensional plane, but in three dimensions. The game will continually encourage the use of logic and innovative thinking, if an enemy is able to scale the walls, it is better to equip a bow and shoot it, rather than spend turns trying to get close without success.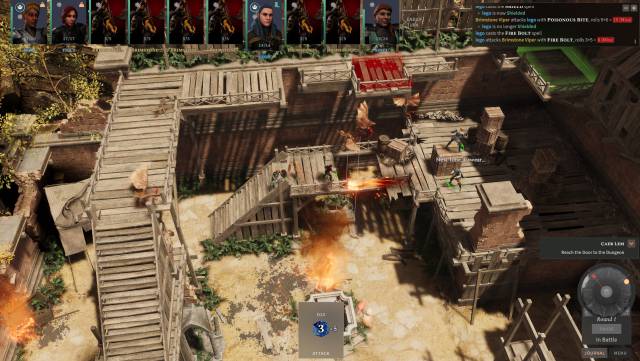 Like a good board game, there is chance and it will be a matter of luck that we get a good roll of the dice to achieve victory in each of our encounters. This can influence our experience, who has not bothered on occasion when you do not stop failing and end up blaming bad luck? Yes, in Solasta: Crown of the Magister it will happen to you and turn the fighting into desperate moments. Do not forget to propose a good tactic and think about how to kill those enemies that get in your way. In this section we have found a bug that causes a lot of confusion. When one of the characters dies, he remains on the ground, but in the cinematics he rejoins himself alive and after the game he appears next to us again dead. We imagine that it will be a way of not leaving it away from us and from the frame of the story, but we consider that it is not a good idea, since it makes it impossible for us to immerse ourselves in the story.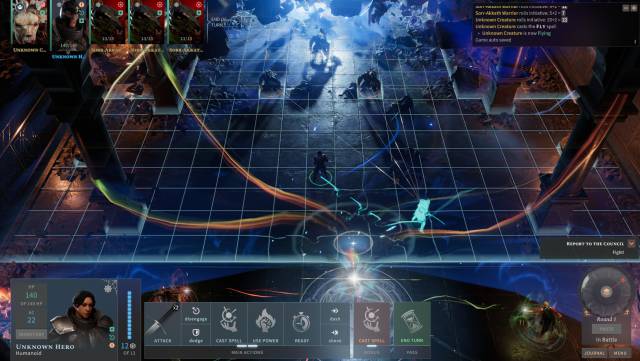 Solasta: Crown of the Magister becomes a tactical CRPG where each encounter can be handled in multiple ways and our choices will determine the fate of our group. One of the quite important elements is light, since it will help us explore depths or dungeons and we can use it as a weapon against fearful creatures, but it can also reveal our position, preventing a surprise attack. There will be enemies that will want to get away from us and will propose a new strategy that will completely dislodge us. The combat will also be present between our continuous trips. Our characters travel in groups in real time, taking into account hunger and fatigue, and making overnight stops to rest. During the dream, all kinds of monsters or bandits will be able to attack the camp and a new fight will start.
Basic graphics and an epic soundtrack
The game has sufficient graphics, but in general features they do not present novelties nor a visual pleasure compared to other video games of this genre. The setting is remarkable, it has beautiful and manipulable environments, but compared to our characters, as we mentioned before, their aesthetics are tight and when we talk about the visual all of them are not attractive. Of course, in Solasta: Crown of the Magister we will have a closeness as if we were talking about a game board, where its display will be elegant although the dice rolls could be stylized a little more, they also allow us to have a free camera position adjusting it to our liking. Regarding the soundtrack, only with the opening of the game will we be the protagonists of epic and very successful music for this type of video game, which will accompany us at all times and we will be able to appreciate when our adventure becomes more complicated.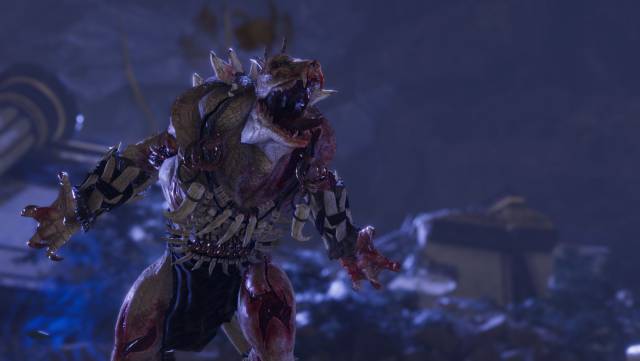 In general, Solasta: Crown of the Magister is really a very new video game in the CRPG genre and it is surprising to see how a new developer dares a video game of this style as the first title, with hardly any problems and with a very established gameplay. It is true that as Early Access has a lack of content and it is expected that it will be introduced over the next few months. We expect improvements such as the modification and clarification in the creation of characters, improved graphics, bug fixes and above all, introducing dubbing into Spanish. If what remains to be seen of the game is an improved continuation of what it currently is, we are sure that it will become a benchmark game of its genre and it will be very promising.