The Riot Games game debuts a new champion, Xerath, plus previously unseen galaxies and a number of additional tweaks.
TFT (TeamFight Tactics) update 10.8 is now available for download. The free-to-play Riot Games, which receives its new patch on schedule, incorporates a legendary champion. This is Xerath, a carry that fills the battlefield with meteorites that strengthen when they reach and kill their enemies. Americans also debut two new galaxies, the commercial sector and the super-dense galaxy. While the first one allows us to change the store once per round for free, the second one gives us a free force of nature (level 5).
As with all patches, Riot Games has made balance adjustments. They all follow the line of improving the weak instead of weakening the strong. Upgrades to rank 4 champions like Wukong and Soraka are included. Next, you can visualize an image with the strongest and weakest today.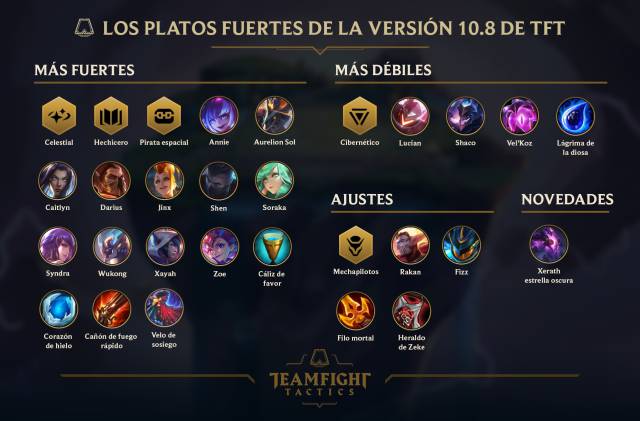 News
New Champion: Xerath
Rank 5.
Origin: Dark star.
Class: Sorcerer.
Life: 750/1350/2430.
Armor: 20.
Attack damage: 60/108/194.
Attack speed: 0.9.
Mana: 30/80.
Nether Bombardment: Xerath transforms and, instead of making normal attacks, summons meteorites that hit random enemies for 6/8/45 sec. Meteorites deal 300/400/2500 magic damage on impact, and if they kill the target, all adjacent enemies take 150/200/1250 magic damage and stun for 1.5 sec.
Systems
New galaxy mechanics
Business Sector: All players get a free store change every round.
Super Dense Galaxy: Upon reaching level 5, players receive a free Force of Nature.
There is now a 50% chance that the game will take place in a special galaxy, and the commercial sector and the super-dense galaxy have slightly higher chances than the others.
Other things in the system
Win and Loss Streaks: 2 (1 gold) / 3 (2 gold) / 4+ (3 gold) ⇒ 2-3 (1 gold) / 4 (2 gold) / 5+ (3 gold ).
Basic damage per phase: 0/3/4/5/10/15/20 ⇒ 0/0/1/2/5/10/15.
Total damage based on number of surviving units: 1/2/3/4/5/6/7/8/9/10 … ⇒ 2/4/6/8/10/11/12/13/14 /fifteen…
New types of carousel have been introduced.
Attributes
(New) 9 swordsmen: 100% chance to trigger.
(New) 9 units of the Dark Star: 45 attack damage and spell power.
(New) 6 infiltrators: 125% additional attack speed.
(New) 6 Protectors: 45% maximum health shield.
(New) 9 Rebels: Shield for 350 Health and 15% Damage per Rebel.
(New) 8 Sorcerers: +125 spell power to the team.
Celestials Heal Percent: 15/30/60 ⇒ 15/40/65
Life and attack damage of cyberneticists (6): 800 health and 80 AD ⇒ 750 health and 75 AD.
Mecha Pilot Supermecha Health: 100% of Pilot Health ⇒ 1800 + 50% of Pilot Health
Mecha Pilot Supermecha Ability Damage: 400/500/600/700/900/1500/5000 ⇒ 400/500/600/700/800/1200/5000.
Mercenaries: A visual indicator of purchased mercenary upgrades has been added.
Space Pirate Item Pick Chance (4): 15% ⇒ 20%
Sorcerers' spell damage: 20/40/80 ⇒ 20/45/80.
Champions
Rank 1 Champions
Ace damage on Caitlyn's sleeve: 700/1000/1800 ⇒ 750/1500/3000.
Xayah's Death Plumage attack speed boost: 75/100/150% ⇒ 100/125/150%
Zoe's stun duration: 2 / 2.5 / 3s ⇒ 2 / 2.5 / 4s.
Zoe's Sleeping Bubble Damage: 150/225/400 ⇒ 200/275/400.
Rank 2 Champions
Annie's Armor: 35 ⇒ 40
Annie's Galactic Explosive Shield value: 225/300/450 ⇒ 270/360/540.
Darius' Mana: 0/70 ⇒ 0/60
Lucian's attack damage: 55 ⇒ 50
Rakan's Grand Entrance Target Selection: Attack Target ⇒ Farthest Enemy within 3 hexes.
Rakan's Grand Entrance Survey Radius: 2 ⇒ 1
Rakan's total mana: 150 ⇒ 100
Shen Health: 700 ⇒ 800
Shen's Refuge of the Future duration: 2.5 / 3 / 4s ⇒ 2.5 / 3 / 5s.
Rank 3 Champions
Shaco's attack damage: 55 ⇒ 50
Shaco's Deceive Damage (% attack damage): 250/325/400% ⇒ 300/325/350%.
Syndra's Reach: 660 ⇒ 890
Rank 4 Champions
Fizz Health: 650 ⇒ 600
Fizz's attack speed: 0.7 ⇒ 0.8
Jinx's attack speed: 0.7 ⇒ 0.75.
Soraka's Health: 650 ⇒ 700
Soraka's Prayer Heal: 350/500/2000 ⇒ 375/550/20 000.
Wukong Cyclone Damage: 250/450/2000 ⇒ 300/500/4000.
Vel'Koz's Living Disintegrator Ray duration: 2.5 sec ⇒ 2 sec.
Vel'Koz will now target his ability more efficiently against small groups of units.
Rank 5 Champions
Aurelion Sol's Life: 950 ⇒ 1100.
Aurelion Sol's Armor: 30 ⇒ 35
Objects
Chalice of Favor: Now also grants mana to the bearer.
Starting Edge of Death Stacks: 2 ⇒ 0
Deathblade stacking attack damage: 15 ⇒ 30
Frozen Heart attack speed reduction: 40% ⇒ 50%
Rapid Firecannon bonus range: 100% ⇒ 200%
Rapid Firecannon now displays a visual beam when attacking when applying its upgrade to close range champions.
Calm Veil Width: 1 hex ⇒ 1.5 hexes.
Goddess' Tear Mana: 20 ⇒ 15 (all items have been adjusted to change).
Zeke's Herald Range: 2 hexes ⇒ 1 hex
Zeke Herald's attack speed: 18% ⇒ 30%
Miscellany
In Overtime, shields now receive a 66% effectiveness reduction (just like healing).
Error correction
3 Cyberneticists now correctly display as a Bronze level attribute.
Mordekaiser's description now indicates that his shield lasts 8 sec.
Fixed a bug that caused Wukong's ability to not adequately affect enemies for the first 0.25 sec of cast.
Fixed bugs in taunts that champions say when they win a match. Now only the phrases of the winning player's champions that are still alive will be heard.
Adding additional Deadly Blades to units during combat will no longer reset the counters on all other Deadly Blades.
Fixed an issue where selling a mecha pilot with the corresponding active attribute would award 0 gold.
Fixed a bug that prevented the super mecha from taking advantage of the Infiltrator and Pyrotechnic attributes when it was on an alien board.
Known bug: The super match still does not receive attribute upgrades that affect the entire team (such as mystics) when it is on an alien board.
Fixed a bug that caused summoned units (such as those driven by Thresh or those generated by Portal ZZ'Rot) to count when dealing damage to the loser of the match.
Kayn now appears two rows closer so that mobile players can see what item she's carrying.
Mobile corner
Subtle improvements to the friends panel that only those with a wonderful vision will detect.
Fixed a bug that asked to update the game every time the app was restarted. What nonsense.
When something goes wrong and we need to share it with you, a message will appear. Hopefully you don't have to see it.
Fixed a bug in the Egg Retrieval Tables causing them to suspend dunks and display incorrect numbers.
Equipment now displays a confirmation mark when you are viewing a mini-legend or arena aspect you already have equipped.
We have ordered the mini-legends by species so that you can find the ideal Astrosepio without losing a second.
The UFO Spirit was rising to fame, so we've removed its star levels from the gear.
Emoticons can now be placed in multiple spaces. You can now enjoy your long-awaited emoticon roulette filled with "Say it one more time".
Sometimes the equipped mini-legend or arena aspect forgot to appear when opening equipment. We have refreshed their memory.
Fixed various bugs with aspect ratio and resolution setting on some devices. Experiment without fear!
The music on the login screen and the home screen was a little out of tune. Now they are very harmonious.
We've added some great sounds to the settings menu (no sound settings; sounds for settings!).