Steve's inclusion in Smash Bros Ultimate has been just the latest of many collaborations between these two video game giants.
When the developers at Mojang released the incomplete version of Minecraft on May 17, 2009, they could hardly have imagined that their sandbox would end up becoming the best-selling video game ever, with 200,000,000 total sales. They probably also had a hard time believing that Microsoft would buy their studio in 2014 for $ 2,500,000,000, an investment that turned out to be very smart and has paid off handsomely. In the eleven years since its launch, Minecraft has become the favorite title of gamers and streamers, and, how could it be otherwise, it has also reached Nintendo platforms.
In fact, Masahiro Sakurai surprised us in October 2020 by showing that the DLC fighter number 7 of Smash Bros. Ultimate would be neither more nor less than Steve, the Minecraft avatar that we can customize at will. How could a collaboration between the Japanese video game giant and what was originally a very humble indie studio come about? In this article we will look at the relationship between the colossus of Mojang and Nintendo, which has seen a long line of games and collaborations between the Swedish and Japanese companies.
From sandbox to story mode
Minecraft's mechanics are easy to handle, but difficult to master. The title releases the player into a procedurally generated world, through an algorithm, which has different biomes (deserts, savannas, jungles, oceans, plains, tundras, etc.) where we can find different materials and enemies. Thanks to the way these scenarios are generated, each player's experience will be unique, and the potential places they can visit will be virtually unlimited.
The essence of the gameplay consists of mining all kinds of materials to be able to make different constructions. Depending on the block we mine, we will extract wood, iron, diamond, etc., and with them we can improve our equipment, build our home, or get even more creative and make really complex buildings, such as the famous Ikea tower built by youtuber Pewdiepie .
This meant that the gameplay was completely free and that each player could build as many worlds as they wanted. However, as the game became more and more popular, the community felt the need to have a background to the world they had come to love so much. This is why Mojang Studios decided to commission Telltale Games to make Minecraft: Story Mode.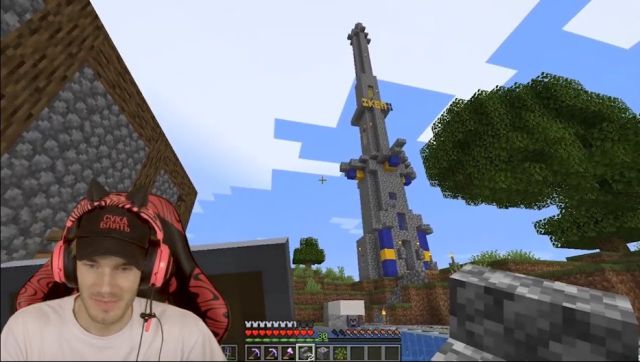 The game, which was episodic in nature, was sold digitally and you could buy all five episodes in a bundle or buy one at a time; these were then added another three episodes, for a total of eight. Once they were all released, they went on to create the physical version of The Complete Adventure, which included all the episodes. In Story Mode we put ourselves in the shoes of Jesse, a customizable avatar whose background was that of a novice player who was still learning to play, but who had set out to find the legendary Order of the Stone, four adventurers who in the past saved the world of Minecraft.
Due to the success of this first season of eight episodes, a second consisting of five was released where we saw Jesse embark on new adventures. Unfortunately, due to the closure of Telltale Games in 2018, the video game download was disabled on June 25, 2019.
As in the rest of Telltale games, these titles were very focused on decision making, which could change the course of events according to the player's preferences. Despite being narrative-oriented, the two seasons of Story Mode also featured the crafting mechanics of the main Minecraft title, as well as its pixelated and gridded aesthetic.
The relationship between Nintendo and Mojang
Minecraft was wildly popular, and in addition to PCs, it had also been released for Android devices and all Microsoft and Sony consoles. Given the landscape, it seemed imperative that the title also make its debut on Nintendo platforms. However, it was not until December 2015 that Minecraft: Wii U Edition was released, almost at the end of the life cycle of this console.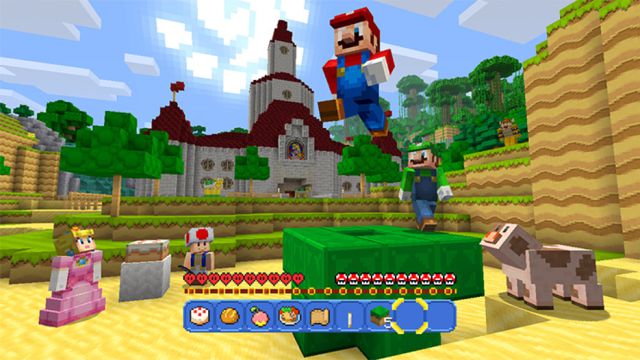 As part of this first collaboration between Majong and Nintendo, the Wii U edition included the Mario Mash-Up Pack, which contained skins and content based on the adventures of the famous plumber. However, it received criticism for not exploiting the capabilities of the console's GamePad sufficiently, since it was only used for autonomous play, and did not include touch controls or additional functions. In addition, the game only allowed us to play online with those who were part of our friends list.
Shortly after, on May 11, 2017, Minecraft: Switch Edition was released, a version far superior to its predecessor. One very attractive aspect that it offered was the ability to transfer the worlds that we would have created in the Wii U version to the new console via a local network. Here we were allowed to create worlds of 3072 × 3072 blocks, and all the exclusive console features were included, such as minigames, special DLC packs, and new skins. But, unlike the Xbox and PS4 versions, it did not allow to create worlds of 5120×5120 blocks, in addition to having a lower rendering distance. Another problem is the ability to communicate with other players online, since Nintendo Switch does not offer this function through its console, but external platforms such as Skype, Discord, etc. have to be used.
This version was discontinued as of June 21, 2018 and could no longer be purchased through the eShop, although users who have already purchased this game can download it. Instead Minecraft (2018) was released, which Switch Edition users can download for free, as well as transfer their worlds and DLC content from the old version to the new one.
What came as a surprise to many was the release of Minecraft: New Nintendo 3DS Edition on September 13, 2017, months after the Nintendo Switch version came out. In addition to not being compatible with the Nintendo 3DS, Nintendo 3DS XL or Nintendo 2DS, the size of the worlds that can be created here is smaller, there is no online multiplayer mode, the number of monsters and villagers that can appear at once it is smaller … in short, it is an inferior version in every way to that of the hybrid console. That's why, while Metacritic gives a note of 86 to the Nintendo Switch edition, the New Nintendo 3DS takes a disappointing 62.
The most recent title that has come to Nintendo Switch from the Minecraft family was launched on May 26 of this year: it is Minecraft Dungeons, an adventure and action game in the style of the classic dungeon crawlers that allows you to play up to four players at a time. This installment lacks the mechanics of crafting, building or the ability to destroy blocks, preserving only the name and aesthetics of the franchise.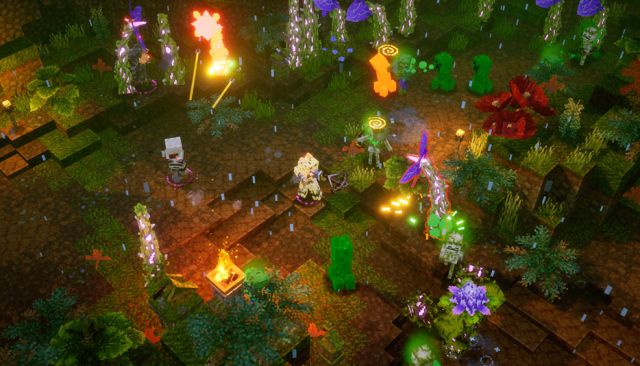 Steve breaks Smash
Given the erratic relationship between Mojang and Nintendo, few could believe the rumor that Steve, the "protagonist" of Minecraft, was planned as a downloadable character for the famous fighting game Super Smash Bros. Ultimate. There had been many professional leakers who had included this avatar among their predictions for the cast of fighters, but few paid attention to them.
That is why on October 1, when Masahiro Sakurai revealed the new fighter for Fighters Pass 2, the surprise was so great that Twitter became overloaded and was taken out of the game. In addition, according to the director of Smash Bros. in the official presentation of Steve and his alternative skin, Alex, the amount of work involved in their inclusion was tremendous, because to implement the mining and crafting mechanics it was necessary to retouch absolutely all the game scenarios. Without a doubt, this collaboration was a titanic effort on the part of Nintendo.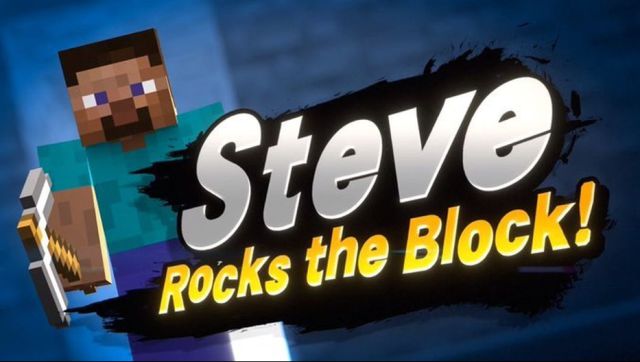 Although Steve joined the ranks of Smash recently (on October 14, 2020), he has already raised a lot of controversy regarding his style of play. This is because its ability to create blocks allows it to counter almost all kinds of recovery movements, in addition to creating strategies that have been unthinkable until now. In addition, a meme that circulated online regarding the use of meat on Steve's victory screen caused such a stir that Nintendo was forced to release an update where this pose was censored.
In any case, Steve's inclusion in the cast of Super Smash Bros. Ultimate fighters has been one of the most applauded and valued among fans due to the popularity of the Mojang Studios title.
Conclusion: Nintendo, the second
Although it has become clear that Nintendo is willing to go to great lengths to include as much of Minecraft as it can in its game catalog, this is an uneven relationship. And we cannot forget that Mojang Studios belongs to Microsoft, so the computer giant will always favor the versions for PC and Xbox consoles before those of other platforms. In fact, these editions have the capacity to create bigger worlds or many more possibilities of multiplayer mode, among other improvements, which makes the Nintendo versions always remain as a second.
In any case, Minecraft has become a giant of video games, and the fact that its titles are available for the consoles of the Japanese company gives a lot of value to its catalog. And, although PCs or Xbox offer more options and possibilities, it is always a pleasure to play the Mojang title in the portable mode of the Nintendo console.