The creator of NieR and Drakengard revolutionized the genre with a dark perspective exploring taboo themes from the human psyche.
A few days ago, we congratulated ourselves with good news celebrating NieR's 10th anniversary: ​​the next NieR Replicant remake, with a more updated version for the times we live in. This cult saga marked a milestone in both the role-playing genre, hack and slash and science fiction. NieR: Automata is the masterpiece with which a point is closed and followed by a series of titles that explore such profound themes as transhumanism, individual identity, existentialism and the military industry. Developed by Platinum Games, we find a prodigious mind at the head of the design team: Yoko Taro, who has excelled in the industry for breaking narrative and playful conventions with a saga whose lore transcends digital entertainment.
Behind Emil's mask
Born on June 6, 1970 in Nagoya (Aichi Prefecture, Japan), Yoko Taro narrates on her personal blog how she grew up with her grandmother, to whom she dedicates various poems in which the love for her and the description of an overprivileged childhood. In the essay The Strange Works of Taro Yoko: From Drakengard to NieR: Automata, it is recounted how a teenage Yoko Taro began to be fascinated by otaku culture, after frequenting arcade lounges and engaging in anime sessions. The creator describes himself as "dark and unattractive", which, along with his hobbies, prevented him from fitting into the group of popular boys. His socialization problems continued in his university life, studied at the University of Kobe. Aware of power relations in the academic and youth fields, Yoko Taro expresses in her works the harmful consequences of dividing and confronting different groups.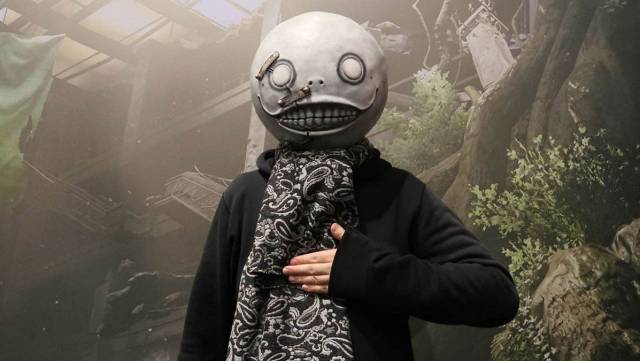 Yoko Taro, with her Emil mask.
Concern about his own physical appearance is one of the reasons that prompted Yoko Taro to hide her face in public. Currently, his Emil mask is part of his own personal brand. During an interview with Kotaku, the designer revealed that another reason to hide his image is not to disappoint his audience: "When you find out that the person who writes those porn novels that you like so much is an older man, you lose interest. I think something like that happens with video games as well, where players can lose a little bit of enthusiasm for a title if they find out who's really behind it. So I want to remove the disappointment factor as much as I can. That said, if I were as handsome as Taura-San (referring to Takahisa Taura, designer of Platinum Games), I'd probably be showing my face everywhere, too. I would even have dates with a lot of girls, just like Taura-San. "
Drakengard, portrait of human miseries
The video game that captivated Yoko Taro and inspired him to work in the video entertainment industry was Gradius, who discovered the possibilities that the medium had: "You take a black screen, put a few dots on it and that's it, you feel in space" , he comments in The Strange Works of Taro Yoko: From Drakengard to NieR: Automata. Through the video game, the designer could combine various artistic disciplines, such as poetry or cinema. After graduating, he began to carve out his career at Namco and later at Sony. It was in Cavia where he was hired in 2001 as artistic director for a revolutionary project: Drakengard.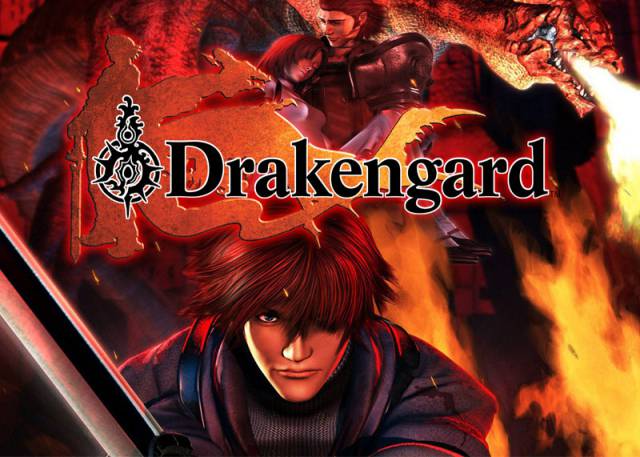 Drakengard Promotional Image
Yoko Taro, along with writer Sawako Natori, crafted the script for Drakengard, which would challenge the rules of RPGs, flight simulators, and action, blending the three genres into one title. Yoko was commissioned to design a fantasy universe similar to two great JRPG references: Final Fantasy and Dragon Quest, to which the creator wanted to bring a distinctive approach. He released two proposals that were rejected by production: a world inspired by Celtic mythology and locations based on authentic and contemporary countries. Thus, Taro opted for a third option: detach from the usual colorful tone of the JRPGs and explore dark and taboo themes, such as immorality, dementia, cannibalism. Thus, Yoko Taro was inspired by how the mechanics of a hack and slash reward players for killing their enemies without mercy or remorse to build a narrative that would make madness their banner. Drakengard also had an exquisite soundtrack that also made a difference with respect to more jovial titles in the genre. Combining noise, expressionism and classical music, the combination was defined by Takuya Iwasaki, producer of the project, as "a hallucinogen that induces an endless nightmare", which perfectly accompanied the gloomy tone of a title that had built its own stamp.
Drakengard's commercial success convinced Square Enix to continue the saga. In the second installment, Yoko Taro participated as a video editor and was part of the creative team. At first, the designer was in charge of the project, but he gave up on his tensions and creative differences with Akira Yasui, co-director of the game, with whom he defines his relationship as "a case of love-hate". In The Strange Works of Taro Yoko: From Drakengard to NieR: Automata, it is explained how Yoko was asked to change the iconic reddish gray sky of the game towards a more realistic and less disturbing blue, as well as to reduce the depth of the dark themes. treated in the game.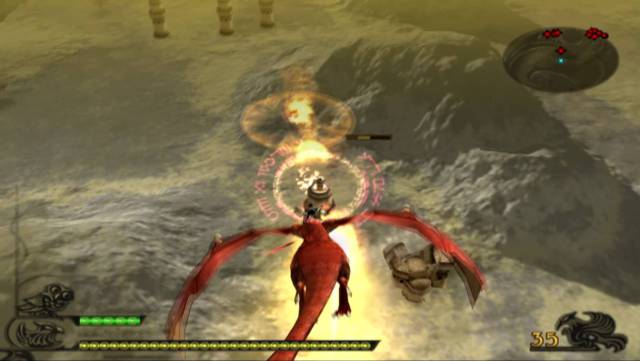 Drakengard's picture
And yet, Drakengard 2 had a pleasant commercial reception and Cavia got to work with the third part of Drakengard, with Yoko Taro in front. With a new project planned for the next generation of consoles, the designer put on the table a series of ideas that evolved into a new title that would serve as a spin-off of the original saga. NieR, inspired by classic tales like Pinocchio and Hansel and Gretel, began to germinate.
NieR and reverse script writing
NieR was set a thousand years after the events that closed Drakengard's E-ending. During her 2014 GDC conference, Yoko Taro recounted how NieR was influenced by the events of 9/11: "9/11 was a disgrace that blew up a situation in which both sides considered themselves doing the right thing. The question is: what did each side see from their point of view? What is the situation like from each of your perspectives? " Thus, NieR seeks for the player to empathize with protagonists and antagonists, while introducing more positive themes that arise from the darkness from which the premise starts: friendship and the strength of teamwork. In addition, Yoko Taro related in her lecture two narrative techniques that she had developed for NieR's creative process: reverse script writing and photographic thinking. The first is to pose the conclusion of a story first, and build the rest of the story from there. For this, the emotional peak must be taken into account, defined by the designer as "the moment when the game touches your heart. In the story, these spikes represent the emotions we want to communicate to the player. " As for photographic thought, he defines it as the mental viewing of a situation. "In the scene of the girl's death, how did she die? They killed her during her own wedding. Stabbed. She is from another country and culture. He wears a mask and whispers on his last breath 'thanks for marrying me.' I visualize the scene: the prince embraces her, her voice, her bloody hand ".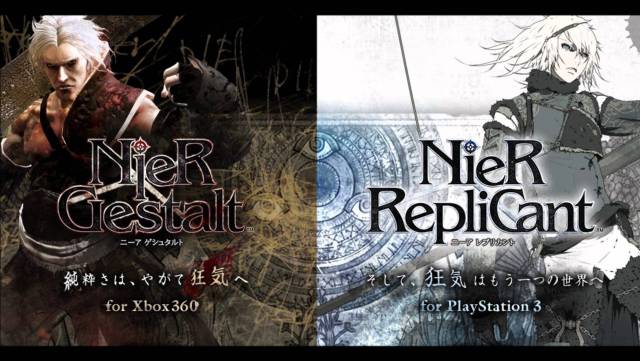 NieR Gestalt and NieR Replicant, with their respective protagonists.
The Strange Works of Taro Yoko: From Drakengard to NieR: Automata explores how NieR was divided into two versions intended to cover the eastern and western market, respectively. During the presentation of the project for the North American headquarters of Square Enix, his sketch of a young, androgynous and fragile-looking protagonist did not please, so Yoko Taro created an alternative, middle-aged and more robust protagonist. Thus, Square Enix published a double edition of NieR. NieR Gestalt, with the adult protagonist; and NieR Replicant, named after Blade Runner, with the young hero.
From Drakengard 3 to NieR Automata, a masterpiece
Following NieR's release, Cavia was taken over by AQ Interactive, and Yoko Taro continued as a freelance designer, during which time she collaborated with Square Enix on the social video game Monster x Dragon, as well as other mobile titles. However, the third part of Drakenguard awaited on the horizon for producer Takamasha Shiba, who convinced Yoko Taro to return to a project with which she wanted to return to the glory of old-school role-playing video games, as pointed out in The Strange Works of Taro Yoko: From Drakengard to NieR: Automata. Shiba had probed fans what they expected from a new Drakengard, and the answer was that they wanted a story as dark as NieR's. Yoko Taro had marked a path during her work. After an enthusiastic ad campaign, Drakengard 3 came to light, although critics did not share the producer's fervor for this third installment: although Destructoid awarded him an 8.5, IGN punished him with 4.8: "Drakengard is too slow to Time to reveal its secrets, and blindly trust fans to remember what happened in the original Drakengard, which came out 10 years ago. It also doesn't help that Zero and his disciples are so poorly written. "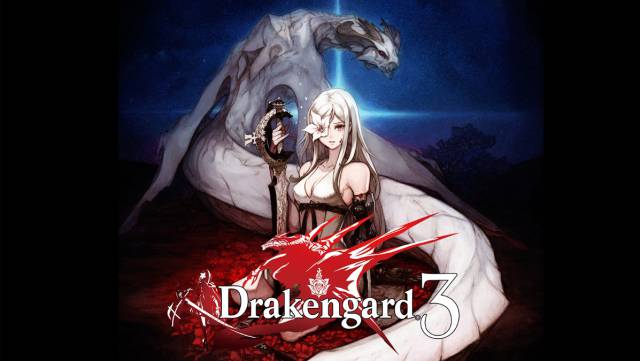 Drakengard Art 3
However, Yoko Taro's mind would continue to create. After participating as a columnist in Famitsu, he founded the Bokkuro company together with his wife, Yukiko Yoko, illustrator for Taiko no Tatsujin who also participated in Drakengard 3; and writer Hana Kikuchi, who designed the scenarios for NieR and Drakengard 3.
Yoko Taro's masterpiece, NieR Automata, would arrive in 2017. NieR was clamoring for a sequel, this time more focused on action, which fit perfectly with the Platinum Games titles. "We are very lucky that they took the combat system and design of the original NieR and added such Platinum Games elements. They haven't made a game starting from 0, they have a lot of respect for the prequel. "Said Yosuke Saito, producer of the game, on GameSpot.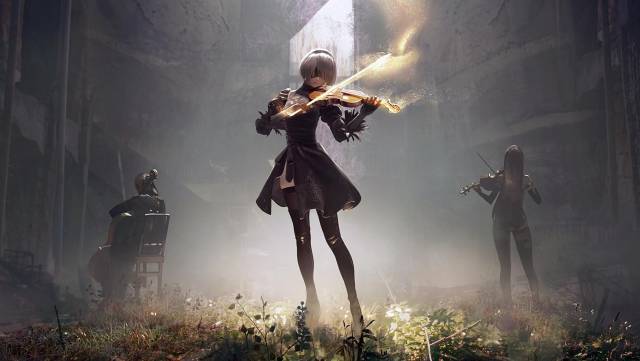 NieR Automata Art
On this occasion, Yoko Taro devoted herself to a script so absorbing and elaborate that she submitted it months later than the deadline. In Polygon, he also confessed that he got drunk during the creative process: "For me it is easy to write parts of the story if I am drunk, but as for the filler plots, I make them sober because then I am not able to advance".
The result has been a title that has elevated Yoko Taro's career even above her previous works. A role title whose narrative is broken down into various parts and which gives a deep vision of transhumanism, with multiple references to the history of philosophy reinterpreted by machines and with a powerful plea in favor of peace. Praised by the video game press, in which he garnered praise as "the most captivating game I have played in years" (Eurogamer), it outperformed its predecessor. Awarded for his soundtrack at the Game Awards, where he was nominated in other categories; For the DICE for best role-playing title and with the Audience Award in the Game Developers Choice, NieR Automata has been the subject of study beyond being an entertainment product. Games Radar dedicated a piece to him in which he explored the message about depression that is enhanced in the game. The same creator has explored this topic through Medium, from which he comments on the messages he has received from players who allege that NieR Automata saved their lives. Likewise, other suicidal admirers send him desperate messages of help, whereupon he provides a humane response as a complement to standardized advice to seek psychological treatment. "I think it is best to seek professional help. And even so, instead of giving such an answer, so inappropriate for a stranger, if they asked me again I would answer them in my own way and with my words: 'If you died, I would be sad' ".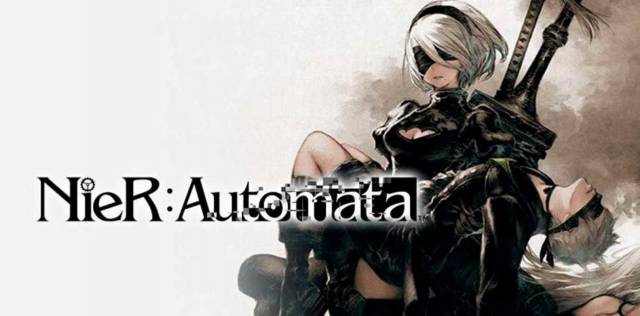 NieR Automata art, in which 2B carries 9S in his arms.