With over 28 years of industry experience, this production company found its place in the industry, where it made history with BioShock.
Making a name for yourself in the video game industry has never been easy. On numerous occasions we have delved under the layer of glamor that surrounds professions related to the world of videogames to find more bitter faces and stories without a happy ending. However, we also find personalities who have managed to face difficulties and move forward with projects that have revolutionized the history of the video game. An example of this is Alyssa Finley, a producer with 28 years of experience behind her and who has been behind titles such as BioShock, or some Telltale Games narrative adventures such as Minecraft Story Mode, Game of Thrones or The Walking Dead: New Frontier .
Customer service: the gateway to the industry
According to an account in Women in Gaming -100 Professionals of Play (Meagan Marie), Alyssa Finley was about to graduate in computer science and was not satisfied with the career guidance provided by the university. She wanted to play video games, but the only professional help they gave her at the center was to refer her to a local government facility. "Luckily, a friend in California stood up and suggested that I stop by during spring break to look for work. In a week I got an initial position in a small studio in San Rafael ". It was Beyond Software – later known as Stormfront Studios – creators of Rebel Space, an e-mail video game. "In high school, I spent many hours playing Trade Wars, another email game on the local bulletin board system. This, along with my brand new computer science degree, was what secured the position for me. Don Daglow, founder of Stormfront and the person who gave me my first job, believed in team diversity and had a strong scale of values ​​that he passed on to his employees to reinforce the study. " Out of curiosity, Alyssa skipped her own college graduation for work reasons, and received her diploma by email.
However, Finley's first steps were not about programming or design, but about customer service. It had to manage the turns within the game, process the information sent by the players and generate electronic messages with the current state of the game. He also had to deal with problems that arose during games, such as technical glitches and missed turns.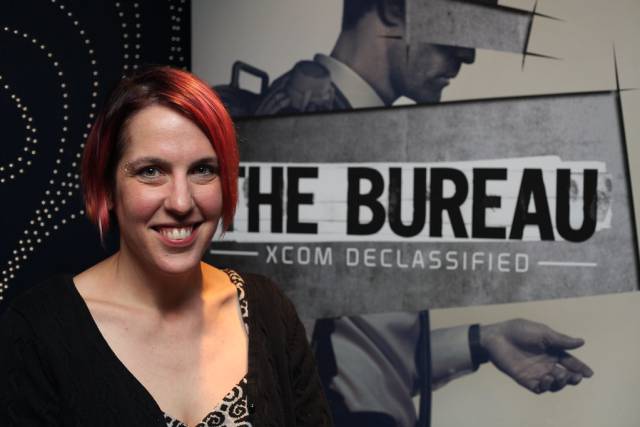 Alyssa Finley during the presentation of The Bureau XCom Declassified
Later, Alyssa's progress within Stormfront led her to delve into scheduling updates with Rebel Space. "I got into this by chance, just like I got into video games," he told Grrlgamer.com. However, she ended up establishing herself as head of programming and in 1997 she pursued her career at Psygnosis and later as technical director at Zowie Entertainment and LEGO. In this stage, Finley cultivated new skills that had little to do with programming and that she herself recognizes in Women in Gaming that turned out to be her greatest professional qualities: "Programming is not my strong point. Over time, I realized that coordination, planning and methodology were my strongest points. My programming background has served to give me a context and credibility in the interactions that have to do with my passion ". This new baggage allowed Finley to return to Stormfront as a producer, managing projects such as The Lord of the Rings: The Two Towers and Forgotten Realms: Demon Stone.
BioShock, the underwater dystopia
Alyssa Finley's star production job was at Irrational Games, where she entered in 2005 after moving to Massachusetts to embark on the production, planning and execution of a title that would revolutionize the shooter genre and dystopian narrative in video games: BioShock. At GamaSutra they analyze how part of their success lies in appealing to traditional players, System Shock fans and new players. Alyssa Finley responded, "I think the development arc of the first game was hitting the nail on the head. While we were building BioShock 1, we had to change the idea a couple of times, and the core of the game is that the choice is sovereign: how we can customize things, twist them, and personalize them again. And, when we were close to finishing it, we challenged ourselves a little more. We took a step back and realized that if you make a game that is too specialized, it is no longer attractive. So the first game consisted of finding the balance between accessible and expert, making sure that we invited the user to try all the things they could do. This was the opposite of assuming that the player was going to mess with all the expert knowledge and say 'Good thing you have implemented a crafting system, because it is the best of the best!' ".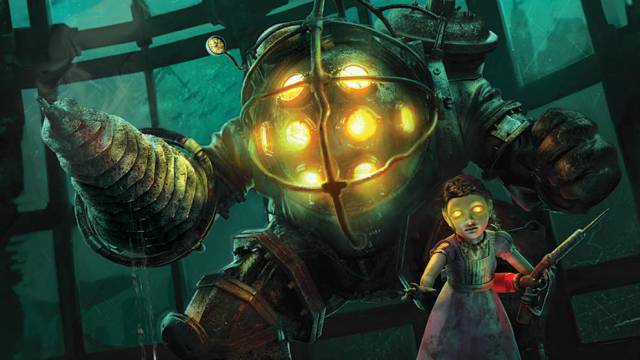 Image from BioShock
BioShock conquered the critics, where it garnered praise such as "I never thought that someone could create a fun and immersive video game around the fiction and philosophy of Ayn Rand, but it is basically what 2K Games has done: a unique and mature title that manages to make you reflect while you play "(The Chicago Sun-Times) or" smart, beautiful and sometimes terrifying "(New York Times). It also won several awards, including Best Game at the BAFTAs and Game of the Year at the Spike TV Game Awards. And, to all this, is added the legacy that he has left in the popular and video play culture. The Smithsonian Museum announced an exhibition on the video game as a medium of artistic expression in 2011 and, following its selection, polled the public about which titles should appear. BioShock was one of the most named. The episode of Black Mirror Playtest refers to "Do you want?", The iconic activation phrase of the saga. On Women in Gaming, Finley emotionally comments on how she has worked with people who wore the "Man chooses, slave obeys" tattoo.
Following the success of BioShock, Alyssa Finley founded 2K Marin, the subsidiary of which she would serve as studio head and executive producer. "Launching 2K Marin from scratch, choosing and hiring a team of people was an incredible experience. We started from a core of seven people to have 100 working on BioShock 2, and I think we did something very special together. "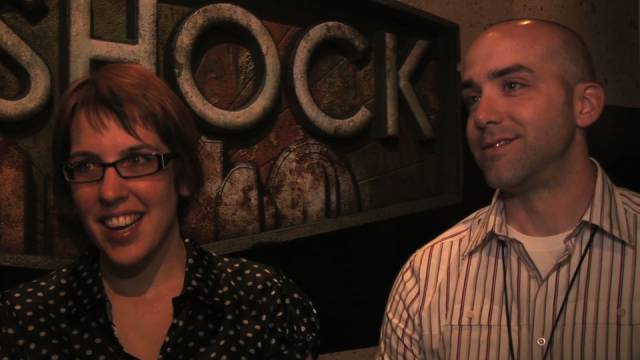 Alyssa Finley during the BioShock presentation at E3.
In BioShock 2, Alyssa Finley opted to maintain that balance between the attraction towards the specialized public and the novice public, as she comments in GamaSutra: "I think that 'The unsuccessful underwater objectivist utopia and art deco' is very unremarkable for a wide audience and in the end you get pigeonholed in labels. Or you can try to have a profound experience and hope that if you invite the right people, they will come. I think this is the right approach, and we try to make the world of BioShock inviting. Look, in BioShock 2 you play as Big Daddy, which is a common fantasy among people, right? I mean our goal is to invite them to say, 'If you've seen the Big Daddy, do you want to become a Big Daddy? If so, we have a lot to offer you. "
Alyssa Finley handled budgeting, staff planning and recruiting at both 2K Marin and a sister studio in Australia. With the latter she began to work at The Bureau X-Com Declassified, a project about which we interviewed her in FreeGameTips. The producer told us how they had maintained the basis of everything that an X-Com is: "tactics, team play, possibilities, tension and fear". They also went out of their way to create a game that would balance accessibility for players. "I think it's definitely a game for X-Com fans, but it's also for people who don't like turn-based games. I love them, but there are people who think that they are not their type of game. With a game like this, which has a more modern interface, but requires the same level of skill, tactics, and giving our best in every battle to have a chance of survival, I think we will reach a new audience that has not yet they know the X-Com saga, and they may even try the previous titles later. "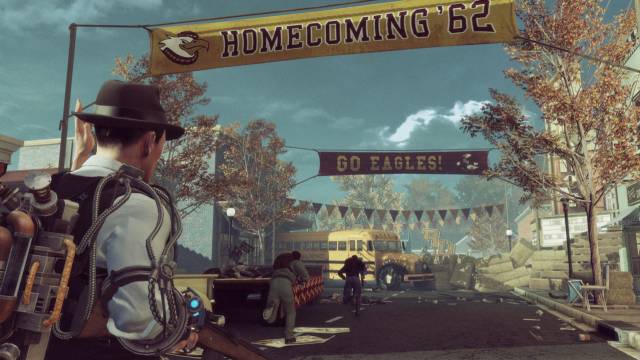 Image by The Bureau XCom Declassified
Telltale Games, a new adventure
However, 2K's downsizing took a heavy toll on Marin, causing Alyssa Finley to close the studio. "Closing 2K Marin after its third installment was the most painful, but we tried to treat people as well as possible under the circumstances," confesses the producer in Women in Gaming. However, this bitter experience provided her with a valuable lesson: "Being decisive is very important. If you try to please a lot of people, you will end up disappointing them, and it is better to give a clear 'no' that they don't like in the short term, than a doubtful 'maybe' that leaves them on edge until a new resolution.
Alyssa Finley found a new professional home at Telltale Games, the studio specializing in narrative adventures based on works from other media, such as A Song of Ice and Fire, Fables or The Walking Dead. In addition to her work as a producer, Finley discovered a new adventure as a creative director on The Walking Dead: A New Frontier: "A creative director must bring together the vision of the team so that they are clear about their goals and limits, so that they can focus their efforts within its restrictions ". New Frontier marked the closing of the story of Clementine, a survivor whom we met as a child and watched grow throughout the saga. Alyssa Finley narrated in Geek Culture that this last part would be the closing not only of the story, but of Clem's realization as a character: "who wants to be, with whom and how he wants to be".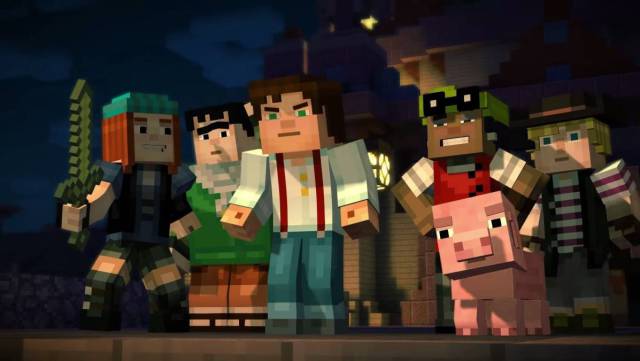 Minecraft Story Mode screenshot
Before the tragic closure of Telltale, there was a project that marked Alyssa Finley personally: Minecraft Story Mode. In Women in Gaming, the producer tells how she allowed her to share a video game experience with her daughter: "My daughter plays Minecraft a lot and participated in the story mode tests before I got involved in the project. I was very excited about the game. It also made me see that outside of my time with LEGO Lab and Zowie, I had always worked on adult games that I could not share with her. Minecraft Story Mode changed all that and served as a bridge for my daughter to try out the rest of the Telltale catalog. As a result, we had a lot of conversations about the art of narrative design and her desire to be a game developer when she grows up. I was very happy to be a part of creating that game, and to see my daughter play it and discuss it with her.
Currently, Alyssa Finley is a producer at ILMxLAB, creators of Vader Immortal: A Star Wars VR Series. From his practice on Medium, he advises developers on creative dilemmas. Aware of her influence in the medium, Alyssa Finley tells in Women in Gaming how she hopes to inspire other professionals in her work. In a career with successes and troubles, the producer has clear ideals: "I hope I have influenced other producers in their methods and the values ​​they commit to, in such a way that their projects end up being successful and that their teams are a little happier. I also look forward to continuing to work with creative teams, helping them solve thorny problems, and finding better ways of working. I hope to continue teaching things to others and also learn from them ".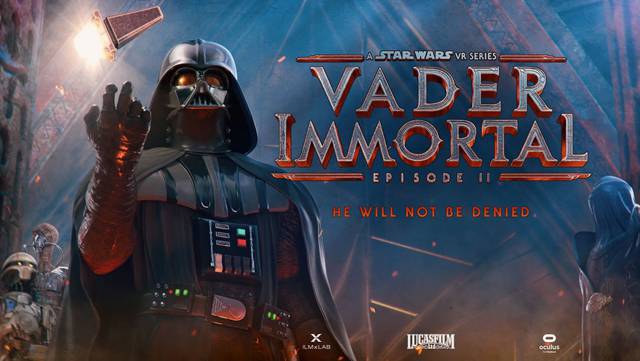 Image of Vader Immortal