In addition to Carrion's release date, Devolver Direct features a slew of news from publisher Devolver Digital.
During the Devolver Direct on Saturday, several independent projects were announced by Devolver Digital, the indie publisher that always delights the respectable with its peculiar conferences, even online. Among all the announcements stands out the one of the release date of Carrion, one of the most anticipated indies of the year, and this will be soon: next 23 of this month, on Xbox One, Nintendo Switch and PC.
Fans of the science fiction and horror classic The Thing, by John Carpenter, will surely enjoy this video game, as we put ourselves in the shoes of an alien entity that murders and possesses its victims, taking various forms, throughout of a 2D game packed with action and puzzles. The tentacles and the indefinite shape of the creature grant various possibilities, such as reaching inaccessible places or killing the ill-fated humans at a distance.
Those who want to get an idea of ​​what they expect with Carrion, can now play a demo that is already available on Steam.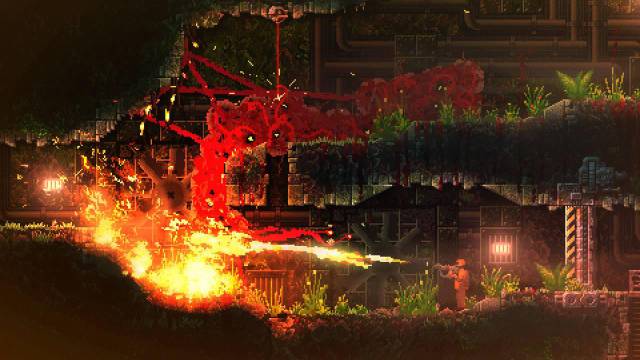 What is to come from the hand of Devolver
But in this Digital Return, how could it be otherwise, there was much more. For example, you could see a new glimpse of already announced games such as Serious Sam 4 or Shadow Warrior 3, really frenzied, or specific dates for others also known, such as Fall Guys or Blightbound, a cooperative dungeon crawler with an excellent look and that arrives later this month in Early Access format. You could also see more of Weird West, a peculiar video game set in the Wild West that combines action and strategy.
Finally, the announcement of the peculiar Devolverland Expo, a marketing simulator that takes place on the stage of a canceled video game conference. The best thing is that it can already be downloaded at this link, and also, totally free.