Israel Adesanya the middleweight champion and Jorge Masvidal, the welterweight will be on the cover
Electronic Arts announced EA Sports' UFC 4 with Israel "The Last Stylebender" Adesanya the middleweight champion and Jorge "Gamebred" Masvidal the UFC Welterweight title contender as the official duo for its cover. This installment will deliver a new Unified Progression System experience, takedowns, and improved canvas-level mechanics. There will also be more fluid grip and counterattack combinations, as well as the opportunity to experience the origins of sports combat in new environments.
Those who pre-purchase UFC 4 will be able to experience the fight between Anthony Joshua and Tyson Fury, one of the most anticipated fights in the history of the sport on launch day.
Through a remote presentation to which we had access, EA sports from the hand Brian Hayes, creative director and Nate McDonald producer of the company, showed us that in this title the player will be shaped by his own fighting style, achievements and personality . At the same time, they will be able to develop and personalize the avatars through a unified progression system in all its forms. This way you will evolve your character from amateur to a UFC superstar in the new career mode.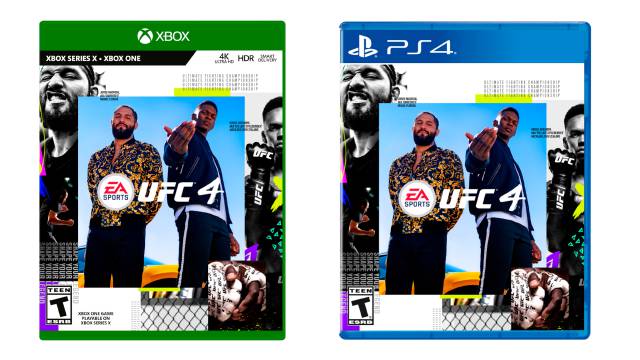 One of the novelties is that players will have four new environments:
Kumite
Courtyard
UFC APEX
Action Avenue
Challenges in surprise battles
Or the world championship online
Performance details such as the weight category and one of the five MMA disciplines such as wrestling, jiu-jitsu, boxing, among others; they will define the type of game to develop.
They will also add more than 1,600 unlockable clothing changes and up to 350 emotes, to give the character their own identity
Within the presentation we notice more fluidity in the combinations blows, hook and counterattack with improved takedowns, as well as floor mechanics with better control.
On the other hand, a new, more simplified submission system with more transitions was added, making the final moves more agile, as well as high impact whipping to escape.
Career mode will present a new way to develop the fighters' past with a deeper evolutionary process throughout their careers. This new element allows you to dictate skills that with each hit or takedown will take players to a specific discipline.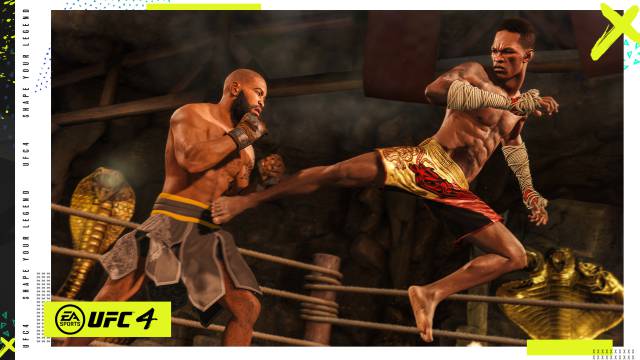 Relationships will also play a key role in UFC 4, as depending on your alliances or rivalries you will gain experience and skills. The latter will ensure that developers do not have similar careers.
UFC 4 will be available on Friday, August 14 on PlayStation4 and Xbox One and as part of the pre-purchase you can get Tyson Fury and Anthony Joshuea, as well as the customization pack for the patio and kumite style with exclusive cosmetic content. These benefits will be available to those who purchase UFC 4 through the announcement within UFC 3 or UFC 2, including a 10 percent discount on the standard edition of UFC 4, the legend of martial arts, Bruce Lee and 500 UFC points.
EA Access users will also be able to play UFC 4 earlier in an early access version starting August 7. During this period, players will have the opportunity to participate in unique challenges to mark the pre-launch of UFC 4 by unlocking in-game coins.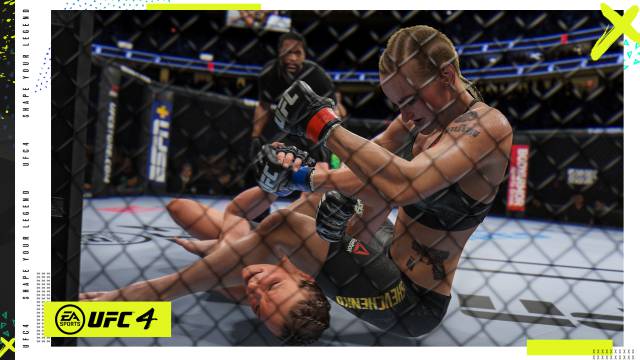 Within this presentation, the creatives were asked if UFC 4 would be available on PlayStation 5 and Xbox Series X, to which they replied that this would be possible, if they have backward compatibility, clarifying that they have not had the opportunity to explore whether They are going to need some additional development to use this feature, so they hope this will be possible on these consoles.