Infinity Ward publishes various cosmetic content in commemoration of July 4. Gunsmith projects, skins, and more in Call of Duty: Warzone.
The Call of Duty: Warzone and Modern Warfare ingame store is updated to incorporate two new cosmetic packs. On the occasion of July 4, the day of independence of the United States of America, you can get skins, weapon projects and icons commemorating the holiday.
Below you will find what they are, their content and price:
Fourth of July Package – 1200 CP (approximately € 11)
Dominguero Warrior – D-Day Skin

Bengal – Modified UZI submachine gun

Barbecue in the Patio – Origin 12 Shotgun modified

Pum Pum Pum – Operator Auction

Stars and Stripes Forever – Vehicle Horn

Keep Going – Truck Look

Stars and Stripes – Emblem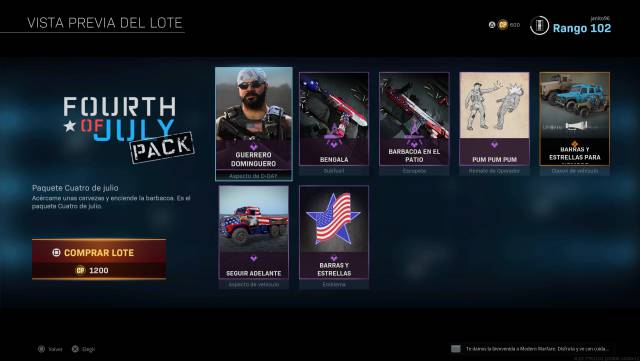 Liberty Tracer Pack – 1600 CP (approximately € 15)
1776 – Modified M4A1 Assault Rifle

Apple Pie – Modified Renetti Pistol

Cheat Death – Melee Shield

Firecracker – Melee Knife

War Eagle – Business Card

Overture 1812 – Vehicle Horn
The second package has as its main attraction the possibility of firing tracer bullets that paint the colors of the United States flag. These types of modifiers are common since the first season began. On the other hand, the auction of the first allows to finish off an enemy with shots from our hands. Pure American pride.
It is unknown whether these packages will be temporary or will remain within the company's usual rotation. In any case, you will have the opportunity to do several attractive projects for the armorer, especially for the 1776 modification. For the accessories it includes, it is a weapon by and for Warzone. Long-distance reliability that will never leave you in the middle of a firefight, thanks to its sixty-round magazine. The same goes for your pistol, a dual light-trigger Renetti, and 27 rounds per magazine. A real demolition in close encounters.
Source | Game Call of Duty: Warzone