The battle for the survival of the species.
If you like the battles of robots or wicks, whether for Mazinger Z, Evangelion or for that masterpiece that is the second half of Xenoblade Chronicle X, It's hard not to say impossible that you wouldn't get excited with the Daemon X presentation trailer Machina It was in a Direct, as are all Nintendo ads, and presented a very personal visual style, wicks with swords and lots of action. In fact, swords have to do with the late publication of this prints. Whether it was a giant katana or a laser sword, we wanted to have one of them before writing anything. Because Shooting from a distance is fine, but melee must be something else. Or so we thought. The swords, in Daemon X Machina, are a good example of what works or not in the next Nintendo Switch exclusive.
During the first part of the game, about three hours, you might not have had access to any of the swords. Nor to other weapons. We do not ask to have all the available arsenal, but surely an initial sample of each of the types of weapons that we can use would help us to get to the idea of ​​what we have in hand. This does not happen in Daemon X Machina, where you start with a shield and an assault rifle, and depending on what you collect from other enemy robots, you can try other weapons. Rocket launcher, shotgun, gun, lasers shots. And finally, after 15 main missions and some secondary, swords. It is just an example of how badly raised the first part of the game is: indolent, of little progress and little worried in explaining what we really have in our hands. That it is not little and that it improves, although the initial impact does not help.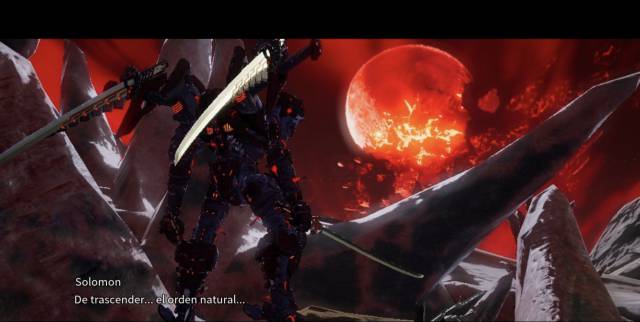 We are novice mercenaries in a world where there are different factions that work solving missions commissioned by an AI, Four, across a world that tries to recover from what they call "the lunar fall." After those events, corrupt AI's and enemies called Immortals are humanity's great challenge. And the mercenaries fulfill missions that help the survival of the species, but above all they swell their bank account.
And so, after a few first bars, we find ourselves accompanying all kinds of factions overcoming various missions, which are not fun. Ending enemies, placing bombs in specific areas, escorting a ship or defending a tower are some of the tasks entrusted to us. The problem during the first ten missions is that the game does not challenge you or catch you as it should.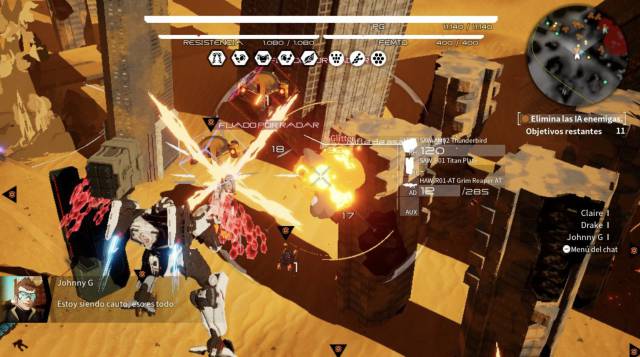 Development seems somewhat soulless and action, without sufficient strength. It does not flow as expected from a set of armed wicks to the teeth. AIs don't shine because of their hardness and goals, either. And we are moving forward while we see that there are a lot of types of weapons that we have not been able to access. So we are pulling assault rifles that point and shoot, some remote control grenades and little else.
The decision is surprising, because after the dozen missions we began to access some powerful weapons. The same swords give us some interesting melee options, as well as other types of projectiles or lasers. But in the store they cannot be bought until we have obtained them on the ground, and that takes time to happen.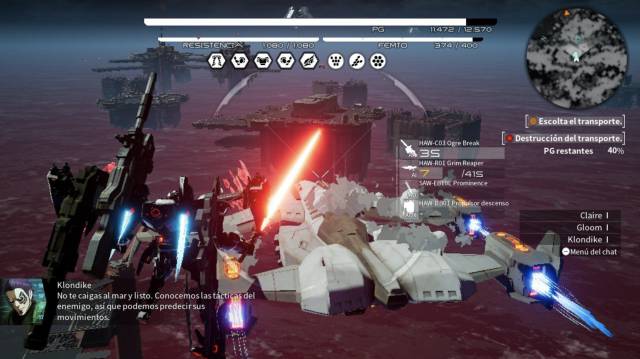 Fun over low heat
Despite all this, as the missions are not too long or demanding, we keep moving forward. And the game starts and the proposal is simmered. The first great boss, a gigantic immortal not identified so far, demands more from the account and gets us killed for the first time in two hours. The second we understand that you have to find your weak point and crush there while dodging their attacks and patterns. Then some clashes begin with wicks similar to us, something that brings more tension to each other and forces the player to start using all that cool we saw in the trailers: melee attacks and sliding with the thrusters in all directions. Daemon X Machina begins to show good intentions.
The control is not complicated although it has many elements on the screen, changes to be directed with the crosshead and equipment that we have previously assigned to our machine. Surely what is missing most is a lock on to fix enemies like other wicks. The scenarios are open and there are enemies on multiple fronts, but some like other mercenaries or final bosses would offer much more intense and rhythmic confrontations if they could be marked and followed in some way. But the rest works: up and down, dodge, change weapons in both arms and interact with some elements of the stage.
When a new boss and first level enemy mercenaries arrive, we are already fully familiar with the environment and mechanics, ranging from resistance bar management to a femto bar, a resource that is in this world and that serves for some weapons that use this energy, to use wick enhancers (more strength, more defense, etc.) and to use a "mirror" technique that generates a second robot to attack from two fronts while we have femto .. There is a certain tactical component in which arsenal to use and which enemies to attack first, as well as what actions to use at each moment.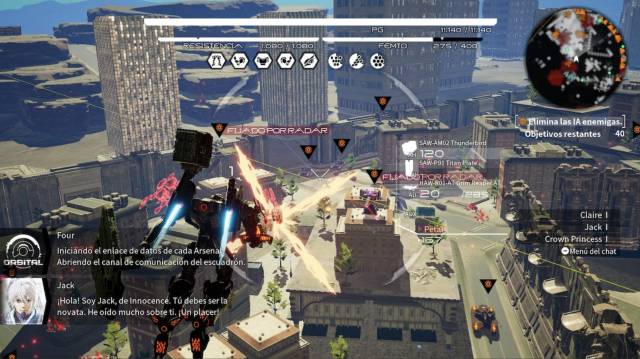 Customize and improve
In fact, one of the strengths that are intuited to the game is extreme customization. We can change and find parts to improve all types of body parts, as well as weapons that have endless statistics that show their strengths and weaknesses in each case. At the beginning we are changing to what seems better net, but little by little we see how there is no better weapon, but types of equipment that can work according to the mission that we are going to carry out.
From the hangar, our base of operations where we accept the missions, we can buy parts of armor and weapons, as well as equip those parts found on the ground, improve our protagonist, fiddle with some aesthetic elements and even get ice cream enhancers. The number of statistics and effects that any offensive and defensive element supposes is enormous, so only the hours will tell us to what extent it has the importance that it seems that such a section should have. Naturally, all this costs money, and money is achieved by doing missions. So the development of the game seems clear.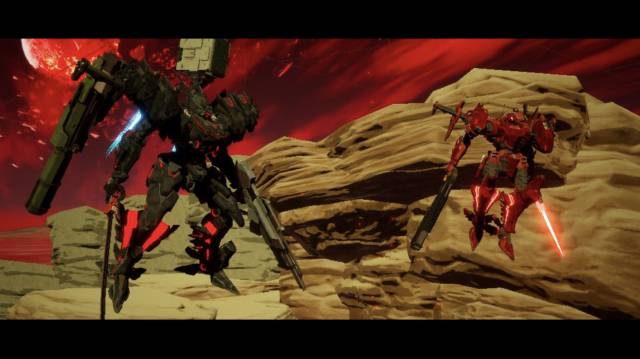 Something that leaves another hint of hope is the argument. The initial NPC parade with hardly any expressions in the scenes and with certain cliches recreated to each new character that is presented to us is molded mission after mission, and what looked like generic profiles, are molded thanks to a main plot that twists, that generates doubts and that grows in interest. Mercenaries who have assigned opposing missions without knowledge of that of others, an AI that seems to hide something and a string of missions that ask for unclear and confusing objectives.
Surely when we know more about our figure, about the lunar fall and about the interests behind the big corporations of the game, let's unblock what is hidden by Daemon X Machina, a game that does not have its best presentation card at the start but that has managed to convince. At least to continue with more interest than we anticipated. Until where? This will already depend on what is to come and what the title will offer us from now until the end.