We detail the characteristics and content of the special and collector editions of Far Cry 6, which includes a life-size flamethrower.
The sixth and new installment of the Far Cry saga was officially revealed in the past Ubisoft Forward. In FreeGameTips we have already been able to play it for several hours to bring you our first impressions and offer you a series of pieces dedicated to special and key aspects of the title, such as Chorizo, the dachshund that will be able to accompany the protagonist in this new installment. On the other hand, Far Cry 6 will have various special editions and a very striking collector, which we present below so that you can discover at a glance everything that each one includes. If we reserve any in advance we will receive the aforementioned puppy "Libertad Chorizo" and the special high-tech weapon Discos Locos.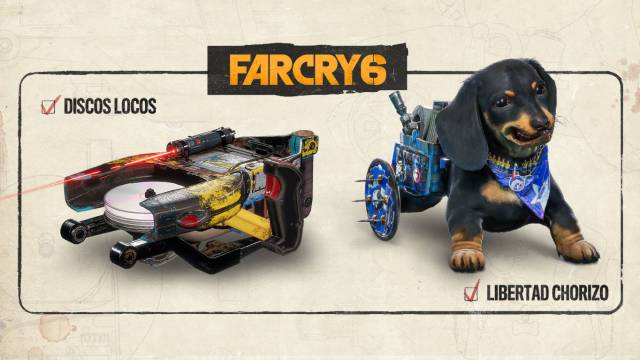 Content of all Far Cry 6 Special and Collector's Editions
Standard Edition (€ 59.99)
Includes only base game: Far Cry 6
Gold Edition (€ 99.99)
Contains the base game: Far Cry 6
Season Pass with 3 additional DLCs that have not yet been specified.
Ultimate Edition (€ 109.99)
Full Game – Far Cry 6.
Season Pass with 3 additional DLC to specify.
Anti-Vice Pack: Includes the Anti-Vice suit, Skorpion submachine gun, Warden Pinnacle vehicle, Gold Ingot weapon charm, Letter Opener vehicle accessory, and Champagne, an elegant and deadly white panther to accompany you.
Crocodile Hunter Pack – Includes the Crocodile Hunter costume, the 45/70 rifle, the Crocodile Tooth weapon amulet, and the Cartridge 45/70 vehicle accessory.
Jungle Expedition Pack – Includes the Jungle Expedition outfit, SBS weapon, and Compass weapon amulet.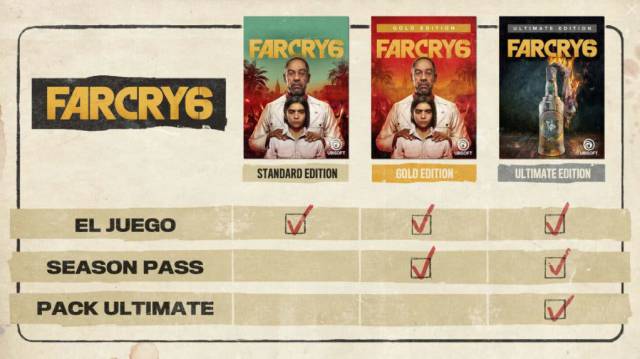 Collector's Edition (€ 199.99), exclusive to the Ubisoft Store
Includes all the content mentioned in the Ultimate Edition.
A replica of the "Toaster", the replica of the game flamethrower (7 pieces to assemble, length 72cm).
A mounting instruction sheet illustrated by the famous artist Tobatron.
An exclusive collector's box based on Tobatron's unmistakable style.
An exclusive Steelbook with an iconic design inspired by the picturesque cast of Far Cry 6.
A 64-page A4 illustration book featuring exclusive works by our passionate production team.
A collection of 10 stickers that illustrate the guerrilla movement and its particular character.
A Chorizo ​​keychain, the cutest and deadliest dog on wheels!
The game's soundtrack selected for you to dance to when you're not in Yara.
World map.