Epic Games does not publish notes of the Fortnite patches Chapter 2. We delve into the reasons behind this curious decision.
Fortnite Battle Royale made the leap to what is known as Fortnite Chapter 2 on October 15, 2019. In an unexpected move, Epic Games has since decided to stop publishing the patch notes of the successive updates of the game, found in Season 1 of his new Battle Pass. We tell you, then, several of the reasons that may be behind this unusual decision:
Fortnite: Epic Games stops posting patch notes
The notes of the Fortnite patch or any other video game are a set of concrete data that detail exactly what changes have been made in an update with respect to the previous version. In Fortnite Battle Royale they were especially useful, as users could check, for example, which weapons became more powerful.
And we say "were," in the past, because since Fortnite Chapter 2 began, Epic Games has completely stopped publishing the patch notes in use, replacing them with rather concise blog posts, as you can see by visiting the section on News from the official Fortnite website in Spanish. There has been no official explanation regarding the reason for this change in behavior, although sites like FortniteIntel consider two possibilities.
The first, and the most plausible, is that stop protecting the patch notes would be a way to protect yourself against constant criticism. During the last Season X, many players expressed their dissatisfaction with the numerous changes, such as the inclusion of the mecca B.R.U.T.O. for being too powerful and giving an unfair advantage over the rest of the players who got one.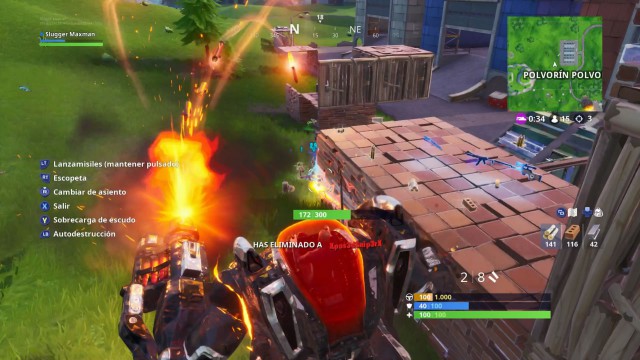 The power of the mecca B.R.U.T.O. made many players pull their hairs
The other theory, and, as a consequence of the previous one, is that Epic Games would like to be able to surprise the players in some way, considering that the huge community of game data miners makes a lot of information regarding the content of the game. It reveals itself long before it is active in the game itself. The week of November 4, for example, the game received a new weapon / tool, the harpoon gun – whose use you can see in the video clip below – without prior notice:
GET OVER HERE! #Fortnite #MortalKombat #XboxShare pic.twitter.com/mhHJqAtJ8P

– Rubén Martínez Botella (@RubenMartBot) November 6, 2019
As reported in FortniteIntel, Epic Games has gone to the extreme of deleting all previously published patch notes on its website, and corresponding to past Fortnite updates. Meanwhile, Epic has declined to comment on the matter, so it seems that we will not have an official version regarding the reason for this decision.
Source: own elaboration, FortniteIntel (1) (2)