This temporary mode will arrive on September 3 along with other changes that affect the balance of the champions.
Riot Games video game update week. The North American company has announced Patch 10.18 for League of Legends, which introduces many balance changes to champions, but also marks the return of one of its most beloved temporary modes. This is Uno para Todos, which returns with PsyOps on September 3 at 10:00 p.m. (Spanish peninsular time). Players will have to join in doubles teams in which each of the users must show off different styles of play with each champion.
Below, we offer you the full patch notes, with all its changes and news. The image that we publish just below these lines summarizes the news, but all the details are developed in detail in text.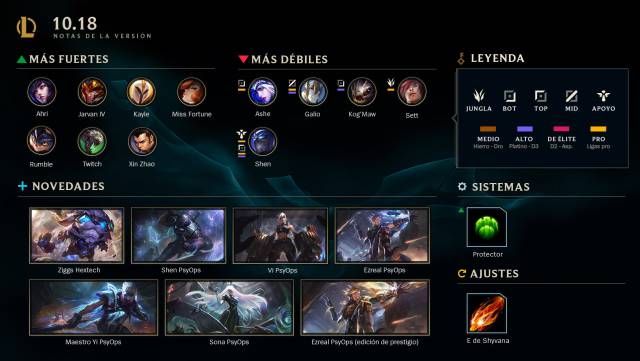 Champions
Ahri
His Q's passive becomes the champion's passive, and any spell now heals. W now grants movement speed, deals 200% damage to low health minions, and better prioritizes low health minions.
Ahri's identity and gaming experience have become more and more confusing over time, and she's not as charming as we'd like. We're making some changes to her kit, especially her W, to reinforce her identity as an elusive mage who can get in and out of fights while looking for the perfect moment to strike. In addition, we are also moving his Essence Steal from Q to passive so that he has more chances to activate healing when trading with enemy champions.
Overall, you should feel a greater (spiritual) drive to make more combos and risky plays.
Basic statistics
HEALTH REGENERATION 6.5 ⇒ 5.5
Passive – Vastya Grace
ESSENCE STEAL Ahri gains a stack of Essence Steal for each enemy hit by her abilities, up to a maximum of 3 per cast and can store 9 at a time. At 9 stacks of Essence Steal, Ahri's next spell consumes the stacks and heals Ahri 3/5/9/18 (levels 1/6/11/16) (+ 0.09 ability power) per every enemy hit.
GRACE VASTAYA Ahri no longer gains 20% bonus movement speed for 3 seconds when hitting a champion with 2 abilities within 1.5 seconds.
Q – Orb of Deception
ESSENCE THEFT Essence theft is now his passive.
W – Fire Fox
RAPOSA FEET Casting now grants a 40% increased movement speed, decaying over 1.5 seconds.
FIRE AGAINST MINIONS Now deals 200% damage to minions below 20% health.
IMPROVED TARGET ASSIGNMENT AGAINST MINIONS Targeting now better prioritizes low health minions that can be killed by Foxfire after champions (spellbound champions remain top priority).
COOLDOWN 9/8/7/6/5 seconds ⇒ 10/9/8/7/6 seconds
COST 40 mana ⇒ 55 mana
Ashe
Basic attack damage reduced.
Ashe has continued to be one of the top shooters on the pro scene, so let's freeze her power a bit.
Basic statistics
Q – Maximum concentration
BUGFIX Runaan's Hurricane Windfury damage now correctly takes into account the next levels of Maximum Focus.
BUGFIX Runaan's Hurricane bonus projectiles with Amethyst Ashe's Q – Max Focus now correctly use the skin's visual effects.
Gallium
Q base damage reduced.
Galio's Q allows him to clear waves early in the game without much risk, so we're reducing his damage so he has to invest a little more before he can fly across the map.
Q – Winds of War
BASE DAMAGE 80/115/150/185/220 ⇒ 70/105/140/175/210
Jarvan IV
Q base damage increased.
We've added a bit of punch to the J4 power early in the game so it can compete in the current jungle meta.
Q – Dragon Strike
BASE DAMAGE 80/120/160/200/240 ⇒ 90/130/170/210/250
Kayle
Q mana recovery removed. W cost increased. E cost removed. Projectile speed increased.
Improves clarity of Kayle's mana management: Removing the mana cost from her E so she is less dependent on mana overall. Combined with the improved projectile speed of her sword, we hope to see her participate in a more exciting lane phase and that she can trade more often with her enemy.
Q – Radiant Burst
MANA RECOVERY No longer restores 50% of mana cost for each enemy champion hit.
W – Heavenly Grace
COST 70/80/90/100/110 mana ⇒ 90/100/110/120/130 mana
E – Cleansing Edge
COST 50/55/60/65/70 mana ⇒ No cost.
MISSILE SPEED 2000 ⇒ 5000
Kog'Maw
Base health and armor growth reduced.
This caustic caterpillar is almost always about to cross (and slime) the line, and it finally has. In response, we are reducing his defenses to highlight his identity as a strong but fragile marksman: very slimy, but not very resistant.
Basic statistics
LIFE GROWTH 90 ⇒ 85
ARMOR GROWTH 3.5 ⇒ 3.25
Miss fortune
Base Attack Speed ​​growth increased.
We're making another opportunistic upgrade for the Pirate Slingshot focused on early-game, reversing some debuffs from this season (on 10.10 and 10.3, if you're interested!).
Basic statistics
ATTACK SPEED GROWTH 2.25% ⇒ 3%
W – Show off
MAXIMUM BONUS MOVEMENT SPEED 50/60/70/80/90 ⇒ 55/65/75/85/95
Rumble
Q total damage increased.
We're going to heat up the mood and give Rumble a kick-start so that, hopefully, it becomes an option when it comes to picking a kick-off champion in the pro scene.
Q – Flame Spitter
TOTAL DAMAGE 175/210/245/280/315 ⇒ 180/220/260/300/340
Sett
Right punch passive now scales with bonus attack damage. The target's maximum Q per life bonus damage ratio is now flat, scaling for every 100 total attack damage.
Sett continues to force his way into the pro gaming level, especially as a tank with few resources and utility settings. Since the previous weakening of its basic values ​​has not been enough, we are going to give it more force. To do this, we adjusted how it progresses with damage and gold, thus incentivizing damage-oriented item sets. There will be another review after the World Cup to make sure it remains under control.
Passive – Courage of the Pit
RIGHT PUNCH BONUS DAMAGE RATIO 0.15 total attack damage ⇒ 0.5 bonus attack damage
Q – Knuckles ready
BONUS DAMAGE 10/20/30/40/50 (+ 1/2/3/4/5% of target's maximum health) (+ 0.01 per 100 total attack damage) ⇒ 10/20/30 / 40/50 (+ 1% of target's maximum health) (+ 1 / 1.5 / 2 / 2.5 / 3% per 100 total attack damage).
Shen
Passive shield reduced.
The upgrade to Shen from 10.15 made it a bit stronger than expected, so let's backtrack slightly.
Passive – Ki Barrier
SHIELD 70-121 (levels 1-18) ⇒ 60-111 (levels 1-18)
Shyvana
Increase the blast radius of E in Dragon Form. The Dragon Form Gauge and Cast Gauge now accurately represent the skill. Increases the rate of damage pulses from the hit zone when in dragon form.
Fixing a minor clarity bug from Shyvana, we discovered other areas to polish. The result is a broad correction to clarity and, along with it, a minor balance shift.
Previously, the radius of Shyvana's E in Dragon Form progressed with the level of Breath of Fire, but the effect is not rendered accurately visually or in description. We've decided to remove it, as the clarity of an important spell shouldn't change dramatically throughout the game. Overall, we expect these changes to be a small debuff to Shyvana's AP, a small buff to Shyvana's DA, and a big boost to Breath of Fire's clarity.
E – Breath of fire
RADIUS OF DRAGON-SHAPED EXPLOSION 220/240/260/280/300 (check at limit) ⇒ 345 (check at center) (a check at the center with a radius of 345 equals a check at the limit with a 280 radius for most lenses).
DOUBLE CHECK Dragon form visuals and cast indicator now properly represent the radius of the ability.
AT FULL Dragon-shaped Fire Breath no longer casts at maximum range when the player attempts to cast the ability near maximum range.
DRAGON-SHAPED HIT ZONE DAMAGE PULSE RATE every 1 second ⇒ every 0.5 seconds (same damage per second)
NO WAITING Now the dragon-shaped impact zone responds better.
Twitch
Damage ratio per stack of E increased. Damage penalty from R projectiles reduced for each enemy hit.
It seems that this rat has been thrown in the sewers and we know that it is dying to return to the metagame. We're increasing the power of his ult and making E a little more attractive. Now it's a spell that doesn't stink!
E – Contaminate
BONUS DAMAGE RATIO PER STACK 0.2 ability power (max 1.2 ability power) ⇒ 0.333 ability power (max 2.0 ability power)
R – Empty the magazine
MISSILE DAMAGE REDUCTION PER ENEMY HIT -20% from previous hit (40% minimum damage limit) ⇒ -5% for each unit hit (70% minimum damage limit).
Xin Zhao
W lunge damage increased.
Xin Zhao is no longer the threat he used to be at the start of the game, so we're giving his damage and cleaning ability a little boost.
W – The wind turns into lightning
LUNCH DAMAGE 30/65/100/135 / 170 (+0.75 attack damage) ⇒ 40/75/110/145 / 180 (+0.80 attack damage)
Runes
Protective
Protector performs far too good on wizards, wizards, and tank supports relative to other key runes. We will reduce its power to open other options.
SHIELD RATIO 0.25 ability power (+0.12 bonus health) ⇒ 0.15 ability power (+0.09 bonus health)
LoL client updates
This version includes a longer list of bug fixes and client quality changes, so let's put them in a specific section! Take a look at what's new in customer cleaning and don't miss out on this week's new post!
Online players using League + are now listed as available in friends list folders.
Messages now appear when a player encounters an error while updating the game.
Spectating a game no longer shows your status as green in the friends list.
Guardian skin rarity now displays correctly.
Players who have been kicked out of a party's home screen no longer go black.
Player names will no longer show as "…" in chat.
Missions and other pop-up notifications with information should not appear until the client has finished loading.
Blocking a player through Add Friends mode no longer displays debug text instead of the user's summoner name.
Long skin names no longer overlap each other in profile background selection.
The loading circle for all client tabs is now in the same place.
Changing the profile background now dynamically updates your listing in the friends list.
The voice panel no longer overlaps with the friends list.
We found a missing translation and it has been fixed for installer specific notifications.
The player token in the friends list should properly reflect the player's current status (queued, champion select, online).
Visual effects updates
We have updated more visual effects in this version! And the lucky ones are …: Malzahar, Nocturne, Viktor, and Prender (yes, we know he's not technically a champion).
Again, our goal for these types of smaller updates is to improve the overall clarity of the visuals in the gameplay experience and bring them up to modern League of Legends standards. This means that our efforts are mainly focused on skills that do not clearly communicate their impact picture.
Malzahar
PASSIVE – VOID ALTERATION Removed unnecessary visual effects from the shield. It is now a bit brighter to match other spell shields.
BASIC ATTACK New projectile and impact effects.
Q – CALL FROM THE VOID New fast cast indicator to better represent your hit box. New projectile and impact effects.
W – VOID SWARM New spawn effects and basic attacks.
E – EVIL VISIONS New debuff effect and lightning effect when debuff is spread to other enemies.
R – INFERNAL GRIP New beam, hit and area of ​​effect effects, including a more thematic repertoire.
MALZAHAR SNOWY DAY New snowball visual effects on Q.
BATTLE CHIEF MALZAHAR Updated Q to rotate spaceships to better fit the hit box.
MALZAHAR HEXTECH Updated the Q to show the impact chart more clearly.
MALZAHAR ROMPEMUNDOS Updated the Q to show the impact box more clearly.
Nocturnal
PASSIVE – DARK SWORDS New effect to clearly show the area of ​​effect. Nocturne's blades now glow when the passive is ready.
BASIC ATTACK New targeting hits and effects.
Q – DUSK CARRIER The projectile effects have been updated and the trail of darkness adjusted.
W – VEIL OF DARKNESS More thematic spell shield and attack speed buff effect.
E – UNRELATED HORROR We've updated the lightning and shadow effects to show the moment more accurately.
R – PARANOIA New slide effect when Nocturne casts the ability. The trail and on-hit effects have been updated. Enemies affected by the spell receive a shadow screen effect.
NIGHT ICE TERROR All visual effects have been updated with a winter theme.
ENCHANTED NIGHT All visuals have been updated with a spooky theme.
ETERNAL NIGHT Updated all visual effects with a sci-fi theme.
Viktor
BASIC ATTACK New projectile and impact effects.
Q – POWER TRANSFER The lightning effect has been updated and the shield effect adjusted.
W – GRAVITY FIELD The effect of the gravitational zone has been updated.
E – RAY OF DEATH Updated effects to clearly show the area of ​​impact.
R – STORM OF CHAOS New initial casting effect.
CREATOR VIKTOR All War Machine-themed visuals have been updated.
VIKTOR DEATH ANNOUNCED The size of the E has been adjusted to match the basic look.
Tryndamere
R – IMMORTAL FURY Tryndamere's body will flash a white flash at the end of his ultimate to signal the end of the upgrade.
ON Unnecessary visual effects have been removed and clarity and duration indication have been improved.
Bug fixes and quality changes
There are new descriptions in the Clash section that explain how to form and search for a team, as well as offering suggestions the first time the page is visited.
BETA: Instead of creating your team, visit the Clash section and mark yourself as available so that other teams looking for players can add you to their squads. Set your position preferences and get in on the action.
Tryndamere's E – Spinning Slash can no longer hit the same target multiple times.
Teemo's Bouncing Venomous Traps no longer stop his basic attacks.
When Riven casts her Q – Broken Wings or E – Valor from the fog of war when hovering over an enemy champion or minion, she and the small area around her will no longer be revealed to the enemy team.
Fiora's W – Replica can no longer activate her enemy's vital points through a spell shield.
Hitting an enemy champion with Kha'Zix's evolved W – Void Spike no longer reveals a large area around him.
Garen's W – Courage no longer increases his base armor and magic resistance.
Anivia's W – Crystallization no longer applies Aspect of the Dragon debuff against enemy champions.
Champions with the Aspect of the Dragon will no longer burn when invulnerable.
When Nami kills the Rift Sneak using an empowered basic attack with her E – Blessing of the Tide, the sanctuary of speed will no longer be considered a Nami ability, and allied champions will no longer receive buffs like Summon Aery when passing through.
Pyke can now correctly cast Q – Bone Skewer when he has minimal mana required.
Using Graves' E – Swift Shot after a basic attack now correctly triggers Brilliance or Kleptomania.
Liandry's Torment now correctly applies her UNIQUE passive (Torment) against Baron Nashor, regardless of distance.
If Zed dies during his dance animation, his clone no longer remains on the map and grants vision until Zed respawns.
Youmuu's Ghost Edge's out of combat movement speed effect goes on cooldown when enemy control effects are applied.
Fixed an issue where the Rift Herald would sometimes not deal damage to a turret.
Bami's Ember passive damage is correctly increased by Kled's bonus health.
Lux's W – Prismatic Barrier now correctly applies the shield a maximum of two times.
Caitlyn can no longer trigger Aspect of the Dragon execution against multiple targets.
Caitlyn can no longer activate Summon Aery multiple times at once.
Casting the R – Sett's Great Show against Yone during the end of his R – Sealed Fate no longer suppresses Yone when he dashes towards another enemy champion.
Beekeeper Singed's Q – Poison Trail VFX are now distinguishable in colorblind mode.
The " Show More Info " level-up grid view is now available on all champions. Now the grid also highlights the values ​​of the current level.
Colors have changed in all descriptions. The goal is to make them easier to read and get important information faster.
Many champions now have Magic Damage / Physical Damage / True Damage highlighted in their own specific color (champions are still missing, but they will come slowly).
Kayle Pentakill and Kayle Ethereal Wings Q – Radiant Burst VFX no longer displays over impassable terrain.
Anivia's base skin R Storm sound loop (also applies to Anivia's Team Spirit, Bird of Prey, Huntress of Noxus, Hextech, and Prehistoric skins) now plays correctly in the Mist of war.
Anivia's Hextech armor material has been changed to the correct type and she will produce metal sounds when hit by enemy champions.
We've reset various sounds from Dark Frost Anivia, including death sound effects that play when Anivia dies as an egg, Empowered E impact sound effects, sound effects that play when R reaches her maximum size and sound effects when R is turned off.
We have reset the sound effects of the R for Anivia Queen of the Festival when it reaches its maximum size and the deactivation.
Anivia's armor material has been changed from origami to the correct type and will produce wooden sounds when hit by enemy champions.
Several mecha-specific Kha'Zix sound effects have been restored: Passive Strike, Q against isolated and non-isolated targets, W projectile hits, W heal, W hit the ground. E and the effects of the R launch.
W heal sound effects have been reset for the Sands Guardian Kha'Zix, Death Petal, and Dark Star skins.
Supergalactic Nidalee Assault reset sound effects have been reset.
Fixed an issue where Lissandra's Q single hit / secondary hit sound effects were not working.
Runaan's Hurricane bonus projectiles with Amethyst Ashe's Q – Max Focus now correctly use the skin's VFX.
Upcoming skins and chromas
We will release the following skins throughout this release. Get the League Displays app to see the illustrations in full resolution!
Sona PsyOps
I saw PsyOps
Shen PsyOps
Master Yi PsyOps
Ezreal PsyOps
Ziggs Hextech
Ezreal PsyOps (Prestige Edition)
We will release the following chromas throughout this version:
Sona PsyOps
I saw PsyOps
Shen PsyOps
Master Yi PsyOps