The new update focuses on balancing champions at different levels; Other improvements have also been added.
League of Legends is updated, as every two weeks, this time to its version 10.14 (if you are looking for the TFT version, click on this link). This has been announced by Riot Games on the official website of the video game, where they have highlighted that the new patch focuses on the balance of champions "with a tendency to stumble", that is, protagonists such as Alistar, Kha'Zix and Sejuani. They also report that they have retouched professional "champions who appear frequently on the scene." Among them is Trundle and Varus, who will give up some power so that others can shine.
Here are the full patch notes: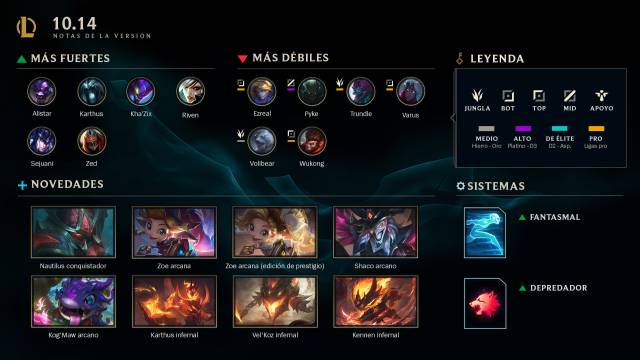 Champions
Enlist
We strengthen the disruptive power of this minotaur in long fights by providing it with more opportunities to use its fearsome fists.
Q – Spraying
COOLDOWN 17/16/15/14/13 s ⇒ 15/14/13/12/11 s.
Ezreal
E cooldown increased.
Ezreal is too safe on the lower and central lanes, as well as the mid-game ending skirmishes, given the amount of damage it is capable of dealing. We will reduce its ability to continually evade its attackers. We've increased the cooldown of the E, but not drastically, so you'll still have a chance to use it twice, only now you'll have to play more carefully around that vulnerability.
E – Arcane Alteration
COOLDOWN 25/22/19/16/13 s ⇒ 28/25/22/19/16 s
Karthus
Increased basic health and movement speed. Q damage increased. Damage against monsters reduced. E's mana restoration is now always active. Increases the frequency of area damage pulses per second.
The Voice of Death is now more deadly in its two main positions. With Karthus Jungle, we are going to pass some of its monster power to enemy champions so it's not so much aimed at farming. This also implies that the power that we are going to give to Karthus will serve to revitalize it in the central street, since it will increase its survival capacity in the first levels and its damage per second in general. Now it will give the sensation of being at the height of its rivals on the street. As the icing on the cake, we are going to polish your E to make it more intuitive and more responsive.
Basic statistics
Q – Sow destruction
DAMAGE 45/65/85/105/125 (+0.3 Ability Power) ⇒ 50/70/90/110/130 (+0.35 Ability Power)
DAMAGE REDUCTION AGAINST MONSTERS 0% ⇒ 15%
E – Desecration
MANA RESTORE Only when idle ⇒ Always.
AREA DAMAGE PULSE RATE Deals damage 1 time per second ⇒ Deals damage 4 times per second (does not change cost or damage). Deactivating Desecration deals 1 pulse of damage.
Kha'Zix
Increases bonus damage against isolated targets.
Let's sharpen the claws on this insect. Its power is very low for medium and high level players, so we believe that a small improvement can bring it to break even, also for elite players. The changes are good, after all.
Q – Taste your fear
BONUS DAMAGE AGAINST ISOLATED TARGETS 100% ⇒ 120%.
Pyke
Growth of basic magic resistance and armor reduced. Q cost reduced and now progresses. Cooldown reduced in early levels. Base damage increased. W's additional movement speed is now constant at all levels. E base damage increased.
The objective is to remove this bloodthirsty beast from the central street and enhance its supporting role. As a slippery assassin, he has too much freedom to launch himself around and surround his enemies. In addition, Pyke has much more ability to accumulate experience on the central street than on the lower street. To curb these perks, we will reduce your armor progression, which will go from being best in class to a level below. We will also decrease your ability to stalk quickly across the map. These changes should be noticed especially in the central street, where Pyke accesses the last levels of his W much earlier to accelerate his pressure on the map. Also, we're going to add some power to your Q so that you can launch the harpoon with less consequence and bring it out more often on the lane below.
Basic statistics
MAGIC RESIST GROWTH 1.5 ⇒ 1.25.
ARMOR GROWTH 5 ⇒ 3.5
Q – Bone spit
COST 70 mana ⇒ 50/55/60/65/70 mana
COOLDOWN 12/11/10/9/8 s ⇒ 10 / 9.5 / 9 / 8.5 / 8 s
BASE DAMAGE 75/125/175/225/275 ⇒ 85/135/185/235/285.
W – Marine Spectrum Immersion
ADDITIONAL MOVEMENT SPEED 40/45/50/55/60% ⇒ 40% at all levels.
E – Phantom current
BASE DAMAGE 95/125/155/185/215 ⇒ 105/135/165/195/225.
Riven
Passive bonus damage increased.
Riven's depth and popularity are suffering from the fact that the metagame's item sets simply aren't in keeping with his playstyle. For this reason, she has been a little exiled. We're bringing its damage-oriented item sets (such as Essence Reaver, Youmuu, and Bloodthirsty) back to its full potential vs. current, more resistance-oriented items (such as Blade and Death's Dance).
Passive – Runic Blade
BONUS DAMAGE 25-50% of total attack damage (levels 1-18) ⇒ 30-60% of total attack damage (levels 1-18) (this damage also applies to life steal and critics).
Sejuani
E base damage increased. Cooldown reduced to apply Frost to stunned enemies and is now constant at all levels.
Given Sejuani and Bristle's tendency to dominate the professional scene, we have kept a cool head. Although we are still a little reluctant to let go of the reins, we are going to give them a little leeway and amplify their damage so they don't slip on the ice.
E – Permanent freezing
BASE DAMAGE 40/90/140/190/240 ⇒ 55/105/155/205/255.
FROST COOLDOWN Frost cannot be applied to stunned enemy champions for 10/9/8 s (levels 1/7/14) ⇒ Frost cannot be applied to stunned enemy champions for 8 s (levels 1-18).
Trundle
W bonus attack speed reduced in early levels.
This treacherous troll is continually wreaking havoc on the professional scene. We're going to roll back the improvements in version 9.6 in the hope that this will reduce its power in duels and its ability to clear jungle camps in the early levels.
W – Icy Kingdom
ADDITIONAL ATTACK SPEED 30 / 47.5 / 65 / 82.5 / 100% ⇒ 20/40/60/80/100%.
Varus
Q bonus max damage ratio now progresses. E base damage reduced in early levels.
Varus, alongside the Troll King, is also causing a stir in the professional scene and is the standard blind pick (or first red-side block). We focus on his ability to harass from afar in the early levels to try to get him to harass his opponents less on the street.
Q – Piercing Arrow
MAXIMUM BONUS DAMAGE RATIO 150% of total attack damage ⇒ 125/130/135/140/145% of total attack damage (minimum damage is always 66% of maximum damage).
E – Rain of arrows
BASE DAMAGE 70/105/140/175/210 ⇒ 50/90/130/170/210.
Volibear
Basic attack speed decreased. W healing is now halved against monsters.
This thundering beast continues its relentless frenzy, especially in the jungle in the medium skill level group. We take some of its power away so that it balances its camp clearance speed and stamina so it stops rampaging through the jungle.
Basic statistics
ATTACK SPEED 0.66 ⇒ 0.625.
W – Frenzy Rush
HEALING AGAINST INJURED ENEMIES Reduces 50% against minions ⇒ Reduces 50% against minions and monsters.
Wukong
R survey duration reduced.
Wukong is too strong right now, so we're going to cut some of the area disruption it brings to team fights before it keeps spinning out of control.
R – Cyclone
LIFTING DURATION 0.75 s ⇒ 0.6 s
Zed
W projectile speed increased. Cooldown reduced in early levels.
We brought Zed out of the shadows to improve his power in high-level matches in an exciting way that will make him more consistent with his combos and more potential to win plays. Yes, you read that correctly: With the drastic changes that have been made to the game since Season 3, we are going to reverse the slowing down of its 3.13 W speed and increase its accessibility. This should give your combos a greater sense of fluidity and power, as well as open up more opportunities for mischief with their shurikens.
W – Living Shadow
PROJECTILE SPEED 1750 ⇒ 2500
COOLDOWN 22/20/18/16/14 s ⇒ 20 / 18.5 / 17 / 15.5 / 14 s.
Runes
Predator
Predator is still weaker than we expected, so we will continue with the adjustments. We added some improvements so that it can compete with other key runes.
DAMAGE GROWTH 30-90 (levels 1-18) ⇒ 40-120 (levels 1-18).
COOLDOWN 100-70 s (levels 1-18) ⇒ 90-60 s (levels 1-18).
Summoner spells
Ghostly
The changes to Phantasmal from version 10.12 have turned out to be a slight debuff due to increased cooldown, so we're going to continue with an upgrade to get it going full speed in the right direction.
ADDITIONAL MOVEMENT SPEED 20-40% (levels 1-18) ⇒ 24-48% (levels 1-18).
Conqueror Clash
We will be holding a special Clash tournament the weekend of July 11-12, with additional prizes for premium tickets and a clear path to PV rewards. Here's all the details!
Bug fixes and quality changes
Syndra's Q – Dark Sphere cast at maximum range now works consistently in combination with E – Scatter the Weak.
Karthus E-Desecration's description now accurately reflects the increased mana cost per second at each level.
Shaco now correctly receives elimination assistance where only his clone helped.
Champions with Approach Speed ​​no longer maintain their additional movement speed until the enemy with reduced movement reappears.
Singed's Q – Trail of Poison turns blue correctly in colorblind mode.
Diana's E – Moonbeam's cooldown is no longer reset when a spell shield blocks Moonlight from her Q – Increasing Impact. Additionally, the Moonlight of his Q – Increasing Impact no longer applies to champions who have blocked the ability with a spell shield.
The icon of the linkage of the W – Yupi! Yuumi's no longer disappears from the minimap when the champion she is bound to uses retreat.
When Volibear casts his R – Herald of the Storm after activating Predator, he no longer becomes immune to all kinds of displacement effects until he dies.
Jhin no longer deploys the trap of his surrendered E-Public instead of taking the fourth shot of his Passive-Whisper under certain circumstances.
Neeko's Q – Bursting Burst cooldown is no longer immediately reset when disguised as Aphelios.
Approach Speed ​​is now properly triggered by Zoe's E – Sleep Bubble.
Approach and Activate Heimerdinger's Q – Evolved H-28G Turret no longer activates Immolate.
The Wailing Abyss pores no longer trigger Immolate.
Zyra, Gnar, and Yorick's recommended items now include jungle items if the player has chosen to Crush.
Shifting minions and jungle monsters with Sett's E-Facebreaker no longer increases his hit squares.
Activating the Passive – Lioness Sunlight with the Passive Slit – Call of Freljord from Nunu and Willump no longer causes her passive to become unavailable the rest of the game.
Shyvana's Q – Double Bite in Dragon Form now correctly deals two damage to Guardians and Tentacles of Illaoi.
The Elder Dragon no longer loses its range when Yuumi attacks it and uses its W – Yuppie! in a camouflaged allied champion.
Disheartening Crush now correctly grants a Conqueror stack.
Cho'Gath's W – Wild Scream now correctly silences Ripper of the Rift.
Sylas no longer retains Elise's E2 – Rappel until she again steals her final if she dies while casting it.
The gems on Taric's right shoulder no longer disappear when he dies the first time in the game.
Abilities with damage auras, such as Renekton's R-Dominus, no longer continue to deal damage to nearby enemies while the champion revives (for example, due to the Guardian Angel effect).
Ivern's W – Creamers' weed summoned behind narrow walls is no longer partially invisible from the enemy's point of view.
Now when you hover over skills that have not been level up, the description correctly reports that they have not yet been learned ("You have not yet learned this skill!").
Aphelios R – Moonwatch Damage now matches the ability's description when used with critical impact items.
Source | Riot Games