The missing studio has resurfaced and will return with The Wolf Among Us 2, a sequel that was canceled with the closure of the company.
Summer progresses inexorably, but in case there is any time left for entertainment, the offers from Steam and other platforms allow us to access video games at a reduced price. Humble Bundle, known for its very low-priced title packs (and with a social component as well), have announced a new set of titles, this time focused on graphic adventures. For less than 1 euro, the interested party can get titles like Batman: The Enemy Within or The Walking Dead Season One.
Many of the games are from Telltale Games, a company that triumphed with The Walking Dead, but went bankrupt with a crash. After its closure, LCC Entertainment rescued her and is already working on the highly anticipated sequel to The Wolf Among Us. According to the new directive, they have chosen to restart development with the help of a new creative team, which does keep, in its ranks, some creatives from the original title.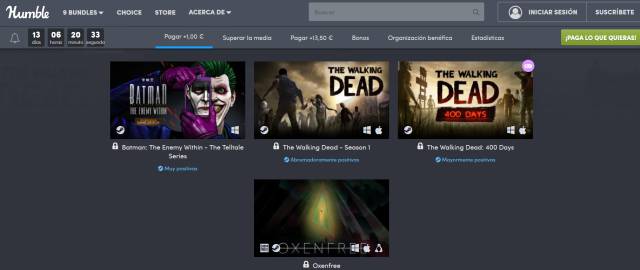 Option A
Batman: The Enemy Within
The Walking Dead – Season 1
The Walking Dead: 400 Days
Oxenfree
Option B
All of the above and …
The Wolf Among Us
Batman – The Enemy Within Shadows Mode
The Walking Dead: Michonne
The Walking Dead – Season 2
Option C
All of the above and …
Heaven's Vault
Batman – The Telltale Series
Batman – The Telltale Series Shadows Mode
The Walking Dead: The Final Season
The Walking Dead: A New Frontier
The Summer Adventure Games pack will be available for almost two weeks, so you still have time to decide if you want to buy this game or not. Most titles are narrative adventures with hints of graphic adventure. Notably, all seasons of The Walking Dead, one of Telltale Games' most successful series to date, are included.