Finally the monitor we were waiting for?
Gaming has become a very important market niche for hardware and peripheral manufacturers. Video games made the first sound cards essential, doing the same with dedicated graphics cards, optical mice, mechanical keyboards … until they reached chairs and desks designed exclusively for playing with a PC.
It has taken too long for the monitor to be considered the fundamental tool that it is. Perhaps because the technological adaptation is not so affordable or because of the simple convenience of some manufacturers who did not see the need to invest in a peripheral that, yes or yes, should accompany each PC sold, the monitors have suffered a technological stagnation improper of the world of the hardware. It was not until the arrival of e-Sports, and the realization that having the best technology was a competitive advantage, that the performance of the monitors were finally put to value.
Until 2013 and the appearance of the first 144Hz monitors, gamers worried little more than the size of the screen. Since that year we have learned to look in the "specs" sheets for terms such as G-Sync compatibility, the HDMI or DisplayPort version, HDR certification and, above all, the type of panel, its resolution, its speed and its latency. .
Also from that moment the players have been forced to choose or, rather, to resign. If we wanted a really fast panel, we had to give up its color. If we wanted color fidelity, we would forgo low latencies, and if we wanted resolution, we would still have to forgo everything else. The perfect monitor did not exist, the one that would provide everything required to the best monitor to play. Until now.
LG Ultragear 27GN950
In recent years, really complete monitors have been announced. We have seen them at trade shows and in manufacturers' press releases. We were delighted with presentations with a big drum and cymbal of impressive configurations, to later see how the product was never marketed or was at such an absurd price that it is as if it had not. However, the trend was clear and we were getting closer to being able to have "complete" monitors.
Today, 2020, manufacturers such as Asus, Acer, Dell or even Razer, or NVIDIA itself, announce the availability of monitors capable of satisfying all our wishes, but LG was the first to put that product on the table so many times desired during the last years.
The Koreans LG are the most important manufacturer of panels for televisions and with their OLEDs they have set the bar that the rest try not to exceed, but to equalize, opting a large part of this competition to buy the panels for their televisions from them. Therefore, this manufacturer's commitment to gaming monitors is great news for us.
Focusing on the product that concerns us today, the Ultragear 27GN950, it's time to start with its features. Some features that do not stand out on their own, since we have been watching IPS monitors 4K, HDR or with frequencies of 160HZ for some time … The extraordinary thing is to see all those characteristics gathered in the same product, without giving up anything, and with a price within the normal.
Thus, the GN950 is a 27-inch panel, with a 4K resolution (3840×2160), IPS illuminated by LG's Nano IPS technology, with a base frequency of 144hz, overclockable to 160hz, VESA HDR600 certification, response time of 1ms GtG , input latency less than 4ms, 10bit color, 1000: 1 contrast ratio and compatible with G-SYNC and FreeSync.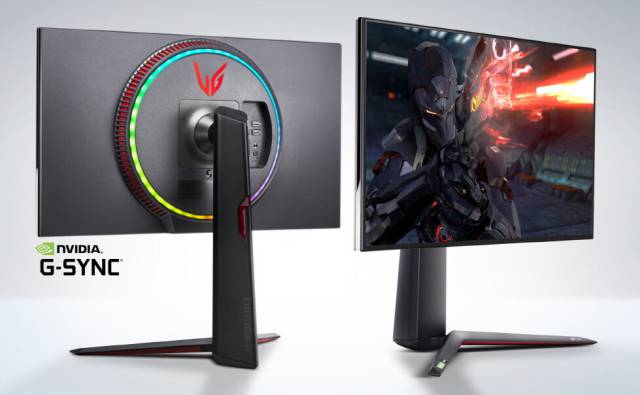 Although everything can be improved, today we could say that we are facing a monitor that does not deprive us of anything. The triangle formed between the 4k, the 1ms IPS panel and the 144Hz cover the needs of any gamer.
An IPS to play
Let's think that just a couple of years ago to have those 144Hz we had to "suffer" a TN panel and its unfortunate performance in terms of image quality. A really good monitor for gaming, it wasn't good for working. What's more, a good monitor for FPS, it was not for the rest of the games. The normalization of the VA panels has alleviated the deficiencies of these poor TNs and brought us closer to the color fidelity of the IPS, but still being very far from these. The contrast of the VA makes them very effective to play, with bright and saturated colors, but that itself becomes a problem when we have something other than video games on the screen. Thus, getting an IPS panel with the refresh rates and latencies of a TN panel, and a contrast that is close to VA, has been the desire of all manufacturers in recent years.
The alternative was there, the OLED, but the high price of production and the dreaded retentions or "burns" continue to separate it from the PC sector. LG's proposal with its Nano IPS allows a contrast that does not reach the wonder offered by Organic LEDs, nor the high ratios of VA, but it is more than enough. The panel's LED backlighting consists of 16 differentiated areas (the so-called "dimming" zones), which have little to do with those pixels that are independently switched off, but which achieve a really satisfactory contrast, typical of the aforementioned HDR600 certification.
The IPS offers the widest, tunable color space. LG uses the DCI-P3 color gamut, where it reaches a range of 98%, or 136% in the classic sRGB gamut. Out of the box the GN950 offers rich, bright colors, perhaps excessively saturated if we go outside the scope of games.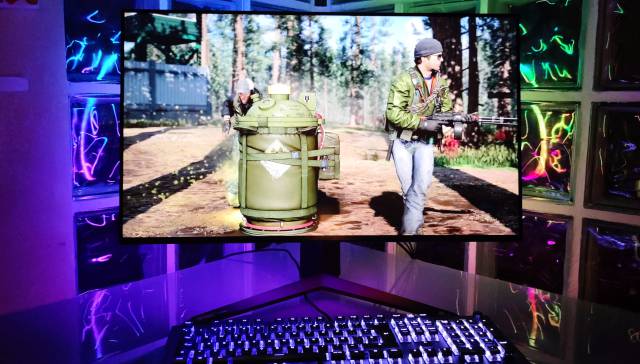 For cinema or other content we will need to program a more conservative color profile, something quite affordable from the OSD menu of the monitor itself. LG is aware of the various uses that can be given to its monitor and allows a calibration to suit the consumer both by software and hardware, thanks to its LG True Color application.
And if we project that contrast and richness of color in 4k, with an impressive density of 163 pixels per inch, at more than 100Hz we obtain, without a doubt, the most satisfactory sensation that a monitor has given us to date.
And it is not necessary to measure it in a shooter or the rest of the most demanding games graphically. Whoever writes you dedicates most of his time to MOBAs and strategy … The impression produced by seeing DOTA2 on that monitor, a game in which we will have "invested" several thousand hours, was of being in front of a different game. The definition of each hero, the contrast of their colors on the black background, the fluidity of their movement on the screen. The sensation is that of seeing something real, "solid", not a representation on the screen. They are the sum of many subjective sensations that end up convincing you that the satisfaction of playing on this monitor is much higher than that provided by any other previous panel, and let's not talk about it if we come from a TN 1080 monitor.
The feeling remains in functions even further away from gaming. Simply typing into a word processor and moving the Windows windows teaches you to appreciate what 4K is by moving at those frequencies.
The price to pay
Those of us who have tried this configuration, the aforementioned 4K at 144hz and 1 ms, agree on the same thing. This is how we want to play. The visual satisfaction that it provides us meets the expectations that we have been projecting for a long time for the monitors and it is going to take us a lot to go back to being condescending with our "old" screens. However, we are all aware of the price that this level requires.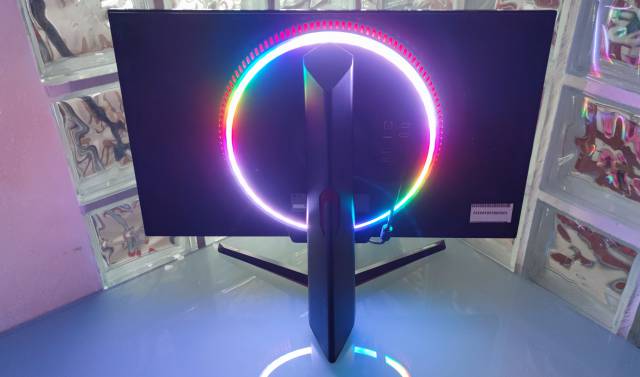 And we are not talking about the price of the monitor itself. It is quite expensive, but with a suggested price of $ 799 it seems an affordable luxury, considering how the market for high-end monitors has been and continues to be. We mean that a fancy monitor requires equally fancy hardware in order to shine.
Painting the 8.3 million texels of 4k resolution is very different from the 2 million of the 1080 in which we are used to playing this type of "shooters". To games like the aforementioned DOTA2, Fall Guys or even Valorant and Fornite, a GTX1080 or even 1070 is more than enough for a satisfactory experience. The only requirement is to have a DisplayPort 1.4 DSC to be able to reach 144Hz in 4K with a color depth of 10bit. Earlier versions of DisplayPort will limit that refresh rate to a maximum of 95Hz and ports with an even lower throughput, such as HDMI 2.0, will limit that frequency to 60Hz.
But things get complicated when we talk about really demanding games. LG maintains a collaboration with Activision focused on the imminent Call of Duty: Black Ops Cold War and the innovation that in this saga means being able to increase the resolution up to 4k. Undoubtedly the ideal competitive environment to get performance at this resolution, refresh rate and low latency, but with what graphics card could we do it?
A monitor like the one we recommend today has to come from the hand of cards like the recently introduced RTX 30 series. A hardware expressly designed to attack 4K. And even so, we have to assume that it is not yet the time for 4K. Not even the almighty RTX3090 can take advantage of those high refresh rates in the most demanding Shooters. 2K and 160Hz or 4K and 60HZ. That is the question. And that's without even mentioning the other object of desire that all gamers have today: the RTX lighting. Again, if only for a few more years, we are going to have to continue giving up benefits; or we opted for 4K, or for RTX, or for high frequencies. That is, along with the price, the great Achilles heel of any 4K monitor versus a 2K. It is still too demanding a resolution for current graphics hardware, no matter how much NVIDIA wants to tell us about 8K.
The point of hope is not only marked by the recent GeForce 30 series from NVIDIA or the imminent Navi from AMD. Artificial Intelligence, initially with NVIDIA's DLSS (Deep Learning Super Sampling), in its version 2.0 has been demonstrated as a solution to enjoy 4K without such a high demand for graphics hardware. Exciting, because believe us, the blissful 4K is worth it.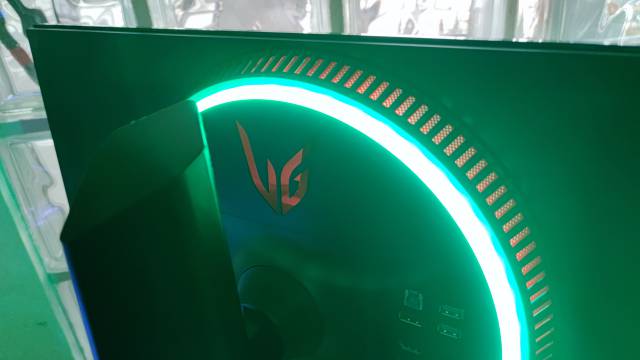 And we leave until the end features that, although less important, do not stop adding value to the product. We must highlight the design and finishes of the monitor. Its frame, of a thickness trimmed to the minimum, gives the screen a sober, elegant appearance. Once turned on, it allows you to enjoy indirect LED lighting that radically changes that aspect. We have to congratulate LG for its design, reminding the rest of the manufacturers that the fact of being gamers does not make us fond of visual stridency. No buttons in sight, no illuminated logos, with a very sober, matte black foot, reduced to the maximum, but stable … It is an attractive product for any desktop and remains true to its own spirit of being the best monitor to play, but also to work or enjoy other content in any environment.
The LEDs, those that do remain as that essential feature of today's gaming, are arranged in the shape of a ring on the back of the housing in an elegant way. It is about 48 RGB LEDs that we can configure from the monitor itself, by means of a hidden wheel in its lower profile, or by means of the corresponding application, allowing us static lighting, with different changing effects or adjusted to the content that is currently on the screen.
Continuing with the body of the monitor, it has the essential DisplayPort 1.4 DSC, two HDMI 2.0, a USB 3.0 hub and a 3.5 headphone output that have the particularity of being equalized by MaxxAudio depending on what type of headphones we go to use. It is striking that LG has not included HDMI 2.1, useful if we want to use the monitor beyond the PC.
The only joystick-type button on the monitor allows us to access on-screen menus from which to choose the different predefined profiles and the rest of the most basic panel configurations. Knowing it is essential given that, for example, the "Faster" response mode becomes ideal for gaming, but it generates an annoying "ghosting" when we use the monitor for office automation. In the same way, it allows us to activate and deactivate extras that we consider uninteresting in these parts, such as the black stabilizer, the energy saving modes, the "cross air" on the screen … It is simple and more than enough for the ordinary use of the monitor .
Among other not so ordinary functions would be overclocking to 160Hz. Our experience with this configuration has not been very satisfactory, observing some occasional flicker that we had not observed with the normal frequency of 144hz. On the other hand, there is not that much difference between 144 and 160Hz, nor do we have hardware powerful enough to keep us in that extra frequency range.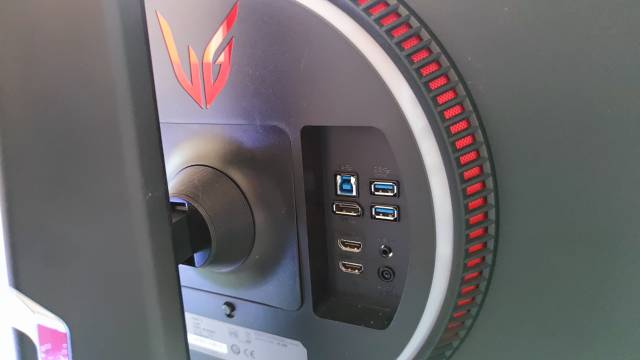 Continuing with testing, our initial fear of light leaks and IPS clouding quickly dissipated. It is a problem specific to each specific unit and the one analyzed practically lacked it. Using calibration discs from Spears and Munsil we check how the HDR performs in a more than dignified way and the 1000: 1 contrast is noticed. Although it is always a subjective opinion, the LG panel would be among our Top monitors when it comes to this function among the IPS.
In short, each and every one of the characteristics of this product keeps it in the place that is expected from its price range; a high-end monitor.
Conclusions
We are all going to play like this. This is very, very good. 4K with HDR, 144Hz refresh rates and a 1ms response time are an ideal environment for both gaming and work, and it's frustrating to give it up once you've tried it. And while it is easy to conclude that we will all end there, what is difficult is deciding when we will. We are facing a monitor that practically doubles the price of 2K products with similar features and requires a really powerful graphics card along with it. We would be facing a product for the most gambling sybarites who have enough money to pay for it … but neither, because going beyond the 60Hz limit is still complicated in the most graphically demanding titles and the persecuted Ray Tracing threatens to set that bar even further. .
Thus, when asked about 2K or 4K, it will be the content that each of us reproduces that determines us. For lovers of RTS, MOBA and the adventures of a player, like the one who writes you, the 4K HDR 144Hz becomes a candy too sweet to reject. If we focus on fast shooter, competitive, 144Hz should not blind us to the eight million pixels that we intend to move at that speed. With those tastes, a 2K monitor is a more recommended option.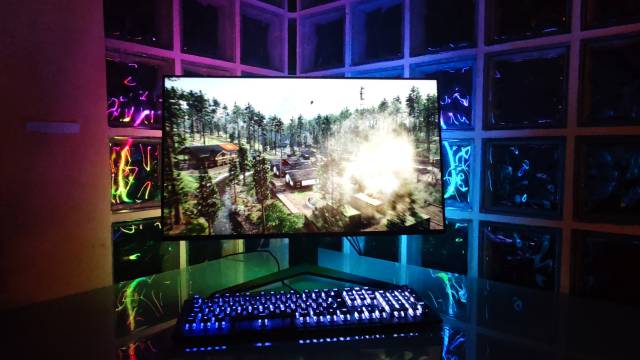 Another distraction would be the format, as 21: 9 has more and more fans. For those users LG launches the first cousin of this 27GN950: the 34GN850. Likewise IPS, 144Hz, 1ms, but with a 21: 9, 34-inch, curved format and a resolution of 3440×1440 … and its older brother, the 38GN950 with that huge 38-inch, 3840×1600 diagonal and a price that goes above the € 1,300.
In short, if our priority in gaming is not to reach the highest frequencies and we are one of those lucky few who have enough budget to buy both the monitor and a GPU this year, the LG GN950 seems to us as the monitor that best results will offer us in a price range below $ 1000. It is not a monitor for everyone, rather the opposite, in a market where the vast majority of gamers still maintain resolutions of 1920×1080, but it is a monitor that we all end up aspiring to and that we will use as soon as we can. allow.
We conclude that the 27GN950 has been the best monitor we have analyzed, the one that has given us the most pleasant sensations, and its arrival has reignited our illusions about the visual enjoyment of video games because, what was going to be in the long or medium term , it's here.