We tried a new demo of Little Nightmares 2. Explore and escape from a school where some students and their teacher don't like our presence.
Since Tarsier Studios announced the sequel to Little Nightmares, one of its video games that received such good reviews and offered such a good experience more than three years ago, its long-awaited and welcome continuation has done nothing more than put the honey in The lips with Little Nightmares 2. Over the months they have shown us some scenes that have undoubtedly caused a great expectation of what we will find. At this time, entering a true nightmare is the great despair of our protagonists Six and Mono, and it will continue like this while both continue to cooperate with each other. If in November we were able to analyze that hospital of horrors, this time we escaped the forest and entered and explored a school where we will not be welcome and we will be surrounded by its students and a most chilling teacher.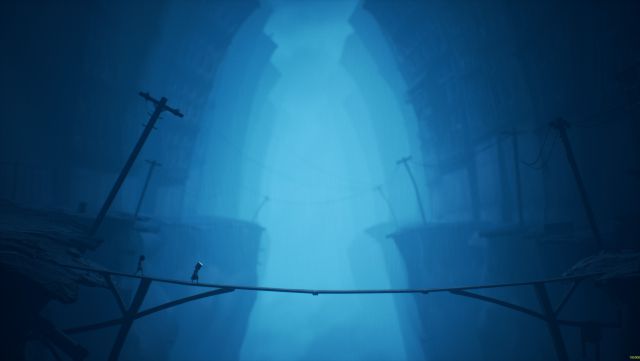 The nightmare continues without looking back
The nightmare has only just begun and after the experience lived through a forest with a strange peasant who chases us with his flashlight and shotgun, Mono and Six manage to escape. They have just arrived in a city, a tremendously deserted city with a very dark atmosphere. After walking through some of the streets, we managed to find the school. A school to which our presence will not be welcome, but where we will be able to relive a true nightmare. Unlike what happened in the different playable levels, as soon as we enter we will have the bad luck that our partner Six has been kidnapped and this time we will only handle Mono, who will be in continuous search to save his partner from the clutches of some strange little students.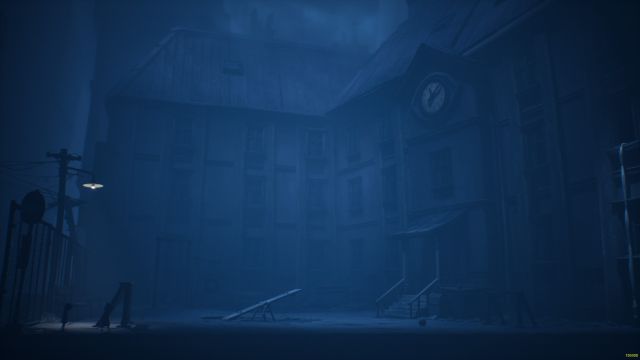 They achieve a perfect and disturbing environment, in which they place us in a gloomy and dark school with sinister objects placed around us, although most will be the objects of a school: stacked desks or mountains of books. In addition, they will continue to deform the silhouette of each element to make us feel the smallest of the place, and they provide little novelty with respect to the hospital level, because they use very similar perspectives and scenes. However, the silence, our footsteps and every slightest noise will make us be alert to get much more into the environment of this school, although do not forget that the scares will be something totally unexpected.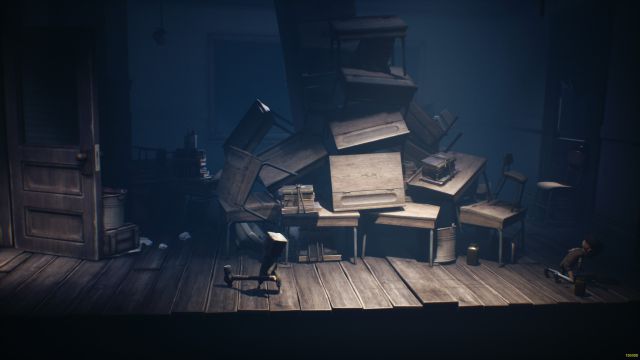 Pay attention to what the teacher says
A class of the most atypical with a teacher who keeps all her students at bay will be what we will find, a nightmare from which we will want to get away and go completely unnoticed. Our confrontation with the teacher will never happen, that is, as soon as we are discovered she will eliminate us and the only way to get rid of her will be to hide and run without looking back. Our skill and insight in climbing and stealth will be important and will help us that while this teacher continues teaching, we can find any way out. Of course, if even being seen you think that you will be able to escape, you are very wrong because it has eyes everywhere and a neck that can stretch all it wants. Don't try to cheat on an exam with her because that would be impossible.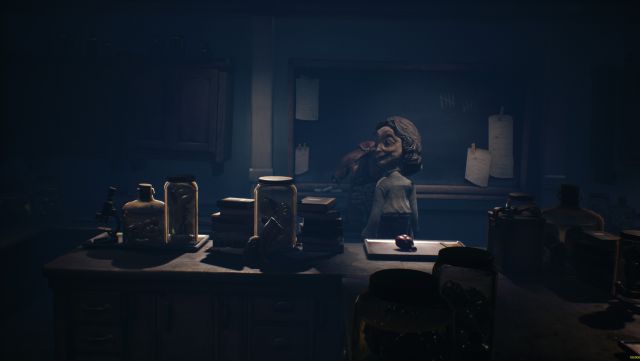 If we are more than ready for the teacher and we believe that it is not entirely a challenge, we have more enemies than those who have kidnapped our classmate, but who our presence is most uncomfortable, the students. Some children with half faces, made of porcelain and with the most sinister attitudes, will want to go after us without any shame and will want to end our life. In these moments Little Nightmares allows us to confront them as we did with our hands on the hospital level. We will have to be careful and knowing that we need a tool such as a lever or a hammer to lift it, give it a blow and thus finish it off. In this case, it is true that the controls are again imprecise and the three-dimensional camera can make it much more complicated. The game does not allow us second chances or playing with the error, that is, if the first hit is wrong, we will die.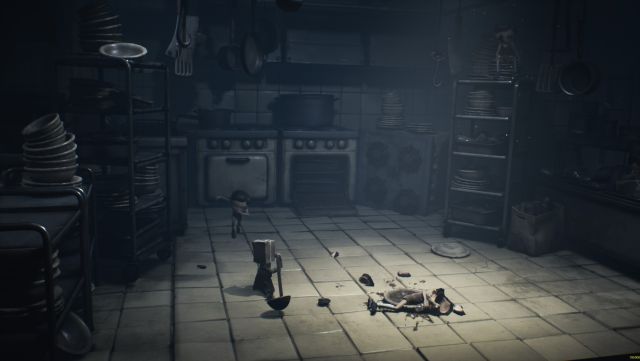 Between enemies and enemies, we must not forget the puzzles and, above all, each object that will help us move from one room to another. We will have to be attentive to everything that surrounds us and know perfectly what we will have to use to move, jump, climb or break. Unlike other occasions, when we take an object that later we have to use, it will not force us to hold it in our hands and drag it, but we will have a kind of "imaginary inventory" where the object will be stored and only with proximity. will use without doing anything. In times when we do not know what to do, Six will give us a little clue and even his help will be totally necessary to open doors, trap doors or jump walls.
Little time left to enjoy this adventure
Little Nightmares 2 is managing to create great expectations for what will be a pretty chilling full game. The fact of having introduced a second character makes it much more attractive, in addition to continuing to play with the entire environment, the colors, the objects, each unique enemy and, above all, the sonic load it presents. The school joins the different levels already played, with moments full of emotion, fantasy and a lot of tension that Tarsier Studios has managed to develop. If there has already been enough with a demo and a playable level, with the school it has managed to make it clear that it is one of the most anticipated games of this 2021. Of course, there is only less than a month left to be able to enjoy it in full, on the 11 February 2021 we will have Little Nightmares 2, a nightmare like you have never experienced before.