We analyze the first video game from the Talpa Games studio, an effective 3D platform full of ideas, a variety of phases and collectibles. Highly recommended.
Our feelings have been fulfilled after the Mail Mole demo with the final game. It caught our attention when we learned of its existence, and that interest was sharpened as soon as we tested the trial version of the Talpa Games title at the Steam demo festival. Good intentions were sensed in that first contact; Very well learned knowledge of the 3D platforming genre from the last fifteen years. The truth is that this group of four young recent graduates in video game development were not wrong: the idea was good, but the execution is even more so.
Carrotland, land of mailboxes and carrots
It is very easy to recommend Mail Mole. Not necessarily fans of 3D platforms, who are sure to like it, but anyone who is willing to discover a fresh, well presented and intelligently designed title. Talpa Games has taken the basic norms of the genre very seriously: comfort in the jumps, variety of levels, encouraging the player to calculate each jump to the millimeter and, of course, filling the stage with collectibles, especially carrots.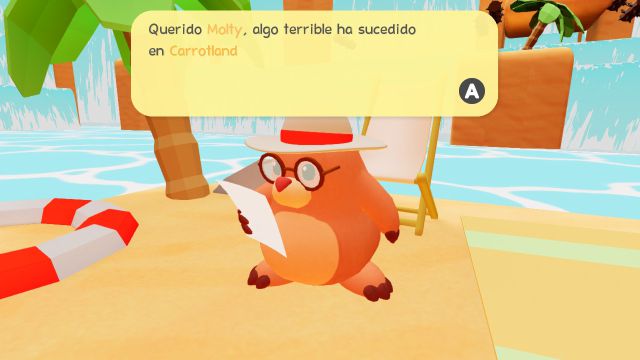 There is a lot of Splatoon in Mail Mole, through the movement of the protagonist, Molty; also from New Super Lucky's Tale in the arrangement of elements in different heights; or Super Mario 3D World, with a fixed camera with excellent behavior — it knows very well when to move away and when to get closer to the character, always giving space on the screen to what comes next. This academic study is also seen in platforms that are exchanged by jumping; zones with thrusters to gain speed during descents; Search for keys to unlock the passage … Even chases of giant elements in the purest Crash Bandicoot style. The best thing is not that there is an amalgam of well-balanced situations in their degree of presence, but that they all work remarkably well.
Broadly speaking, the plot context of Mail Mole is the least of it. An enemy threatens to prevent a festival taking place in Carrotland, so delivery man Molty is there to fix it between deliveries. Along the way, eight four-level worlds arranged on a Super Mario Galaxy-style map, with freedom of movement, plus a shop where you can buy the most extravagant aesthetic elements for the character; which are the justification for spending the currency that we are obtaining during the games. There is a common denominator in each world, and that is that they all share certain types of platforms, but the difficulty is gradually more complex, the phase is generally longer and it costs more to get the maximum score (there lies the replayable component of Mail Mole, in replayability).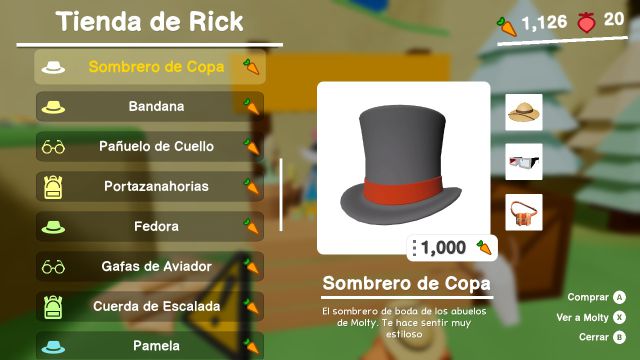 It is all very nice and pleasant, almost aware that, although everything is upside down, here we have come to play with a mole capable of crushing other beings in spaceships while wearing a top hat and cardboard 3D glasses. Molty can handle it.
Good use of resources; variety of phases and replayability
Both on Nintendo Switch connected to the dock to play on TV and in portable mode and on Nintendo Switch Lite – where we have spent most of the time – the control is optimal, without visual problems beyond a specific jerk mentioned. The resolution in portable mode reaches 720p without any problem, it is well optimized and it is very enjoyable as a portable video game due to the nature of its structure, based on short and fast levels.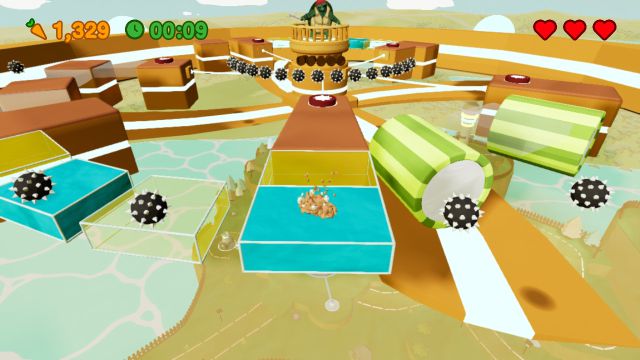 The additional levels focused on races against robo-moles, which we unlock when completing each world, are what we have enjoyed the most about Mail Mole precisely because we feel that Talpa Games has unleashed when designing its rhythm. Everything is going very fast; there is always one of the three opponents programmed to take advantage, ensuring that the difficulty is exacerbated with at least one of the contenders. These tests, which are still a time trial – with the exception that it is not enough to be fast, but you have to be faster than the one next to it – work because they bring together all the elements in which Mail Mole performs best: make quick decisions when moving, jumping, calculating and measuring those displacements. Being able to correct the movement of the character in the air ensures that this mechanic works. And it does.
It's a shame that there are some levels, especially the first ones in each world, where the title takes on a much slower pace; excessively slow, in our opinion. It feels like Molty crawls at times and doesn't throttle as much as we'd like. There are moments where it is understood, as for example in the sensational final confrontation -which consists of several phases, without getting into spoils-, since there are very narrow areas with margin to get off the platforms, and there it is necessary that everything goes a little slower. In other more open environments, on the other hand, that extra speed when Molty moves would have been especially appreciated.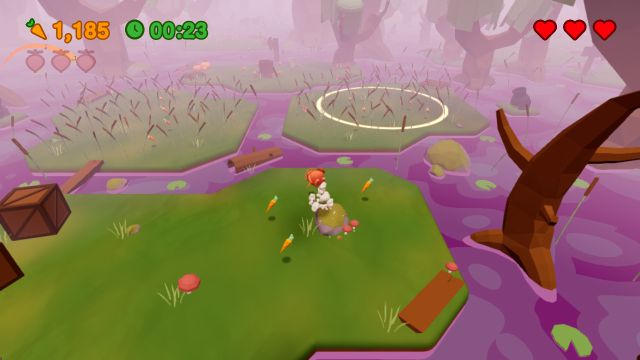 Another negative point, surely fixable through updates, is the mechanics of the jump loaded from the air. Molty can hit elements of the environment up and down when we are at the highest point, but it does not always work well. It is not something unsettling nor is it broken, it is simply that this calculation presents certain errors both in the position of the character, which sometimes falls in another direction, and in the activation of the movement itself. Lacks some polish.
Quite the opposite with the bomb jump (dive) or the dash, perfectly measured with the position of the character. It's amazing how comfortable Mail Mole is at virtually all times; except in the cases that we comment, nothing serious. The final bosses, although little varied in their set (similar to those of the Klonoa saga, with the character circling around the enemy in a kind of circle), are quite challenging, the best of the game. They do not disappoint, and that is very important to complete our journey in each world. There is no feeling of emptiness.
For the rest, Talpa has wanted to alleviate the possible frustration of the less talented in the genre by breaking down several worlds at the same time. If you choke on one, there is usually another waiting for you. The difficulty curve does not suffer one iota; in fact, while being very generous with respawn points, the last worlds require maximum concentration and does something we applaud, which is no accident: the calculation of half-height jumps.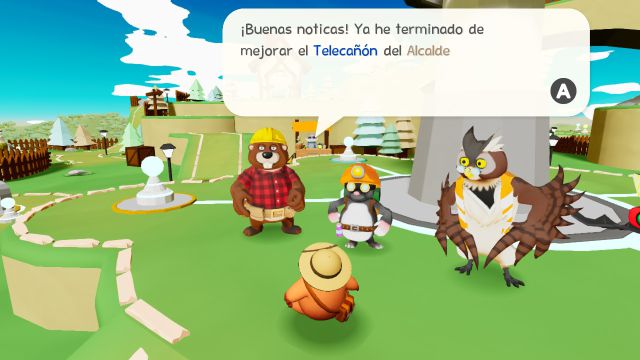 As in Super Mario 3D World, where the most hostile phases require small jumps in place to avoid rings of fire and other threats, in Mail Mole just that happens in the final phases. If you jump a lot, you will spend too much time in the air and you will get hit. Millimeter. For those small details Mail Mole has earned a notable, because it is a title dumped with his idea despite its great budgetary and human capital limitations. It also shows the supervision of an expert study such as Undercoders, which has helped ensure that those possible things that can be overlooked in a premium operation are not affected in the final result.
We have analyzed Mail Mole using a download code provided by the developer for Nintendo Switch. The game goes on sale this March 4 for Nintendo Switch and PC (Steam); coming soon to PS4 and Xbox One.
CONCLUSION
Mail Mole is a game made by great connoisseurs of the 3D platform genre and aimed at followers of this type of adventure, where so much has been said over the years. But Talpa Games also has something to say, and this title, which serves as a cover letter for the Barcelona studio, is also a declaration of intent: there is a lot of talent here. Without achieving excellence in anything, Mail Mole offers a sum of remarkably executed elements, with well-directed moments and final bosses that shine with their own light. The conjunction of all the parts results in a highly recommended title that also comes at a very reasonable price.
THE BEST
How well designed and executed everything is
Challenging and creative final bosses
The final stretch; its quality reaches very high levels
WORST
Some speed is lacking in Molty's commuting
The first phases of each world, less inspired than the last
The puzzles, too simple
Okay
It meets the expectations of what a good game is, it has quality and it does not present serious flaws, although it is missing elements that could have taken it to higher heights.