Log in to FIFA 21 Ultimate Team and receive three items for your team: a commemorative tifo and the Argentina team kit.
FIFA 21 wanted to pay tribute to one of the unrepeatable figures in world football. Diego Armando Maradona passed away on November 25 at the age of 60. For this reason, all EA Sports simulator users will receive free Ultimate Team items to keep the Cosmic Kite myth alive.
To receive them, you just have to log in to Ultimate Team. Doing so will bring up a commemorative message. Close it and go to your pending items. You will have three: a tifo and the complete kit of the Argentina team, both home and away.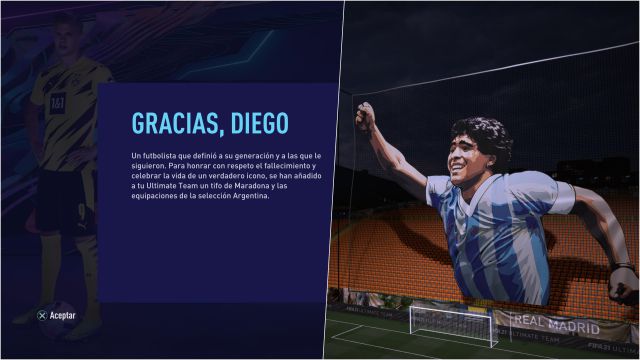 Commemorative message and tifo.
Diego appears in the typho dressed in the colors of the albiceleste, raising his arm as a gesture at his mythical feat in the 1986 World Cup. You can select him to dress the stands of your stadium, even if you have selected an official one. Every stage is little to honor 10.
Black Friday, now available in FIFA 21
Black Friday has already arrived at FIFA 21. From now on you can find the promotion, which includes a new series of cards: Record Breakers. Five players have been selected for achieving different milestones in national and international competition. Among the names we can find the Spaniard David Silva, who was the player who achieved 200 wins in the Premier League the fastest during his time at Manchester City.
These cards will not be the only ones to appear during the opening of packs in the coming days. In addition to TOTW 9, you will have the opportunity to get one of the participating players in The Best TOTW. 11 have been selected to represent the best of the best of these 9 teams from FIFA 21 to date. And if you like to lighten up your club, you'll find Lightning Squad Challenges, a series of teams with exclusive rewards. The downside is that they are available for a couple of hours, so you have to stay tuned.
Source: FIFA 21