A platform that is very clear about what it is.
Nintendo Switch Lite came out last week as the new bet of the Japanese company to attack the portable market that has dominated so well for decades. First with Game Boy and his successors, then with Nintendo DS and in recent years with 3DS. With the stereoscopic console already without launching on the horizon and with Switch breaking molds with its hybrid model, Nintendo has decided to bring to market Lite, a platform that becomes the 2DS version of Switch, in the sense that its proposal is more limited but at the same time, much clearer. We have been with the console for more than a week, and we can already give a verdict on what this new version means for the user.
We start at the beginning: unboxing. As you can see in the video that accompanies this piece, the Switch Lite box accompanies the console, much more compact than the original, with a USB-C charger (goodbye to the times when certain versions of Nintendo consoles do not They came with charger) and with an instruction book. Little more. As the joy-con are attached, there is no trace of a dock, of various accessories or, of course, HDMI.
Switch Lite comes in three colors: yellow, turquoise and gray. All of them arrive with the same composition and design: the main differences are in the touch of the right buttons, which is noted that they do not have the quality of the joycon, and in the presence of a crosshead to the left instead of buttons. The rest remains intact: four upper buttons, two joysticks that are exactly the same as those of the original Switch and the complementary buttons for less, more, capture and home. All this for a recommended price of 219.95 euros, which is more than 100 euros apart from the Switch price, which is officially around 329.99 euros.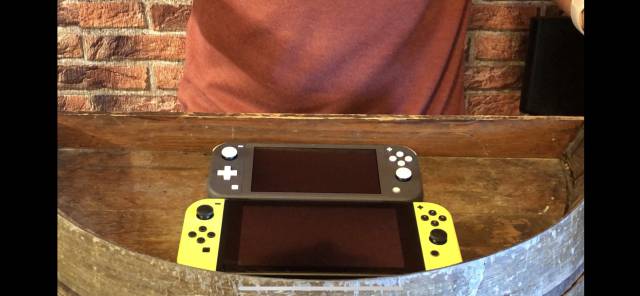 More compact and manageable
If we break down the console by data, we see that it is 28% smaller than the original, the screen goes from being a 6.2-inch to a 5.5-inch LCD, maintaining the resolution and increasing the PPI thanks to it. A weight level reduces the weight of the other version by 31%, from 398 grams to 275.
5.5 inches at 1280x720p
275 grams of weight
91.1mm x 208mm x 13.9mm
267 PPI
What does all this mean? Several things. The first is that the console is tremendously manageable and enjoyable. There are people who complained about the weight and ergonomics of the usual Switch, something that we do not share in our case, but something we do have clear: in this version there can be no complaint. Very light and perfect to play long sessions without getting tired. The second, that the smaller screen size allows us to have more PPI, the density of pixels per inch, gaining some sharpness. In short, the games look perfect in everything we've tried. As we said in the video last week, the smallest letters, in cases like Fire Emblem Tree Houses are obvious, but the reality is that they were already small per se.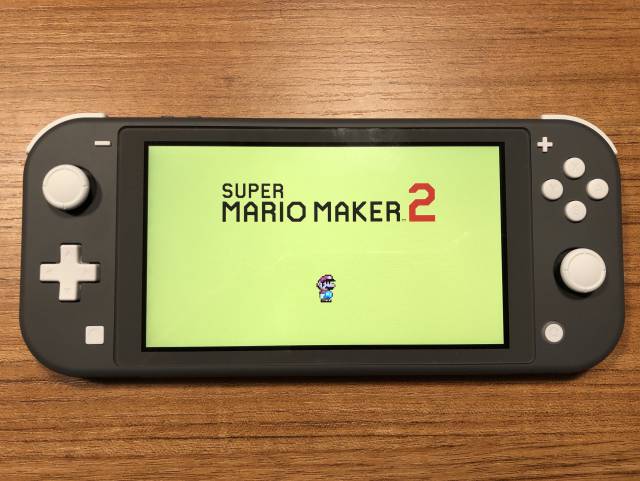 At the battery level, we have noticed a certain increase with respect to the original console, although in our case comparing it with the Switch Edition 2019 we do see that it does not reach its levels of duration.
The crosshead: up to expectations?
One of the great attractions of Nintendo Switch Lite is the presence of a crosshead instead of buttons, something that fans of 2D games, and that ranges from platforms to fighting games and beat'em up of a lifetime, have been asking for a long time. Many of us have chosen to customize a crosshead joycon, or buy the limited Hori joycons. That Lite brings a crosshead is good news, but … Is that what we expected? The answer is not at all.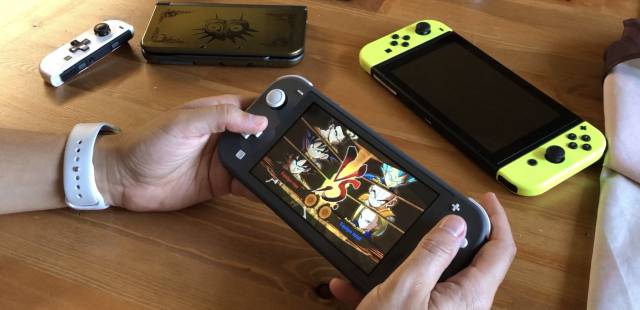 The crosshead marks the four directions well, but leaves us with more doubts in the diagonals, especially in fighting games. When we mark them directly the pulsation is noticed, but when making movements with travel (a quarter of a moon, a half moon), the feeling is that the touch when sinking does not mark with all the precision that we would like. We have noticed that in Dragon Ball FighterZ trying to make jump cancels and in the anniversary of Street Fighter. Something that goes smoothly with our custom joycon and here we are not marked well. One of the reasons may be the fact that the crosshead is somewhat more sunk than we have it, for example, in Nintendo 3DS XL, and the touch is lost when making the journey.
We do not think it's a bad cross, because yes, especially in 2D platform games and beat'em ups we have taken good performance, but when it comes to making some combinations in fighting games it seems like something short in response.
Absences
Lite arrives with several prominent absences, some more logical than others. Its purely portable bet means that we cannot take out the joycons, although we can connect other controls to the platform. Unfortunately it has been designed without the tab to hold it standing, something that may make sense because of its conception but it does not allow us to connect and play with other controls. It is also not compatible with any dock or can be connected via HDMI. In addition, it has been limited at the technological level so that we will not enjoy HD vibration and certain games are not compatible with the platform, such as Super Mario Party that requires playing with separate joycons. As we said, some absences are understood, for something it is a model of 110 euros less, although others, such as tab or HD vibration, would give it a plus.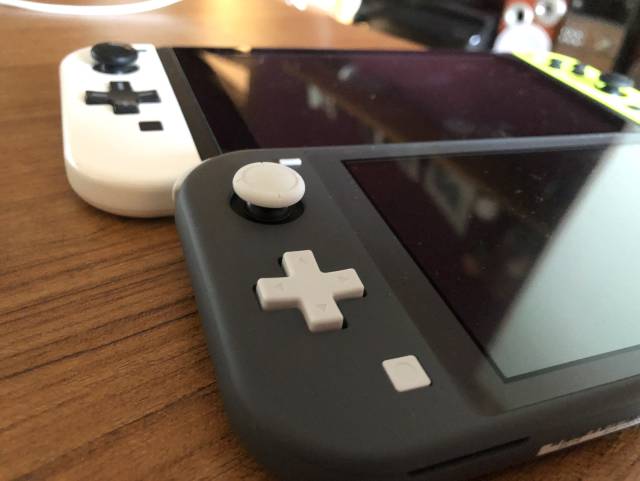 Finally, note that we are allowed to share the same account for two consoles, but with some limitations. In this article we explain how it is done and what it means to share an account between two platforms.
Conclusions
Nintendo Switch Lite convinces in its original conception: to be a portable console capable of offering us games of a quality and a level that we had never seen on previous Nintendo platforms, where power was not its main task. More compact, very manageable and lightweight, it is an interesting option at an attractive price if we discard any desktop use and it is a single player use platform. Some original Switch function is missing that would not have cost to add, and the crosshead is not all the perfect that we could expect, but as an option for those looking for a 100% portable experience, Lite must be taken into account.