We tell you our experience after two weeks of intensive use with the latest in virtual reality
It has been eight years since a young entrepreneur who, as it is cliché, worked from his garage forever revolutionized the world of virtual reality. With that first virtual reality development kit, it was demonstrated for the first time that it was possible to create a more trustworthy experience than ever, taking advantage of recent technological advances in screen production catalyzed by the massive explosion in the smartphone market. For the first time, glasses were capable of producing an image that moved at head speed without lag, a revolution that would begin the slow development of current technology.
Since then Oculus has had a few releases. With the Oculus Rift, he was discovering to the world what a quality experience could be, with the subsequent launch of the Oculus Touch, representing the paradigm of ergonomics in the control of virtual reality. With Oculus Go, the question was posed as to whether a standalone virtual reality device was possible. Last year revealed the definitive answer to that question with the Oculus Quest, portable Android-based glasses capable of finally providing a good native experience without the need for cables while offering an inexpensive alternative for those who choose to play with the power of a computer. This year, with the launch of the most powerful Quest 2, the direction that Oculus is taking as a company is finally confirmed and although it is undoubtedly the best product they have launched so far, it is impossible to recommend for many users and the implications of some of the decisions made here are truly terrifying.
Terms and Conditions
Before we even start talking about the product that concerns us, we have to mention the various reasons why it is difficult to recommend for a part of the population. First of all, mention a biological condition to use them, which is to have an interpupillary distance of between 58 and 68 millimeters with up to 2 millimeters of error. This range was somewhat higher in the previous version (between 56 and 70) in addition to allowing greater variability between values, something that in Quest 2 is reduced to three different distances between lenses that we adjust by physically moving them. We recommend interested consumers to check their interpupillary distance (at the optometrist or with an app) before buying a Quest 2 because if we are unlucky enough we may never get a clear image. This can lead to unnecessary dizziness and eye strain, as well as a general loss of visual quality.
The second and most important thing that we must mention is a change in the user conditions of Oculus devices that Facebook officially announced on October 11. Today if we buy a Quest 2 as the first glasses of the company it is strictly necessary to use our Facebook account to use them. It will be the first thing we do while we configure the glasses and from that moment any movement that we make in our glasses will be linked to said account. Our purchases, our virtual friends, everything is subject to our account surviving. If for any reason our account receives a suspension we will completely lose access to our games. This means that if Facebook suspects that you have used a false name, you will lose your games. If you decide to delete your Facebook account, say goodbye to your games. If at any time Facebook doesn't like one of our posts… we think the message is clear.

If we talk about another company, this could be less alarming but the truth is that Facebook's business was never video games but data. Until now it could be an enigma why a giant of social networks would get so radically in the business of virtual reality but with the forced need to link our account to the device, Facebook's strategy is crystal clear. We know from the possibility of requesting our data that Facebook saves absolutely all our actions on the social network. This, applied to virtual reality and to Facebook's future plans such as the incorporation of photorealistic 3D avatars or perfect gaze tracking makes us imagine truly dystopian scenarios. In a few years it will not be impossible for Facebook to have almost perfect recreations of all the rooms in our house in which we use their glasses, thanks to the advanced 3D positioning technology of the glasses that records our surroundings perfectly. The movement of our eyes can be followed to the millimeter, accurately registering how long we look at an advertisement or where we look to avoid looking at it. This may be simple conjecture but it would also be the natural evolution that a company that we know saves everything now is going to have full access to our "virtual reality" and all the fresh data that that entails. For some this will be a small price to pay for having a device like this but we believe that any potential customer should be aware of both the future implications of this integration and the current problems that can lead them to lose access to their entire library of games. As absolute lovers of virtual reality we would have loved to ignore this beginning of the Reviews but we have reached the point where Facebook's involvement in Oculus has gone from tangential to momentous.
Almost perfect, with additional accessories
After this more than necessary introduction, let's talk about the exterior design of the Quest 2. With regard to the glasses themselves we have little to criticize. It is a slightly lighter device than the previous version, with simple design lines and curved shapes, an on / off button and with regard to ports it has a USB-C on one side and another audio standard. the other. Our only drawbacks to the design of the glasses themselves would be the rough way of modulating the interpupillary distance that we have mentioned and the false velvet cover of the glasses. This does not satisfy us because it accumulates sweat, does not let air pass and we suspect it is the main culprit that the right eye sometimes becomes covered with steam. At the same time, it is not completely comfortable because its hardness causes unnecessary pressure that we notice as the minutes pass. Fortunately, this can be solved soon thanks to companies like VR Cover, but the wallet will have to be used.
Our real problem with the hardware lies in the straps it comes with. If somewhere the budget has been cut since the previous delivery of the glasses, it is here. It is a most conventional strap, with hardly any elasticity, with two uncomfortable plastic spacers that has given us a terrible experience. Just thirty minutes after we started playing, we felt the pressure of the leash so uncomfortable that we had to take a long break. At the same time it was sliding from bottom to top, left to right and is not easy to adjust in the middle of a game. Our desperation with it was such that we opted to buy the "elite strap" that Oculus offers when buying the glasses for an additional fifty euros (there is also a more expensive model that includes a case and battery attached to the strap that we have not been able to test).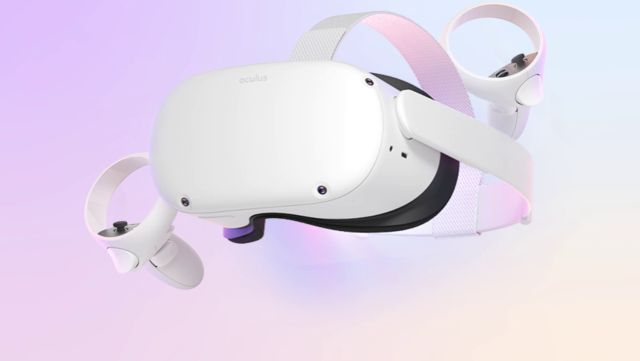 This elite strap is a much more attractive proposition. Despite being an option that makes glasses no longer so cheap, we fully recommend that you get one. Made of hard plastic, it has a kind of gear that we can adjust so that it is attached to our head. Since they arrived we have not had any comfort problems with the strap and in fact it is a noticeable leap in quality with respect to even the already admirable "halo" of the Rift S. It must be said that those with an exceptionally wide skull may not be able to use it but we have tried several bobble heads including ours and the glasses adjusted without realizing themselves.
Elegance in software
We now turn to what is perhaps the main attraction of the Quest 2 after its portability and absence of cable: exceptional software. Those who use the Rift S and have been abandoned by Facebook may not know it but since last year and the launch of the Quest there have been numerous improvements in the Oculus software. From improved controller tracking to new features like hand tracking, using a Quest 2 is the smoothest and easiest experience we can find in this world today.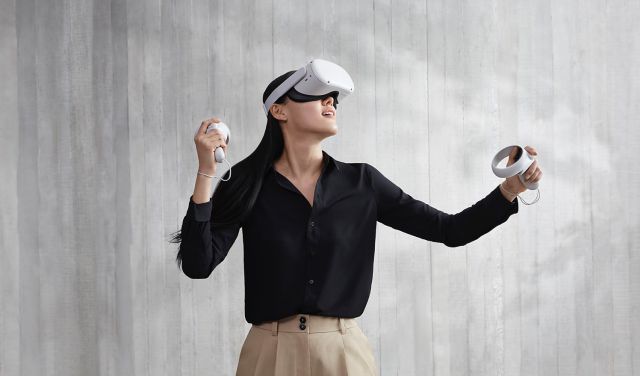 While with other glasses we will have to calibrate incessant menus and constantly deal with errors from SteamVR or our computer itself, in Quest 2 the experience after several dozen hours playing has been frankly pristine. Things like repositioning ourselves in the play space are as simple as holding the Oculus button; creating such a space is a process as intuitive as passing an imaginary brush along the edge of it. We can take our glasses into the kitchen, play a friendly round of miniature golf, and without taking them off, use the camera vision to walk into a larger room and dance a bit with Dance Central VR. Going from one game to another is intuitive and never causes errors, the menus are simple and more than navigable… In general, the care that Oculus puts in small details is a delight to make the user experience more pleasant.
Unfortunately a consequence of Facebook having full control of our glasses is that we cannot buy our games from another company either. Thus, all our purchases must go through the Oculus Store and are subject to the prices marked there. In the two weeks that we have been with the glasses we have not yet seen a game on sale while in the Oculus computer store these are constant. The only difference between the two is that the Oculus computer has competition. So if we buy a Quest 2 we do not recommend waiting for the games to be lowered as this is a rare occurrence, even more so if the game is popular.
Finally speaking of games, we must say that the absence of cable and the ability to play anywhere is completely revolutionary for those who have not tried it. By being able to move the glasses anywhere (although it is not recommended to use it outside for obvious legal reasons) it means that any surface at our disposal can be used for playing. Gone are the days of being literally tied to our PC, now we can use our most spacious room and all the space that this implies. By not having a cable, our movements through that space also become freer and in our case, as players who move in an almost exaggerated way in virtual reality, we have been grateful for this new freedom. Of course, if we do not have much space available, the purchase of the Oculus Quest 2 loses a lot of sense because its best experiences are those that need or benefit from these wide spaces.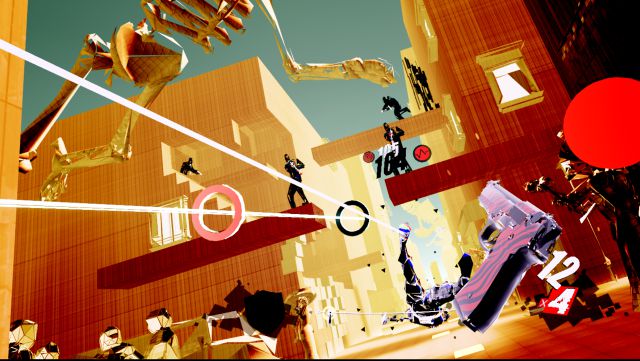 When it comes to its internal components, the Quest 2 far surpasses the previous model. While these already came with outdated technology, with Quest 2 Facebook is using the most advanced technology in the mobile sphere: a new Snapdragon XR2 processor and 2 GB more of RAM up to 6 GB make these glasses much more powerful than the model previous. This, to this day, comes with two drawbacks. For now we cannot play at 90 FPS, one of the main novelties compared to the previous glasses and the main attractions of this new model. Therefore, we cannot comment on how the games look at those frames but we can confirm that we have not had a single stop or slowdown. Oculus has promised that this possibility will be unlocked in a future patch. Another problem that will take a little longer to be solved completely is that today most of the games available were designed for the first Quests and therefore do not take advantage of the capabilities of these glasses.
But even in games like In Death: Unchained that have already been updated for these new glasses we could notice a considerable increase in quality, although they do not come anywhere near what we can achieve on a computer with games like Half Life Alyx or Saints and Sinners. This makes the optimal experiences in Quest 2 those that do not require great graphics to impress us, those that are based on a fun and mobile gameplay that benefits from the ability of virtual reality to make us move our skeleton. Being able to play Beat Saber by turning jumps between note and note or dancing like crazy with Synth Riders are unaffordable experiences attached to a cable.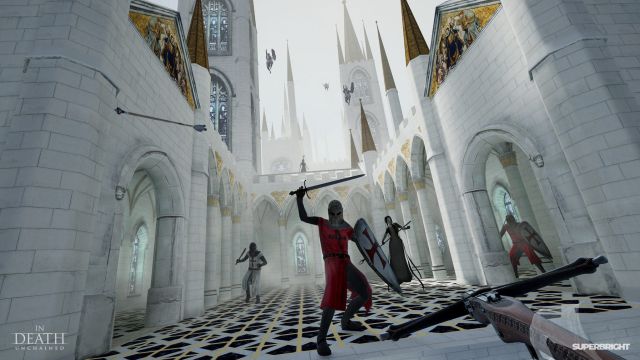 The problem is that Oculus does not intend for us to play these kinds of experiences. Of all the studios that Facebook has recently commissioned to create exclusives for Oculus, there is only one game that meets the replay value and wide movement characteristics that we believe helps make a title stand out in Quest: Beat Saber. The rest were studios dedicated to creating single-player experiences based on the show (Lone Echo, Crytek) where the gameplay is secondary to how beautiful everything is. It is of little use that we come to virtual reality versions of Assassin's Creed or Splinter Cell if we know that they will have graphics inferior to any decent computer game. A sequel to Asgard's Wrath is of little use when the latest title was over 100GB and the Oculus Quest 2 came with a 64GB base model. We must also mention that to focus on the Quest 2, the total and absolute abandonment of Rift S has been confirmed, which joins a series of products that lose the official Oculus support a few years after its launch. A more than interesting experience, but with added costs that go beyond the price.
CONCLUSION
And on this bittersweet note we would like to conclude this Reviews. Because that's what Quest 2 is, a bittersweet product. With the right accessories, if our eyes are the right ones, if we don't care about Facebook and we want to get in shape with virtual reality, they are probably one of the best purchases we can make this year. But at the same time, there shouldn't be so many "buts" to recommend a product that is basically so good. Ditching PC VR also abandons the possibility of creating truly great and revolutionary games, minimizes the potential complexity of titles, and prevents major developers from developing their most ambitious visions. For every step forward for the industry, three are taken back. Few products have made us feel as deeply hypocritical as the Quest 2 – we are concerned about what they hold for the future but we would be lying if we said we weren't looking forward to playing a little more as we write this review.
THE BEST
Much more powerful than the previous version
The 90 FPS although for now they are only a promise
Virtually perfect software
Portable, cordless, play wherever you want how you want.
The elite race although an "extra" is excellent
A great tool to become more active
WORST
The default strap and protective cover leave a lot to be desired
Poor to play visually stunning experiences
Need to use Facebook and closed ecosystem
Not suitable for everyone