Konami officially communicates that it has not renewed the contraros that linked both clubs with the company's soccer simulator.
Inter Milan and AC Milan will not appear in future Pro Evolution Soccer installments. This has been announced by Konami itself in two public statements, in which they indicate that both parties will not renew the license contracts. This means that Konami will not have permission to use the kits or the names of the clubs, as well as any other item licensed or linked to the mentioned teams.
For their part, eFootball PES 2020 players can rest easy. The previous agreement still included the current edition, so neither team will disappear or lose its official license. "When it comes to Konami soccer games, please look forward to future announcements. Inter Milan / AC Milan have been an important representative for the eFootball PES series, so we wish them the best for the future, "they say in the note. Looking ahead, we will continue to strengthen existing agreements and continue to build new relationships to provide the best eFootball experience, "they conclude.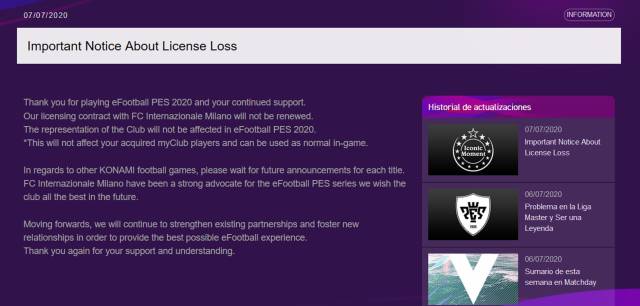 EA Sports has made its move: LaLiga ensures
Electronic Arts recently announced a major agreement with LaLiga. The Japanese company has secured the exclusive of this competition for at least 10 more years. "Our joint commitment will have an immediate impact on EA Sports FIFA's upcoming experiences, as well as long-term opportunities to continue strengthening the relationship with LaLiga fans over the next decade," explained Cam Weber of Electronic Arts.
Although LaLiga is one of the juiciest licenses, Konami also preserves part of the cake. To date, his contract with UEFA allows him to use such important competitions as The Champions League or Eurocup. While FIFA 21 is already announced, Konami has yet to make a move with eFootball PES 2021.
Source | Konami