Niantic incorporates this desired feature so that, no matter where our friends are, we can play accompanied raids.
Niantic has announced that the long-awaited feature of inviting friends to raids is now available in Pokémon GO. The study in charge of the iOS and Android phenomenon has implemented this feature so that, no matter where we are, we can participate in a Raid with the possibility of inviting up to five friends wherever they are.
Let's put ourselves in situation. We open Pokémon GO, go on a raid (or use a remote Raid Pass if it's too far away) and we'll see an option to invite our friends. We select who we want to join our challenge and you will receive a notification.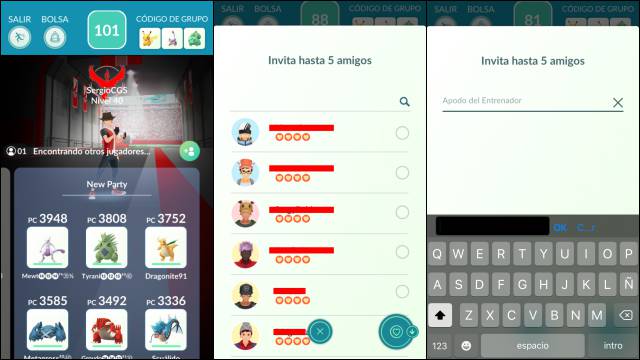 An example of how to add friends to a Pokémon GO raid. The (+) icon to the right of "Finding other players" is the indicator.
How to invite your friends to a remote Raid / Raid in Pokémon GO?
If we meet the level requirements to be able to invite our friends to Remote Raids, the procedure is very simple. From now on, we will see a button (+) both in public and private waiting rooms in which we are participating in person. By pressing (+), we can invite up to five friends to join us on the raid regardless of where that person is.
You can be in the Poképarada that is, in the waiting room, and your friendship can be united from any point on the planet. How will our friendship be notified? A notification will appear on your Nearby screen or via a push notification (which can be activated from the Pokémon GO settings menu). These invitations will allow you to enter our foyer waiting room.
Likewise, friends will use the pass only when the fight begins, not when entering the room, a recently applied measure for everyone: from now on, the passes are consumed when starting the raid; If a raid does not bear fruit (because there are not enough people or because we leave voluntarily) we will not spend the pass.
As soon as we have more details on how this new feature works we will let you know. Meanwhile, at the time of writing this news, all Coaches with Level 32 and up can now invite their friends to the raids remotely.
We remember that Team GO Rocket has invaded Pokémon GO with its balloons. Find out here how to defeat Giovanni, Cliff, Sierra and Arlo in an updated way, how to know their team before fighting, how to find Jessi and James and the procedure to claim the Free Daily Pack in the store.