For a limited time, hybrid console users can get FIFA 20 Legacy Edition in digital format for a much lower price.
Electronic Arts has temporarily applied a significant discount on FIFA 20 Legacy Edition for Nintendo Switch through the eShop. With the new season just around the corner and a FIFA 21 that will offer all its news this August, we will have until next July 19 this version of the simulation football title for the hybrid console for 14.99 euros, a 70% less than its usual price.
FIFA 20 Legacy Edition for Nintendo Switch for 14.99 euros (70% discount)
FIFA 20 for Nintendo Switch for 14.99 euros (-70%); Limited time
FIFA 20 for Nintendo Switch brings the following game modes: Quick Match Mode, Career Mode, Official and Custom Tournaments, including the UEFA Champions League License, Women's International Cup, Skill Games, Online Seasons, Online Friendlies and local seasons with the same characteristics as FIFA 19. Legacy Edition also includes FIFA Ultimate Team mode. We also have online and local multiplayer modes, but not VOLTA mode, as in the other versions.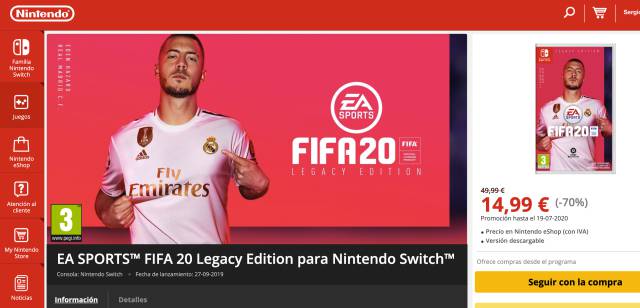 You can see here, in a detailed way, what this FIFA 20 for Nintendo Switch brings and what it does not compared to the versions of PS4, Xbox One and PC.
What does Legacy Edition mean?
The FIFA 20 Legacy Edition version of the Nintendo Switch is an update to the content of the previous edition, there are no playable or graphic novelties compared to the previous one (which has already done the same regarding FIFA 18). In this way, FIFA 20 Legacy Edition has "an improved presentation (game menus and graphics of broadcasts), the latest kits and the most updated equipment for next season," says the official website, but does not have new modes gameplay or innovations in game mechanics.
For all those interested, FIFA 21 Legacy Edition will go on sale next October 9 at a recommended price of 49.99 euros with updated templates and "the latest kits and equipment, but without new game modes or innovations in their mechanical ".