The creators of Uncharted 4: The Thief's End and The Last of Us Part 2 already look to the future with new projects in mind.
When Neil Druckmann, director of The Last of Us Part 2, was asked about the upcoming Naughty Dog video game, the creative noted that it could be Part 3 or a new intellectual property. In another interview, he admitted that the third installment would only be made if a good idea came up. In any case, the studio has set its sights on the future, which goes through single-player focused games. At least they let it be seen in a job offer that they have published on their official website.
The position of stage and level designer clearly refers to the fact that they will work on single player projects. In fact, those words appear in the heading itself. Another of the open positions is that of gameplay animator: "We are looking for talented animators to help us create solid gameplay for our future projects." This job may require new animators to work on the combat system; also that they participated in the construction of the different archetypes of enemies.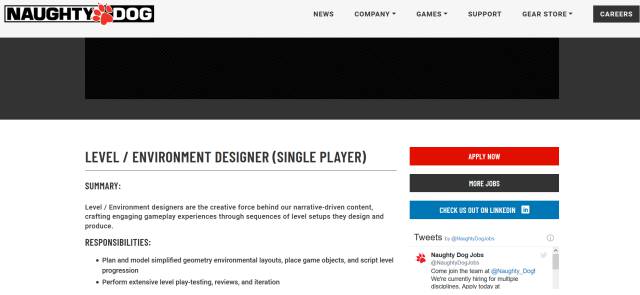 Naughty Dog job offer.
Is the multiplayer from The Last of Us Part 2 moving on?
The Last of Us Part 2 was going to feature a multiplayer mode, but the team announced that it would not be ready for the launch of the video game. All in all, Naughty Dog confirmed that it would come out later as a standalone video game. Since then, nothing has been said again, but in November 2019, the North American company published an announcement requesting new professionals to create a multiplayer title. We will have to see what the thing is finally.
After such an important and laborious release as The Last of Us Part 2, Naughty Dog will have to decide well his next job. Meanwhile, it has already been reported that there are no plans to expand its story through Left Behind-style downloadable content.
Source | Naughty Dog (via Gaming Bolt)