How his mastery of reverse engineering and his victory in Space Invaders opened the doors of the video game industry.
Since the dawn of the history of video games, several ladies have overcome social barriers to make their way into an emerging industry. In FreeGameTips we have told you stories like those of Carol Shaw, Brenda Romero or Yoko Shimomura. Today we will talk about one of these pioneers that, today, has one of the most prolific careers: Rebecca Ann Heineman, designer of titles such as The Bard's Tale or Dragon Wars.
Born in 1963 in Whittier (California), Heineman is known among his friends as "Burger" ("Hamburger"). This nickname, as he tells RetroGamer in 2019, came for his love of keeping hamburgers in the drawer and for introducing said dish like an Easter egg in several of his works. Later, Rebecca adopted Burger as a temporary name until she was determined to reveal her transgender identity. With a bright personality that stands out in her public appearances, the designer is described by GamaSutra as "energetic and charismatic, whose passion for programming and videogame design is as contagious as her mischievous smile."
Matamarcian Champion
Heineman's impetus was what opened the way to a world beyond his reach, which he could only access if he broke the rules: with piracy, Rebecca began in the development of video games. "As a child, I was so poor that I couldn't buy Atari 2600 cartridges," says the designer in Women In Gaming – 100 Professionals of Play (Meagan Marie, 2018). "So I learned to copy cartridges and I made a good collection. Not content with copying, I did the reverse engineering to see how the games work. "
One of the first titles that Heineman hacked, at fourteen, was Space Invaders, where his skill was commendable. Encouraged by a friend, she appeared at the regional games of the National Space Invaders Championship of 1980. Rebecca did not even expect to be among the top 100 and, however, ended up being the winner. Months later, he won the New York tournament, which became the first champion of a video game competition. His strategies, as he told DigitPress, consisted of "slow and safe", thanks to which he won in Los Angeles; and "kill as soon as possible everything that appears on the screen", which granted him his conquest in New York.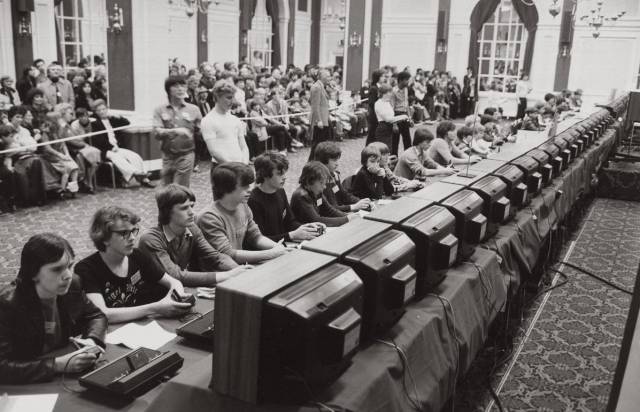 Photograph of the National Space Invaders Championship organized by Atari.
His newly harvested trophies, as well as his mastery of reverse engineering, opened the doors of the video game industry: he wrote several articles in Electronic Games Magazine, and served as an advisor to two Tom Hirschfeld guides: How to Master the Video Games ("How to master video games") and How to Master the Home Video Games ("How to master home video games"). From the press, he made his professional leap to design: "When I told a magazine editor that I did the reverse engineering of the Atari 2600, I organized a meeting with the owners of Avalon Hill and they hired me ipso facto." (Heineman for Women In Gaming – 100 Professionals of Play) Rebecca, at sixteen, after leaving school, without family support and without university training, began to develop video games.
Sword, witchcraft and technology
Avalon Hill, board game designer, had decided to open up to digital entertainment. Heineman wrote the code and the main engine manual, and trained the staff to learn how to program for the Atari 2600. Thus, his first works were London Blitz and Out of Control. However, the stay in the emerging developer was brief and, after a massive layoff narrated in RetroGamer, Heineman entered Boone, where they welcomed her thanks to her experience as a programmer at the Atari 2600. Rebecca converted games like Robin Hood and Chuck Norris Superkicks to Commodore 64 and VIC-20. There he learned several assembly languages ​​before Boone closed the company to devote himself to the sale of ice cream.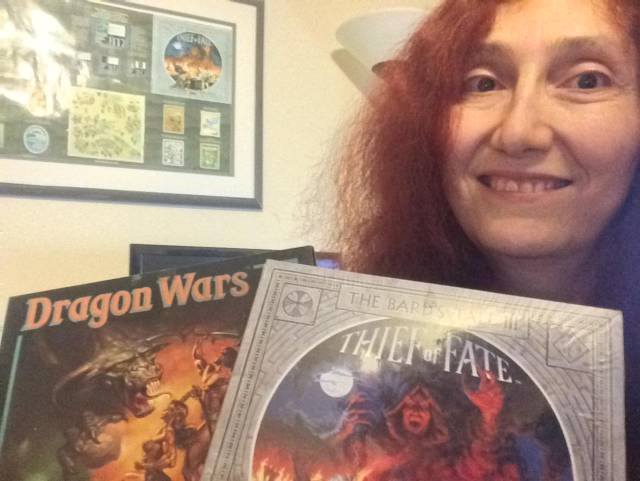 Rebecca Heineman poses with copies of Dragon Wars and The Bard's Tale: Thief of Fate.
Heineman, meeting with his companions in unemployment (Brian Fargo, Troy Worrell and Jay Patel), decided to go one step further and found his own video game company: Interplay. Together, they created titles such as Wasteland (precursor to the Fallout saga), The Bard's Tale, Out of this World or Wolfenstein 3D for Mac and 3DO. From this stage, Heineman highlights three titles that marked her career as a creator: Dragon Wars, Out Of This World and The Bard's Tale. In GamaSutra, the designer mentions Dragon Wars as her best project, which tested her knowledge to create a title worthy of a new generation and that made a difference with respect to other more linear titles, such as The Bard's Tale. "I wanted (Dragon Wars) to be based on a truly open world. You start in Purgatory, but I introduced six ways to get out of there. And each of them takes you on a totally different side mission. Then you can go back to the rest of the cities, but in the order you want. " Rebecca had asked the Dragon Wars designer to sketch a game for her and that she would make it happen. The result was a colossal content: "He went crazy, he gave me a giant map and a piece of text and I said to myself: 'Anyway, I will manage to put this whole game in a couple of floppy disks.' And I got it. "
Out Of This World was a challenge where the designer challenged the little faith in her creative process: "When I was designing Out Of This World for Super Nintendo, they kept telling me that it was impossible to make that game. Not only did I show that it could be done, but I generated a lot of money for Interplay. Being capable of the impossible is what gives me energy day after day before the keyboard. " (Heineman for Women In Gaming – 100 Professionals of Play).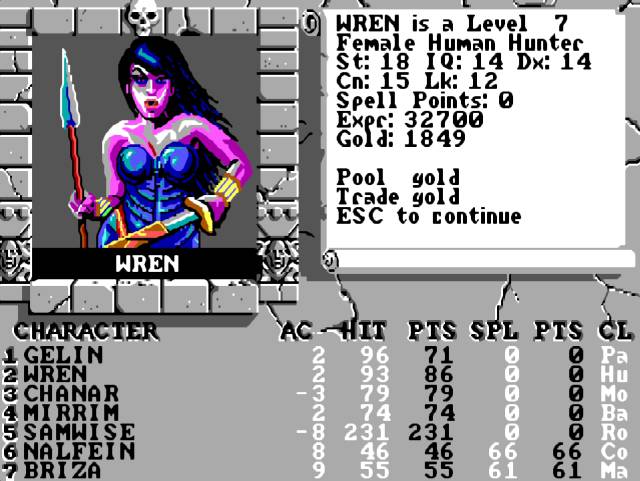 Image of The Bard's Tale III jacket
As for the bard saga, Heineman's growing creative involvement led him to introduce playable female characters, an idea that did not please his teammates, as the designer at RetroGamer says: "Over time, I complained about some things about the design of the game, such as the lack of female characters. Cranford (game designer) replied: Pero But if the girls don't play these games! ', To which I replied:' Oh, if you knew '…" The Bard's Tale II was developed almost entirely by Cranford and Fargo, but in the third part of the saga, Heineman was able to implement his ideas, such as new classes, new weapons, automape and, finally, female characters. "I did it for me," Rebecca tells RetroGamer. "I wanted to play with a female character without being told that girls don't play these games. I also exchanged gender roles so that women could be villains and not just men. I also introduced people from other ethnicities to make the title more inclusive. I was very aware of the white privilege and wanted to do something about it. "
Entrepreneur and guide
The Bard's Tale III, which was taken to the exhibition The Art in Video Games of the Smithsonian Museum, was a start for Rebecca as head of study. In 1995, he left Interplay to undertake Logicware, eager to return to be part of a small team, but motivated by the love of video games. This new editor started working with Macintosh, but it ended up opening to other companies such as Interplay, Activision or MGM Interactive, among others. As technical director and head of programming, Heineman supervised a host of new titles and ports. In Women In Gaming – 100 Professionals of Play, he mentions Doom's adaptation to 3DO as the most challenging project, since he had to deliver it within 10 weeks while dealing with "a client whose expectations went beyond the stratosphere". And yet, he ended up fulfilling the order on the scheduled date.
In 1999, Rebecca Ann Heineman founded Contraband Entertainment, which she chaired for 15 years while working on original titles such as Myth III: The Wolf Age and Activision Anthology; or the adaptations to Mac of works such as Baldur's Gate II, Alien VS Predator or Heroes of Might and Magic IV. During this stage. Heineman served as an advisor for Electronic Arts, a job she describes as a "bug and firebreak hunter." His mark is in titles such as Command & Conquer III, Medal of Honor (Rising Sun, Pacific Assault and European Assault) or GoldenEye: Rogue Agent. He also helped Ubisoft and Barking Lizards Technologies improve their engine code, and optimized the Sensory Sweep Studios code. She was also a software architect for Bloomberg and Amazon, and advised various studios to make the most of the Xbox 360 technology, and at Sony she worked during the development of the PSP and PlayStation 4 cores.
The old school and the new hope
Contraband came to an end in 2013, but Rebecca Heineman's creativity had not gone out. Together with his wife Jennell Jaquays, another of the industry's pioneers; and other veterans such as Susan Manley (Urban Strike) and Maurine Starkey (Space Invaders, 1999 version; Dark Sun: Shattered Lands) founded the studio Olde Sküül, of which she is the director until today. Its purpose, as it relates on its website, is to create games that leave the player with a lasting ground: "We measure our gaming experiences through those incredible titles that we continue talking about 20 years later. Olde Sküül wants to bring that feeling back, whether it's with a fast-paced action game or with an RPG guided by his narrative. " Under this seal, the space saga Descent and Battle Chess: Game of Kings were born. In these titles we see the influence of the retro titles with which these ladies took their first steps in digital leisure. Rebecca's imagination also transcends the video-media medium: author of various fanfiction, has been awarded as Best Author of Multiple Fics at the FukuFics Awards. His web comic Sailor Ranko (parody of Sailor Moon) was awarded as the most humorous work in the Luna's Plight.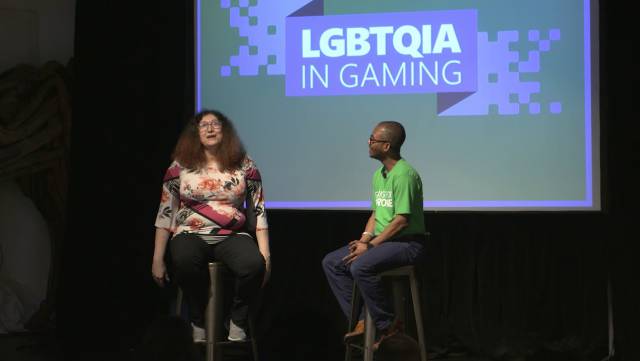 Rebecca Heineman during the 2018 GDC.
Rebecca Ann Heineman has worked a prolific career in the industry, where her creativity and conviction led her to innovate the titles beyond their established margins. However, her transgender condition forced her to play in a difficult way: rejected by her own family, her start, although propitiated by her talent, was based on precariousness. Currently, the designer seeks to make video games a more welcoming and diverse space than the one she knew. During her time at Amazon, Heineman was named transgender president in Glamazon, a platform aimed at the inclusiveness of the LGTB collective. Currently, he is part of the board of directors of GLAAD, an organization aimed at advising the community on issues related to the leisure and technology industry.
Heineman's success in the industry and his bravery have made it an inspiration for LGBT players. The designer recalls in Women In Gaming – 100 Professionals of Play how an admirer was the one who made her aware of her impact on digital leisure: "In a PAX Prime, I met a fan who told me that my work had inspired her to overcome her fear of being LGBT, to learn to program herself and thus forge her career in the video game industry. That they told me that I am a role model was a turning point in how I approach the world of video games. " Without a doubt, the story of Rebecca Ann Heineman and how her passion managed to break the social walls is a hopeful story for those creators who fight for their dreams.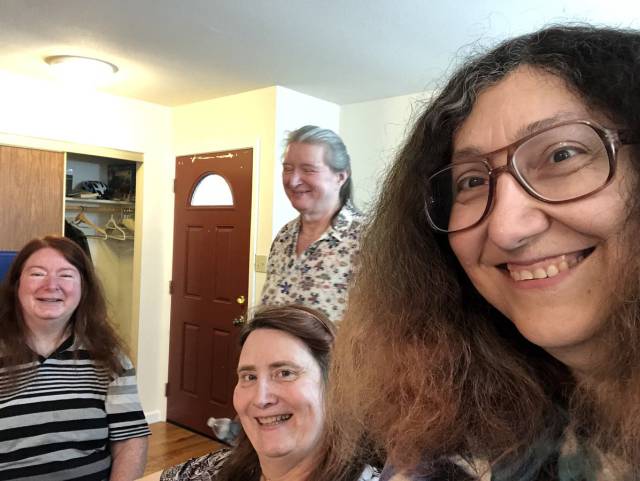 Selfie of the Olde Sküül team.