The Final Strike Games third-person action shooter is released under the EA Originals label on consoles and PC.
It's only been a few days since the Final Strike Games competitive shooter went on sale, but Rocket Arena is already on sale on the PS4 PlayStation Store. And no, it is not a smooth price drop, but rather a discount of more than 80%. At the moment, the discount only appears on the Sony platform, since the official price appears in the rest of digital stores. As specified in the PS Store, this special price will be maintained from July 29 to August 20, 2020.
Rocket Arena for 5.05 euros (83%, before 29.99 euros)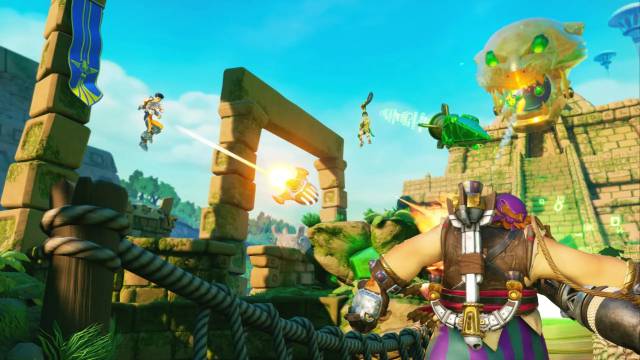 EA Originals games
This production has been marketed under the EA Originals label, the brand with which Electronic Arts publishes video games developed by different independent studios. It is a competitive action game that faces squads of 3 against 3. One of its main features is that it presents a crazy development, with elements of games as different as Quake or Super Smash Bros.
The peculiarity is that all the heroes are equipped with rockets, in addition to other types of weapons. These launchers will not affect our allies, so we can fire our private bombardments without fear of killing our companions. As if that were not enough, the title offers different forms of movement, so we will have the opportunity to climb, run faster, etc.
The creators of FE (Zoink Games), RustHeart (Glowmade) and A Way Out (Hazalight Games) are working on new games for EA Originals. Lost in Random, from the first of the studios, is a darker game that will put us in the role of a girl. After an incident, he goes to Random, where he will meet a very peculiar friend: a dice with legs. For its part, the new Hazelight is called It Takes Two and will continue to delve into cooperative gameplay.
Source | PS Store