Shantae, who aspired to become a platform mascot, became a heroine who combined goodness, sensuality and strength.
A semi-genius conquered portable consoles in the past two decades. Cheerful and candid, Shantae became an icon of the platformer genre thanks to the perfect balance between sensuality, innocence, magic and strength. With her magic hair, her oriental dance and her transformations into adorable creatures, the semi-genius of WayForward Technologies starred in adventures. exciting, with very dangerous challenges and stories full of a fresh and witty sense of humor. After works like Shantae Half Genie Hero, Shantae And The Pirate's Curse, we look forward to Shantae And The Seven Sirens on May 28. As an aperitif, today we commemorate the history of Shantae and how his adorability conquered the players, overcoming the pitfalls of being a unique title in a genre marked by its own conventions.
Much more than a sensual dancer
Pets have always been the stars of the platforms: Sonic, Crash Bandicoot, Dynamite Headdy … On the other hand, we have had human figures that have made history, such as Mario Bros, the face of Nintendo. But artist Erin Bozon had in her head a new concept of platform heroine: an oriental dance dancer, an idea that came to her during her days as a camp counselor, just like Matt Bozon, creator of the saga, in GirlGamer: " My wife Erin created Shantae in 1994, when we got engaged. We were raised at the California Institute of Art, where we both studied animation. He had an inspirational rush from his camping days, and called his character Shantae, after one of the camp assistants. I loved it and I went to work to create his own mythology, with allies and villains. Erin also liked the idea of ​​a character who would conjure animals or enchant them with her dance. Shantae would later transform into such animals. "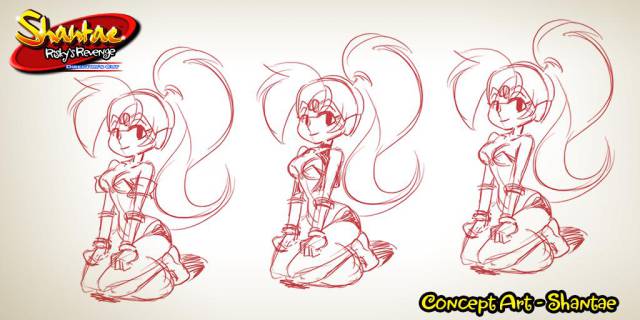 Shantae sketches for Shantae: Risky's Revenge
Likewise, Shantae came in his initial designs with two very distinctive signs of identity: the whip-attack with his own hair and oriental dance: "Music and dance were not part of video games in the 90s, so we encouraged introduce something new, "says Bozon in an interview for The Mary Sue. "So it was all sprite art, and it was so adorable, which was always our intention. We wanted to do something different and delicious, that would surprise the player and challenge the concepts of what a super power is. " Likewise, Matt declares in GirlGamer that Shantae's hair was inspired by Erin herself and her very long hair, with which she accidentally spanked her husband when she turned around.
Likewise, Shantae was the fruit of different muses of popular culture and of the most successful titles of the moment. Castlevania, Mega Man, and Zelda inspired the gameplay mechanics, but it was the Dream with Jeannie series (starring Barbara Eden) that led Erin to shape the heroine's body expression: poses, choreography, and hair movement. Her husband, Matt, recounts in The Mary Sue how anime culture also influenced Shantae's creation: "In our time at the California institute, we discovered many Japanese series, such as Nadia, Ranma ½ and Hayao Miyazaki's films. So they weren't very well known in the United States. Many of these series were starring women, and it seemed logical that video games also had a female pet, like those that had games like Alisia Dragoon, The Guardian Legend or Athena. "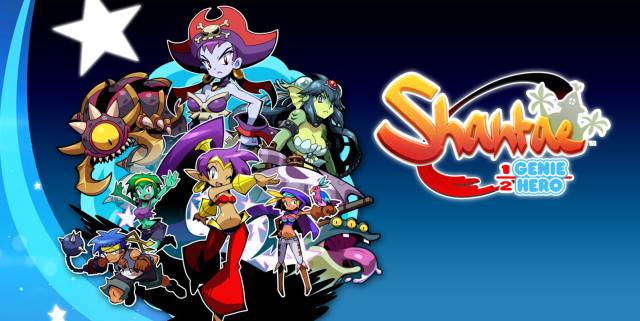 Shantae Half-Genie Hero image, in which the dancer appears in the company of other villains and companions.
Likewise, the semi-genius shared a characteristic with other protagonists of the moment: its sensuality as a source of its strength. In The Mary Sue they highlighted how people unfamiliar with the saga could prejudge her for it, although they highlight other qualities of the dancer that bring a lot of freshness to the narration of female characters: "She passes the Bechdel test, she is brave and decisive, with and without powers and, although he is a genius, he does not serve any master. And, yes, her outfit is extravagant, but her eroticism serves a purpose within the game, since her skills come from oriental dance and the different costumes ". Matt Bozom, in the same interview, defended Shantae's courage beyond her physical beauty: "The game has a cast of mostly female heroes and monsters, and many of them would make more than one drool. But while the costume designs are very striking, they don't define any of these characters (well, maybe Risky Boots, who is extremely vain). These are girls who have a great time. They face dangers, they move the story forward, they defeat the bad guy — even some of them are the bad ones — and they save their world. (…) I think Shantae is an excellent example to follow and, if we were to bring the saga to children, we would like to implement some changes ".
A difficult wish to fulfill
Thus, WayForward set to work so that the adventure of Shantae, protective semi-genius of Sequin Land, came to light. But fulfilling that wish was difficult to fulfill, as Matt recalls in 1UP: "Along with Jimmy Huey, a programming legend (and yeti not confirmed) at the time of SNES, but we did not get anything. We tried again when the Game Boy Color came out, since WayForward had the engine and very interesting fixes … The only thing we had to do was deliver the game in the right hands, and that happened because our CEO, John Beck; and our president, Voldi Way, gave it all. And they kept trying after everyone rejected them over and over again. Our plan, from day one, was to make a game that no one could turn down. I know it sounds very cocky, if I look back, but at first that's how Jimmy and I challenged each other. "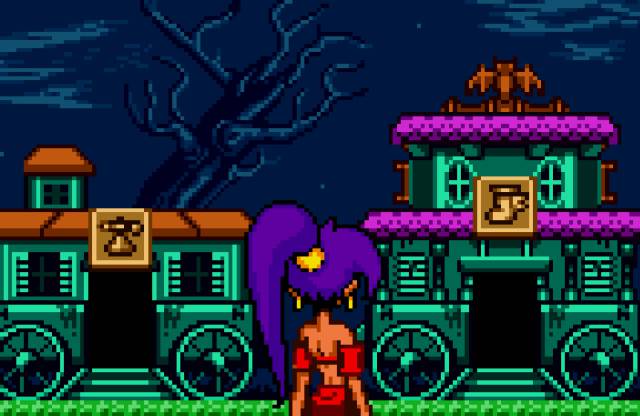 Capture of Shantae in Game Boy Color
Capcom, who was betting on squeezing the power of consoles even in his last days, was a genius at fulfilling Wayforward's wish, and Shantae launched for Game Boy Color in 2002. Newcomer to the scene, Game Boy Advance conquered hearts. of the players and took the full focus of attention, which resulted in a very discreet premiere for the dancer, with very few copies of distribution. Matt Bozon, at 1UP, acknowledged that Shantae's idiosyncrasy hindered his best-seller: "I've never been able to decide on a target audience. (Shantae) is too sexy for a child audience, but too feminine for a male player, although it also depends on who you ask. " However, despite its discreet sales, the semi-genius managed to dazzle critics (IGN and Nintendo Life gave it a 9) and a small community that wanted more sequels of the charming heroine. Bozon considered Shantae's debut a pyrrhic victory: "I was very naïve at the time thinking that if a game was good enough, it would sell many copies, and that is not the case. I am satisfied that it was launched and sold, and that the public wanted more copies than we were able to distribute. And although the print run was not very large, it was satisfactory. I heard about 20,000 or 25,000 were launched and sold out. "
Shantae, who aspired to be a pet worthy of the 8-bit platform era, became the symbol of WayForward and, as The Mary Sue defines, of the same indie genre. After its eventful premiere, it was not easy to get a publisher for the semi-gen sequel, but the Bozon did not give up and became their heroine as a representation of resilience: "It is the symbol of never giving up", defines the designer in his interview with The Mary Sue. "When you make a game that deviates from the norm, you won't find data to help you demonstrate that your game will sell, or to teach you how to reduce risk. But you have to make that game because you believe in it, that's the indie spirit! (…) Shantae finally made her way into the video game ecosystem against all odds, and fans have embraced her and granted her the status of 'the last of the 8 bits.' Her story, mixed with self-publishing, helped her stand out. Today the story is different: indies can develop and publish their own games, but making them stand out is quite a challenge. So I would say that the fight for Shantae was worth it: it has an interesting past that links it to the classic era of video games. "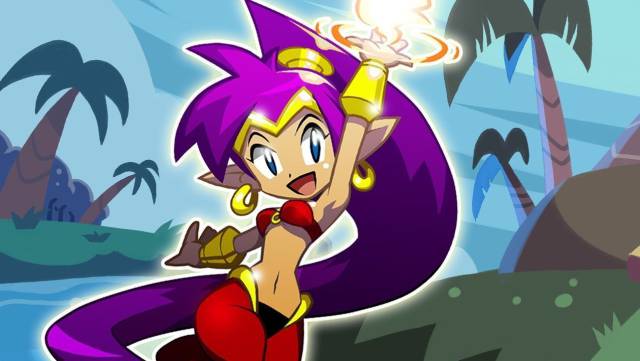 Shantae art
From the classic to indie era
The second part of Shantae would not come until 8 years later, and it was that it was difficult to find an editor who would risk publishing a sequel to a game with such unflattering sales numbers. However, the self-publication and, later, the patronage, made possible new sequels of the dancer. For Risky's Revenge, in addition, the semi-genius was voiced by Meagan Glaser and, in subsequent editions, it was Cristina Vee who gave it life. Shantae continued his adventures that prolonged his life beyond his chaotic first steps, with a story that proved that it was much more than an erotic fantasy. The daughter of a human and a genius, she protected Scuttle from the evil pirate Risky Boots, with whom she would end up allying herself later in The Pirate's Curse. However, the kind influence of the semi-genius failed to soften the cruel buccaneer, who wanted to take over the Genie Kingdom. In the next Seven Sirens, the dancer will meet other semi-geniuses with whom she will establish new ties.
However, Wayforward never had an easy time staying true to his creative vision, despite knowing that Shantae was unique even within the female lead of video games. And, despite the road traveled, In Nintendo Life, Matt Bozon describes how he had to face different proposals to relegate the genius to the background: "We have fought many battles from the beginning and we have lost many others. But we stood firm and never made Shantae a playable secondary and satellite of a main hero, as was suggested to us so many times. I think, on the other hand, we have paved certain paths in the video game industry. "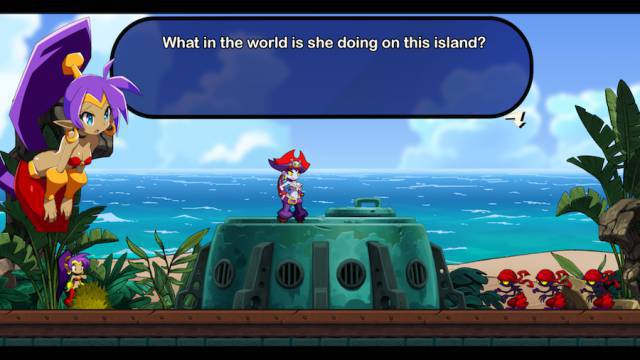 Shantae And The Seven Sirens Image
The little semi-genius, in addition, has her own evolution within the story, in which she learns to value herself as a heroine even when she is stripped of her magic. His previous games had reissues on new platforms, so his story has not been relegated to its unfortunate release. In addition, she has become one of the most desired fighters for the game Smash Bros. Matt Bozon himself admits in his interview for The Mary Sue that he always wanted to stay true to the essence of his pet: sweet, innocent, willful and, at at the same time, capable of making mistakes and learning from them. In the aforementioned medium, they also praise the semi-genius for standing out in a stream of characters that stand out for their harsh character and for their dark and tortured background. Instead, Shantae, without giving up her strength, proves that you don't have to have steel muscles to be considered a valid and respectable heroine. Openly feminine and fond of dance, flirtatious and proud of her lush hair; Shantae is also compassionate and capable of forgiving her enemies to give them the opportunity to redeem herself, although she is not overwhelmed either. A staunch defender of her friends and of Sequin Land, the dancer shows that kindness and tenderness are powerful values, as important as magic.