Sega confirms that the blue hedgehog will celebrate its 30th anniversary in style next year with great news, in addition to other digital content.
The mascots of the main video game companies are celebrating; And if we recently discovered Nintendo's plans for the 35th anniversary of Super Mario Bros., now it is Sega that anticipates great news for the 30th anniversary of Sonic, the famous blue hedgehog that in 2021 will meet no more and no less than three decades, including new video games, big ads and other digital content.
Sonic celebrates his anniversary in style
Thus, the Video Games Chronicle medium has recovered a sheet from the Licensing Source Book of Europe, a document published by Sega last July and which offers interesting information about the future of the hedgehog for its 30th anniversary in 2021. So much so, that according to the Sega content page, during 2021 "new games, digital content, events, important announcements and a personalized licensing program" will be presented, among other news, although no further details are offered.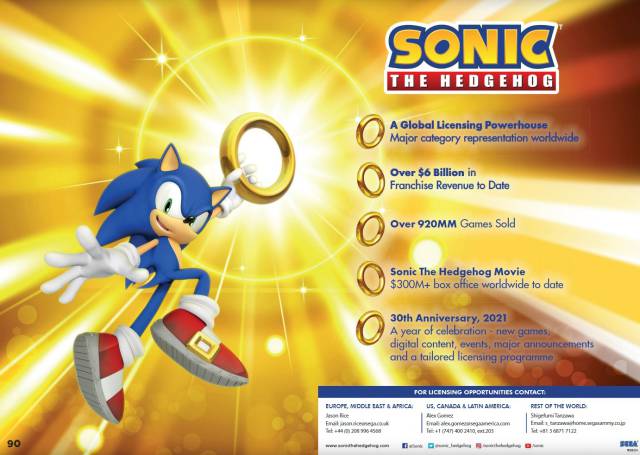 It should not be forgotten that during the past SXSW 19, the director and designer of the Sonic Team, Takashi Izuka, already advanced that there was a new installment of Sonic The Hedgehog in development. We will see if in 2021 a new episode of the famous Sega platforms is presented or even arrives.
Beyond these clues about the immediate future of the blue hedgehog, this document also shares interesting figures about the Sega saga, such as total sales of Sonic games, exceeding the 92 million games sold throughout history. the world, or a total income of the Sonic saga above 6,000 million dollars, in addition to a collection of more than 300 million dollars on the part of the Sonic movie in cinemas after the own redesign of the live action blue hedgehog; almost nothing.