We detail all the changes that patch 10.14 brings to TeamFight Tactics (TFT) and that affect systems, attributes and various champions.
This July 2020, patch 10.14 hits TFT, which updates the Riot Games game goal. Also, the title is one year old since its launch, so anyone who plays a game during this version will receive a special Pingu emoticon as a gift. Below, we detail the changes included in the latest Master Tactics patch.
Changes in the Systems
Neeko's boxes have been modified so that they do not harm the player's economy during the first bars of the game, adding two extra coins in the blue boxes and three or five in the golden ones. Draws have also been modified, eliminating players not based on when they take lethal damage but based on their total negative life. If there is a tie in negative life, the highest life will be considered in the round prior to elimination. If both factors end in the unlikely event of a tie, the position of the players in the overall ranking of the game will be determined at random.
On the other hand, the new dwarf planet galaxy is introduced, in which the first and last rows of each board are disabled. In return, the galaxy that is removed from the game is the Microlegends one.
Attribute adjustments
The Guardians of the Stars have been nerfed with this update in exchange for improving the stats of the characters that comprise them. In this way it is intended that the characters are more versatile in other compositions and do not depend so much on the benefit that the attribute gives them. Specifically, these are the changes:
Star Guardian Mana Distribution: 25/40/55 ⇒ 15/25/45
Poppy's starting / total mana: 60/100 ⇒ 50/90
Zoe's Initial / Total Mana: 70/100 ⇒ 40/80
Neeko's Initial / Total Mana: 75/150 ⇒ 25/100
Syndra's Initial / Total Mana: 0/60 ⇒ 0/40
Soraka starting / total mana: 50/125 ⇒ 50/120
Janna's starting / total mana: 50/130 ⇒ 30/100
However, the guardians were not the only ones to have undergone modifications, as Celestial's total healing increases to 10/45/150%, Cybernetic's attack damage and total life becomes 300 and 35/550 and 70 and Sorcerer's ability power drops to 20/40/70.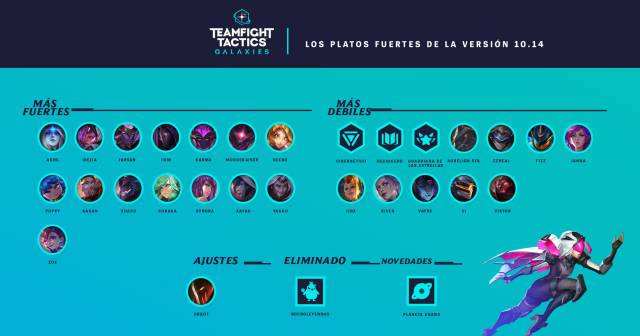 Objects
This time around, the compendium of title objects remains relatively stable except for two modifications. The Executioner of Giants now deals pre-mitigated damage from physical or magic damage depending on the champion who is equipped, and the magical resistance of the Ionic Spark goes from 50% to 40%.
Champion Balance
As usual, the champions who make up the key pieces of this auto-chess have suffered the most modifications with this update. Below we detail them according to their rank:
Rank 1 Champions
Jarvan IV's Life: 650 ⇒ 700
Jarvan IV's Attack Damage: 50 ⇒ 55
Jarvan IV's Mana: 50/100 ⇒ 40/80
Jarvan IV's Eternal Banner bonus attack speed: 0.65 / 0.75 / 0.85 ⇒ 0.75 / 0.85 / 0.95
Xayah's attack speed: 0.8 ⇒ 0.9
Rank 2 Champions
Mordekaiser Health: 650 ⇒ 700
Mordekaiser's Indestructible damage: 50/75/125 ⇒ 75/100/200.
Rakan Health: 600 ⇒ 700
Yasuo's total mana: 90 ⇒ 80
Rank 3 Champions
Ashe's Life: 600 ⇒ 650
Ashe's attack speed: 0.8 ⇒ 0.85.
Ashe's Enchanted Crystal Arrow damage: 200/275/550 ⇒ 200/300/600.
Ashe's Enchanted Crystal Arrow Stun Duration: 2/2/2 s ⇒ 2/3/4 s.
Ezreal's attack damage: 60 ⇒ 50
Ezreal's initial mana: 50 ⇒ 30
Karma Shield of Inspiration: 250/400/800 ⇒ 300/450/900.
Karma attack speed buff: 50/75/125% ⇒ 70/90/150%.
Neeko's Life: 800 ⇒ 850
Neeko's Armor: 45 ⇒ 50
Shaco's total mana: 80 ⇒ 70
Syndra's Unleashed Orb of Power Damage: 100/125/200 ⇒ 100/140/220.
Vayne's Life: 550 ⇒ 500
Vayne's Attack Damage: 60 ⇒ 50
Vi Assault Damage and Injuries: 400/600/1200 ⇒ 350/550/1100.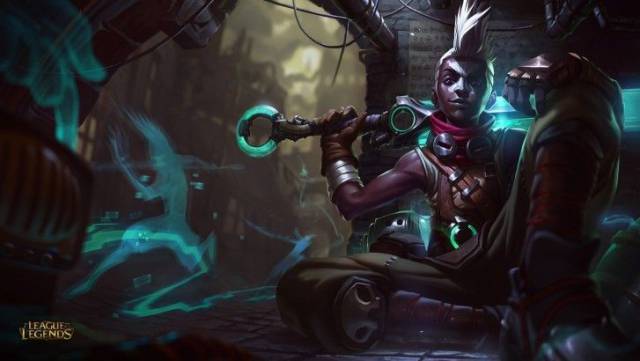 Rank 4 Champions
Fizz Shark Bait Damage: 450/600/5000 ⇒ 400/550/4000.
Irelia's Life: 800 ⇒ 900
Irelia's attack damage: 70 ⇒ 85
Irelia's Armor: 35 ⇒ 50
Irelia's magic resistance: 20 ⇒ 40
Irelia's Sword Slam Damage: 175/250/500% ⇒ 225/250/500%.
Jhin's attack damage: 80 ⇒ 85
Jhin's attack speed: 0.85 / 0.9 / 1.1 ⇒ 0.9 / 0.95 / 1.2
Jhin's fourth shot damage: 244/344/4444% ⇒ 350/500/4444%.
Jinx's attack speed: 0.75 ⇒ 0.7
Riven's Shield: 225/375/1000 ⇒ 200/350/1000.
Viktor's Deathbeam Damage (Part Two): 250/400/1500 ⇒ 200/325/1500
Rank 5 Champions
Aurelion Sol Mana Drain: 15/25/50 ⇒ 10/15/50.
Aurelion Sol's Offensive Fleet damage: 110/150/1000 ⇒ 90/150/1000
Janna's additional attack speed: 100/150/500% ⇒ 80/125/500%.
Finally, Urgot has been the champion who has changed the most with the inclusion of this patch. It is the weakest epic unit but, in turn, also the most annoying to have on the enemy side of the board. Its modifications are the following:
Armor: 30 ⇒ 40
Magic resistance: 20⇒40
Attack range: 660 ⇒ 420
Initial / Total Mana: 40/90 ⇒ 50/100
Targeting Fear Beyond Death Targets: furthest within attack range ⇒ furthest.
Fear Beyond Death now hits the first enemy it hits rather than always hitting the intended target.
Damage can now be prevented (a unit with Guardian Angel will revive).
Mana reduction per cast: 10/20/90 ⇒ 20/30/100
Now the time it takes to drag the enemy progresses with the star level.
Drag duration: 1.5 s ⇒ 3/2/1 s.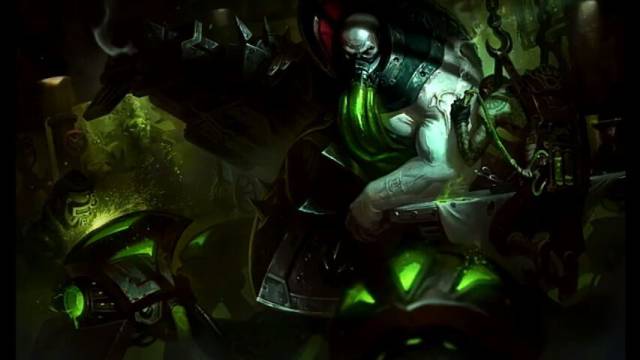 Mobile bug fix and TFT
The Teamfight Tactics team has taken advantage of the update to polish certain bugs that affected the gameplay of the title:
Ekko's slowdown is now displayed in the description as a percentage instead of decimals.
Champions drawn to Thresh's Temporal Passage can no longer be used to raise the star level of other units.
Vayne's bonus damage attacks during End Hour now correctly activate Swordsman.
Units transformed by Lulu no longer hop around while stunned.
Fixed a bug that caused Shaco to sometimes not receive stacks of Dark Star when he was in stealth and an ally died.
Aurelion Sol can no longer cast his ability while being dragged by Urgot.
Instead, the mobile section has only needed a slight aesthetic improvement that makes the buttons to buy experience and those of the store now animated when zooming in and zooming out on them.