The prestigious luxury car brand presents its simulator proposal for driving video games, limited to only 150 units worldwide.
Aston Martin, the prestigious brand of luxury sports cars from the United Kingdom, has presented its own proposal for a driving simulator for racing video games with its AMR-C01 model, a whole design piece made of carbon fiber that reaches a price to the level of the company itself: 62,000 euros. In addition, only 150 units are planned to be manufactured worldwide, which still makes it a more special piece, if possible.
For a "luxury gaming room"
Thus, this racing simulator for driving video games and professional simulators has been developed by the British car company itself together with Curv Racing Simulators, a brand specialized in this type of project; and the level of detail and quality is such that Aston Martin has transferred the driving position of its next Valkyrie hypercar to this simulator, in addition to its seat and steering wheel.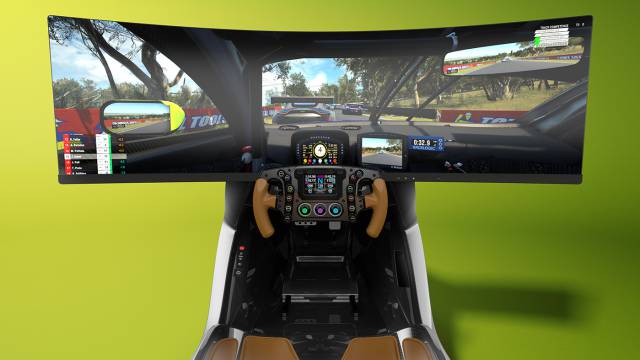 The design of the "cabinet" retains some of the classic Aston Martin features such as the front grille or the elegant lines of its bodywork, as well as body colors from its catalog. At the hardware level it equips a huge curved screen with peripheral vision, although it is unknown if it incorporates a PC or console of some kind or if it is compatible with virtual reality. Of course, in the promotional images you can see the Assetto Corsa game running in all its splendor.
According to Aston Martin, the AMR-C01 simulator is the perfect piece for a "luxury gaming room" and "the ultimate luxury experience for eSports". With an exchange price of 62,000 euros (excluding taxes), they will begin to be delivered to their buyers at the end of this year. An amount of money, on the other hand, quite high with which you could buy a (real) mid-range sports car.