The title was scheduled for a previous date, but the platform announced a delay and had to be replaced.
Now, yes. Wargame: Red Dragon has not missed its appointment as a free game from the Epic Games Store. After giving away Sunless Sea, the Fortnite editor has opted for this project, a real-time strategy game in which we manage Western forces against communist countries. We will do it on board the most imposing warships, but also from planes and tanks. The title will be available until next Thursday, March 11, when it will be replaced by Surviving Mars.
The history of the video game is set in 1992. They are two opposing blocks, which include countries such as Japan, China, North Korea, South Korea, Australia and New Zealand. In total, 17 different nations, each with its own military resources. We will have to direct tanks, horns, helicopters, warships and amphibious units against the enemy, for which it will be necessary to master the type of terrain perfectly.
Wargame: Red Dragon was going to be the free game on the Epic Games Store for the first week of November, but the company announced that it would not be because the launch had been temporarily delayed. At that time they did not offer any kind of reason about the nature of the delay, since they limited themselves to unveiling the title of the game that would replace it that week, Dungeons 3.
Download Wargame: Red Dragon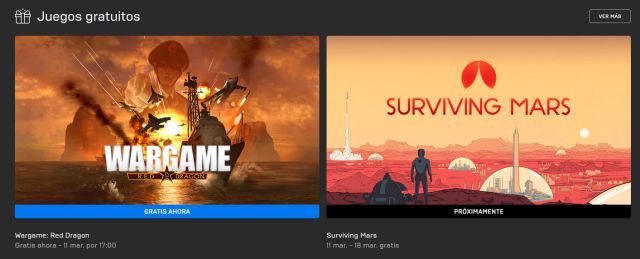 How to download it on PC
First of all, you need an account on the Epic Games Store.
If you do not have it, just register for free at this link
Fill in the different fields (name, surname, username, email address and password) and choose if you want to receive commercial information.
Accept the terms of service and follow the steps to activate your account.
Activate the two-step verification process.
Once you have access, enter the link above in this news and redeem the video game.
Download the client in the following link
You can now access your library and run the games!