After more than a month with the most powerful console Microsoft has ever created, it is clear to us: the generation begins with the player's hand, and not with his back to him.
Xbox Series X arrives with the lesson learned and with an evolution of the life cycle of One that already marked the way forward. After more than a month with Microsoft's most powerful console, something is very clear to us: the company, led by Phil Spencer, wants to go hand in hand with the user and not turn their back on him, precisely what many felt in the upheaval 2013 in which Xbox One was presented in a way, then it was abandoned and in the end it ended up going on sale. Microsoft returns to its roots. Those of power as a flag, as it did with Xbox. That of the functionalities made and thought for the user, as it was developed during the Xbox 360 era. Only Halo is missing.
During the previous weeks we have already talked at length about many of the features of Series X, from Quick Resume to shorter loading times, through Auto HDR in games that do not have this functionality or the controller itself. So as we've covered before, in this article we're going to focus on what we've been able to do after mid-October prints. Games already optimized. The games that have improved during these weeks, the backward compatible titles that we have been able to test and, in short, the performance and benefits of the console in normal and current use: the one that the user will have on November 10. All videos have been captured with an Avermedia GC573.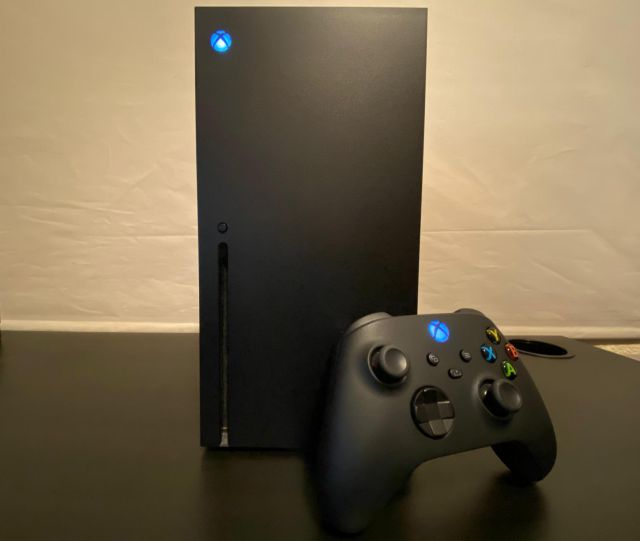 A step forward in power, but above all in functionalities
When Xbox One came out in 2013, to many it was an outdated console. Not only did it lag behind the Playstation 4 in power, but it also had a problem due to the lower-mid-range GPU or the lower-than-desired performance CPU for the time. Of course, powerful games came out at the visual level, starting with Ryse or Forza 5, but it is true that it was already seen that the generational advance would be built over the years (720p or 900p were more than usual). Xbox Series X is not going to compete with the most powerful graphics cards today – the PC technology race exploded a long time ago and equating it with consoles has stopped making sense – but the starting point of Series is much more ambitious than that of Xbox One. And that can be seen once you have it at home.
One of the pleasant surprises that we had during the first weeks with the console was to see how the dynamic resolution of games like DOOM Eternal or Red Dead Redemption 2 was much more solid while keeping the framerate stable. As games with a variable frame rate like Sekiro they went to the firm 60. As in Control, with optimization problems in One X, it remained rocky in our games. As Monster Hunter World did not need a graphic mode selector, because it already worked at maximum performance in motion and resolution. This has only been confirmed with the games that we have played a posteriori.
Halo 5, Forza 7, DOOM Eternal and Red Dead Redemption 2 gameplay on Xbox Series X:
Forza Motorsport 7 has already bet on 4K in One X and exemplary performance, but now it looks better, and gains in functionality. Loading a game is just a few seconds instead of the long minute in the previous console. Exiting one race, entering another, navigating the menus … Everything is fast, almost immediate. Halo 5: Guardians is not optimized for Xbox Series X, but it also shines in this version: in performance, in immediacy. Power doesn't mean you can aim for more 60fps games, cleaner and higher resolution. It also means a much more enjoyable time management for the player. Get into a game, and play in no time. No more going through Twitter during loading times. And all thanks to the SSD and the Xbox Velocity Architecture.
All this also means being able to change games quickly with Quick Resume, which is still being established in some games but in many that we have already tried, it is a marvel. Not to do a test of strength as we do trying to have seven games open at the same time, but to give it a natural use: You play Mafia Definitive Edition, you leave it to go and have a multiplayer game with a friend at Sea of ​​Thieves, another on Forza 7 another day, and on the third, when you go back to Mafia, it's immediate. Thinking about the player is, in short, this. And that's when we still have to see how the VRR or VRS perform, designed to optimize image fluidity. Or Raytracing, which at the moment we have not been able to verify in situ with games like Watch Dogs: Legion (it will be updated soon).
The console has some specifications that are summarized in a CPU 8X Cores @ 3.8 GHz (3.6 GHz w / SMT) Custom Zen 2 CPU, a GPU of 12 teraflops 52 CUs @ 1.825 GHz Custom RDNA 2 GPU, 16 gigs GDDR6 of memory, 1TB of internal space and the possibility of expanding it with a seagate Expansion Card, capacity to offer 4k and 60 frames per second with support for 120fps, a 4K UHD Blu-Ray optical disc, HDMI 2.1 with low latency automatic mode, VRR and AMD FreeSync, High Dynamic Range up to 8K HDR and Dolby Digital 5.1, DTS 5.1, Dolby TrueHD with Atmos and up to 7.1 L-PCM audio options. The connections it has are 3 USB 3.1 ports, an HDMI 2.1 output, 802.11ac dual band wireless that improves the One X's WiFi performance, and an Ethernet input of up to 1Gbps.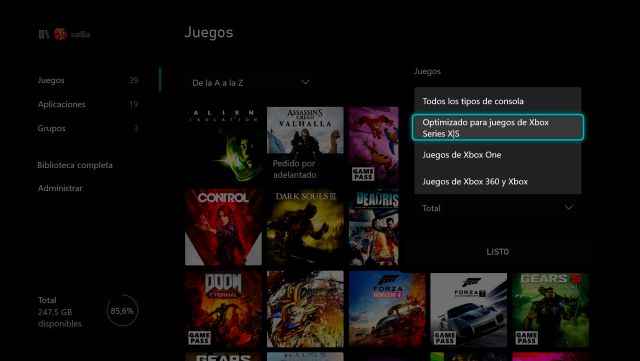 Something that is appreciated is the way to configure the platform. Through the mobile app we can adjust everything in a simple way, and once we connect the console to the television or monitor we will know if it is compatible: 4K UHD maximum, 120hz refresh rate and the rest of the features. As an important note, the native support for the 1440p resolution so common in monitors. In addition, we will have filters to know which games are optimized for Series X and S, which games are One and which are 360 ​​and Xbox.
The importance of legacy: a console that starts with hundreds of games
Backward compatibility has long been one of the Xbox brand's strong arguments. But that doesn't detract from the fact that Series X holds the line. All – except for the Kinect – Xbox One games work here. Some, as we have said, perform better for the simple fact of being in a more powerful console. The Xbox 360 and Xbox backward compatible ones remain, and they are not few. And there are many jewels among them. And they all work.
Your catalog with Microsoft accompanies you, and although it is evident that a console is bought to try new experiences, it must be borne in mind that the new generation, raised as it is now, also comes to play better what you have and what is for come. As with the new generation of PC graphics cards. And honestly, Lost Oddyssey has never looked better anywhere than on Xbox Series X. It keeps the original rescaled resolution (720p) but dazzles with Auto HDR, another addition that always adds, and does not subtract (if you don't like it, it disabled) to the original experience.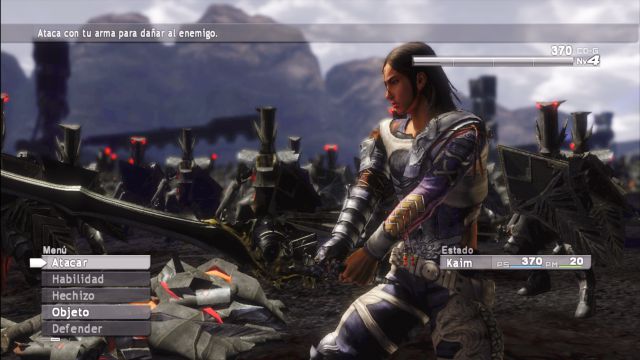 Who says Lost Oddyssey, says Conker: Live and Reloaded and its world full of color. Many of the more retro games, understood as retro for two and three generations ago, breathe freshness with this technique, which does not always work perfectly (Beyond Good and Evil) but it gives them a boost. And if that is added to the improvements that have already been received in One X, like that Ninja Gaiden II at 3360×1755 resolution, with those 60fps without framerate drops -not even on the famous stairs-. Or Ninja Gaiden Black at 1080p, 60fps and … here, Auto HDR.
Honestly, we cannot conceive of an Xbox Series X or S that does not arrive with a Game Pass under its arm, with its contribution with more than one hundred serve games, all the big names of Microsoft present in the selection. Some with automatic improvements like the ones we have discussed. And others, directly, optimized.
Optimized for Xbox Series X: Forza Horizon 4, Gears 5 …
Among the best experiences of Series X during these weeks of Reviews has been to see how titles that already shone with their own light on Xbox One X, now give a small boost. This is the case of Gears 5, which we already talked about something in the preview and with which we have been able to go much deeper. First, the immediacy in the charges. A break. But immediately afterwards, the visual spectacle. The 120fps in multiplayer is an advance that we hope to see in many more games, because the fluidity and improvement in reaction when playing competitively, is really an unimaginable step forward when the supposed consoles of 1080p and 60fps do not they reached neither one thing nor the other. But Gears 5 also improves when it comes to campaigning.
Someone said that the Gears 5 lighting on Xbox Series X was fake, so I wanted to try it and I made a capture. Left with One X, right with Series. Of fake nothing 👌🏻 pic.twitter.com/CdzARonVKI

– Salva Fernàndez Ros (@salbaFR) October 19, 2020
The resolution is still dynamic, with peaks of 4K and an average of more than 1700p, but they are the rest of the elements where the game grows. The improvements in lighting are more than evident, as well as the ambient occlusion. In the indoor phases is where we have noticed it the most, but also in modeling and in certain structures. Everything looks much sharper, more detailed and ultimately better. With 60fps that remain rocky and with improvements in the textures. According to Digital Foundry, it matches the Ultra PC configuration. We simply say that it looks clearly better compared to One X in general terms, and that is obvious.
But if there is a sweet tooth among the optimized games, that is Forza Horizon 4. The jewel in the Xbox One crown, whether you like driving games or not, came out at 30fps and later added the selection of modes to try to offer a better rate of frames. Here, in Series X, that of selecting modality is not there. He does not need it. The 60fps brings a degree of fluidity as we race with such a high level of detail in every way that is worth going back to the roads of England just to see it in motion. For many, the best One game that now looks even better. As happens to Sea of ​​Thieves, a title that also gains in frame rate -waiting to know other improvements- and that now flows much more.
4K and 60fps: Forza Horizon 4, Gears Tactics, Gears 5 and Sea of ​​Thieves gameplay optimized:
In the absence of Halo: what did my Series X premiere with? Yakuza, Gears Tactics …
We started Xbox Series X with Game Pass, with the arrival of EA Play to the service and with the most important Xbox One games improved, but with what do we release Series X on November 10? Among the names, there is one that we like to highlight: Yakuza: Like a Dragon. The seventh main installment of the SEGA saga is a game that comes with Smart Delivery to the console, and that looks especially good on the move. It has two prominent modes, the normal one with a resolution 2K and 60fps and the graphics, with 4K and 30fps. The first of them gives us a more than interesting balance, which also dazzles with HDR at nights in Yokohama. It is clear that we are facing an intergenerational game, but also that it looks better than in the versions of current platforms. Translated into Spanish, with minimal loading times, it's a good bet for the first day of Series X.
Along with him, Gears Tactics, another of the titles that we have been able to play during these weeks of review, is premiering on consoles. A turn-based strategy game that has already left a good taste in Windows 10 and that in this case has surprised us. On the one hand, because of the 60fps and 4K performance that makes it very attractive, both in the action during the games and in the many cinematics that the game has. Highlight, for this version, the optimization of the control to adapt to the limitations of a command with respect to the keyboard and mouse.
In this case, in addition to controlling the pointer with the analog stick, navigating the menus with the crosshead and using triggers for zooming and other tasks, shortcuts have been added to the main buttons that allow us to speed up and learn a lot of actions. Taking turns as it is, the adaptation and our control options are more than optimal.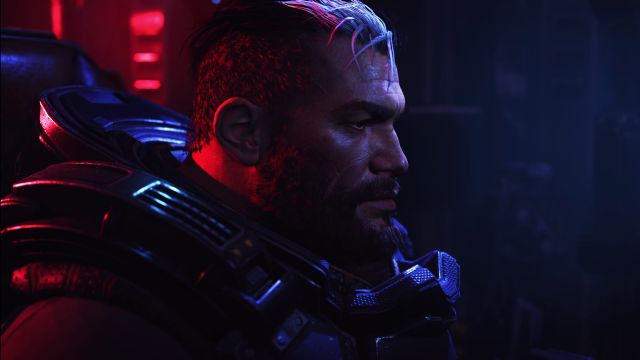 Gears Tactics.
They are not the only games that make the leap here with improvements. It has already been seen how Watch Dogs: Legion will look on the console with Raytracing and other technical improvements, it is expected that soon we can see how Assassin's Creed: Valhalla performs and from the preview with Dirt 5 we get that the game was very fun and proposals like 120fps, more than interesting. Another name to point to the list although we have only played the preview: Tetris Effect: Connected. It was a great game on PS4, and here, even if we don't have VR, it's still a delight.
This is where we find an obviously negative point in the output of the console. The lack of a reference game as Halo: Infinite should be is a mole for the launch catalog. There is no shortage of level titles or improvements to well-known games, but the development problems with the new installment of the Master Chief will orphan a flash exclusive for the first few months. Nobody denies the future in the medium and long term of the Series X catalog, and less with what was announced in previous events and with the purchase of Bethesda, but the romanticism of returning to the essences also with a Halo out, will have to wait.
Some final notes: command, interface, multimedia
Although we already spoke at the time of many other particularities of the console, we would like to return to the subject of the interface. This maintains what we have seen in recent times in One, with the obvious improvements over the years (at first it was quite confusing) and with an important change: the speed of reaction. Navigating the menus no longer depends on those seconds of waiting and that feeling that you were left hanging, something that added to the customization of blocks, game selection, background images and others, make it very functional, amen of the improvements in the interface of the store, which at the time was not the best example of possible usability.
About the controller, we already talked about it in the preview, but we would like to influence two capital improvements. On the one hand, the crosshead. It is the best crosshead we remember in an Xbox console controller, and that also includes the two versions of the Elite 2 controller. Its arrangement, with the highest cardinal points, allows diagonals and movements with a precision that are appreciated in fighting games , platforms and the like, as well as their use when navigating menus. The other is the grips, much more comfortable and adaptable to long gaming sessions. In general, the controller is lighter, it maintains the best of the One and improves in these aspects, in addition to the share button with which we can share and capture quickly, without having to go through the menu as happened in One.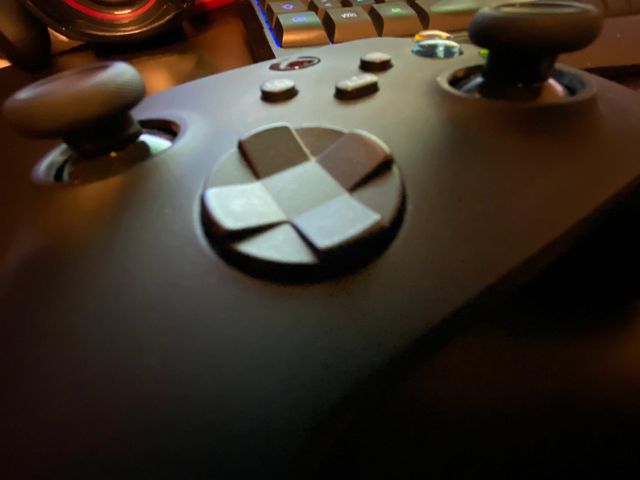 Is the controller having problems? The only and main setback is the conservative bet, without great news like those we have seen in the DualSense of PS5. And that, surely, it was time for the standard control of a console to arrive with rear buttons. Considering that it offers some better features than the Elite remote, adding rear levers or buttons – something that is in high demand and increasingly – would have been the icing on the cake.
Contents already published to complement this Reviews:
Quick Resume with 7 games at once
Loading times vs Xbox One X
Console prints, Auto HDR, apps …
Gallery: photos in detail
conclusion
Xbox Series X is the demonstration of everything Microsoft has learned during the journey with One and its difficult beginning. The console is presented as the most powerful to date, but it is its functionalities that transfer us to the new generation. The Quick Resume, the absence of loading times, the Auto HDR, the 4K configuration with up to 120hz and the improvements, automatic or via optimization, of the catalog of backward compatible games. The reality, after weeks with the console, is that the one that was the most powerful so far on the market, One X, has become totally obsolete. Series X brings us more of a new generation feeling than what we experienced in 2013, we have no doubts. And this is just the beginning.
There are pending accounts on the table. That with so many of its own studios, some acquired more than two years ago, it comes out without a flagship game is an important mole. The absence of Halo: Infinite, as planned and announced since E3 2019, is not minor. Nor is the need for extra memory cards with their own format, with what it means at the moment at the cost level, or the feeling that the control, even improving what seemed unbeatable thanks to the new crosshead and handles, is be somewhat conservative.
But the reality is that Microsoft's gaze is directed at the user, their comfort and their experience. Series X is not just a step up in power and performance. It is also a commitment to a new entertainment model. It cannot be understood without the Game Pass, without xCloud, without the extensive backward compatibility offered by thousands of games from three previous generations. Series X brings together the best of the Xbox brand's legacy and proposes an exciting journey that never stops adding new partners, such as Bethesda. Because even if it has more than anyone else, the new generation is not going to be measured in teraflops. The path chosen by Microsoft is marked. This is the way.