Microsoft confirms new details of the connectivity of the console and the components included in the box, such as power cables and controller.
Microsoft has confirmed through the new official website of Xbox Series X and Xbox Series S the content of each of the models of its new generation of consoles. According to the portal, the following contents are what we will see in both the Spanish and the rest of the world edition, without variation with respect to regions.
Console, controller, power cord and HDMI cable
Inside the box of both Xbox Series X and Series S we will find, from this November 10, an Xbox Series X / S console, a controller (black in the case of XSX; Robot White for XSS), a cable Ultra high speed HDMI and a power cord. Apparently, a 14-day code will not be included to test Xbox Game Pass, as is the case with current models of the Xbox One family of consoles. In case of change, we will let you know accordingly.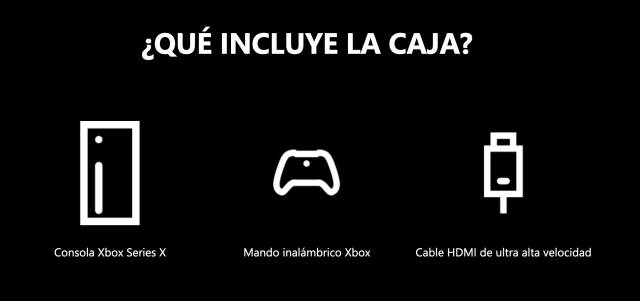 Apparently no Xbox Live Gold or Xbox Game Pass headsets or promo code will be included this time.
Xbox Series X and S will be compatible Seagate external SSD cards and hard drives
One of the peculiarities of the Xbox Series range is that it will not use hard drives for its internal storage, but Solid Storage Disks (SSD). In any case, Xbox Series X and S are compatible with standard independent hard drives and the new Seagate 1TB storage expansion cards. Those additional external cards – which are not yet priced confirmed – will be connected to the rear of the console through a dedicated port that "replicates the custom SSD experience of the console" with "the same performance" and, it is understood, same data transfer speed.
Finally, we have also learned through the new official Xbox Series website that the two consoles will use the 802.11ac Dual Band WiFi protocol of 5 GHz, not 6 GHz.
Xbox Series S and Xbox Series X will go on sale this November 10 at a price of 299 euros and 499 euros, respectively. Reservations for both models will begin on September 22 on the official website; it is to be expected that on that date the reserves will also open in the main distribution chains.