The North American publisher claims that this rise responds to the reality of the new generation version, with higher quality than the others.
2K Games has justified that the price of NBA 2K21 in PlayStation 5 and Xbox Series X is more expensive than in the equivalent versions of PS4 and Xbox One. After knowing the complete breakdown of editions of this ambitious new installment of the saga, this Thursday In the current generation for September, the controversy has been served for two reasons: the first, that the new generation version is not given away (as EA will do with FIFA 21 or CD Projekt RED with Cyberpunk 2077); second, the decision to launch it for $ 10 more.
Speaking to WCCFTech, a 2K Games communication representative explained that "the 2K suggested price for their games is intended to represent the value offered" for the product. And he continues "With almost unlimited replayability options and the large number of additions and improvements only possible in the new generation of consoles, we believe that our suggested update for the price in store legitimately represents the value of NBA 2K21", they say.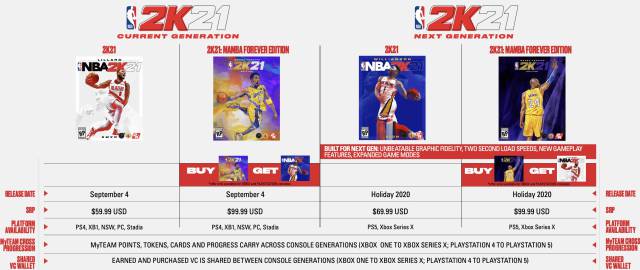 The NBA 2K21 price will be $ 10 more expensive on PS5 and Xbox Series X than on PS4 and Xbox One.
The historical record according to the MSRP (an equivalent to the RRP in North America) left us until now a label of $ 60 for video games in its simple edition for full price; Now, on PS5 and Xbox Series X, at least 2K Games will increase that recommended retail price by $ 10, thus passing the barrier of $ 70 ($ 69.99).
According to the IDG consultancy, after doing a market Reviews, it concludes with almost complete assurance that more publishers, not just 2K Games, will adopt this price increase in the coming years for their main video games.

NBA 2K21, September 4 on PS4, Xbox One, Nintendo Switch, PC, and Stadia
All in all, NBA 2K21 will launch this September 4 on PS4, Xbox One, Nintendo Switch, PC and Google Stadia; At Christmas 2020 it will do the same on PS5 and Xbox Series X. The game will have two main covers depending on whether the edition is for the next or the current generation. Damian Lillard will be the star on Xbox One, PlayStation 4, Google Stadia, and PC. For his part, Zion Williamson is chosen for Xbox Series X and PlayStation 5. The late Kobe Bryant will appear in the premium edition.