Infinity Ward confirms the changes to several featured weapons in the Call of Duty: Warzone arsenal. Goodbye to the domain of Grau 5.56 and MP5.
Call of Duty: Warzone and Modern Warfare update 1.23 has gone beyond adding new content. The studio has taken the opportunity to drastically change the performance of several of the most chosen weapons by players in its two game modes, both competitive and battle royale.
In this way we say goodbye to the dominance of the Grau 5.56, which has received a reduction in distance damage, an increase in time recoil and the loss of distance effectiveness of the Tempus 26.4 "Archangel and FSS 20.8" Nexus guns. As if that were not enough, using one of them will increase the recoil even more.
On the other hand, the MP5 loses distance damage from the 9mm and 10mm gauges. The long-range damage of 10mm ammunition has also been reduced. However, there are other weapons that have received specific improvements, such as snipers.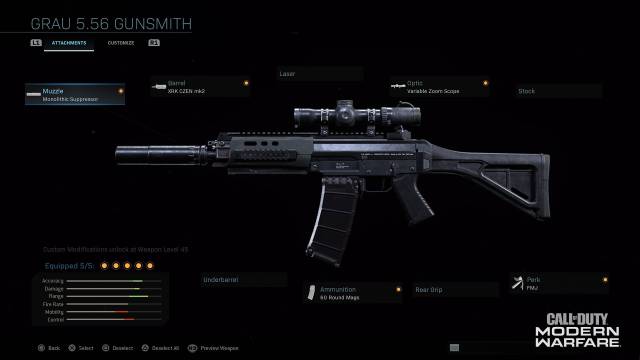 Grau 5.56
The AX-50 will increase its distance damage and HDR will guarantee death by a single shot in the lower torso at any range. On the other hand, the aiming speed of the kar98k will be faster, more accurate when shooting from the hip and its distance damage has been extended.
Other tactical rifles such as the MK2 Carbine have improved movement speed by having it equipped, in addition to increasing ranged damage. The Dragunov will follow in the footsteps of the Kar98k, even being able to kill with at least two shots.
On the side of the assault rifles, the FAL will be able to kill with a head shot in close distances, the AK-47 will increase its aiming speed and the new CR-56 AMAX will reduce its damage at a distance.
As an anecdote, the Gulag will modify the available weaponry a second time. It will now incorporate semi-automatic weapons, sniper rifles, and the probability that you will simply fight with punches and throwing knives.