This cute marsupial was considered the PlayStation mascot, but the saga never belonged to Sony or Naughty Dog: this is their story.
A classic trilogy, a couple of spin-offs and the memory of a generation. That is the residue that Naughty Dog left in many players of the PlayStation era. The North American studio, now focused on deeper stories like The Last of Us Part 2 or Uncharted 4: The Thief's End, was the developer behind Crash Bandicoot, although the license was never theirs. Years later, several remasters in between and other projects by Activision (which happened without pain or glory), the saga is preparing for its return with Crash Bandicoot 4: It's About Time.
The character created by Naughty Dog had lost his way after several unsuccessful deliveries. In this situation, Activision did what many companies do in these circumstances: look to the past. With Crash Bandicoot N. Sane Trilogy, Vicarius Visions redesigned the three original video games and ran them through the time machine to modernize their graphics. It was not a simple project, since the original code was lost and they had to redo everything from scratch. Crash Team Racing Nitro-Fueled, the remake of the PlayStation classic, managed to retain the essence of the original and add new content. In addition, the product was expanded through updates.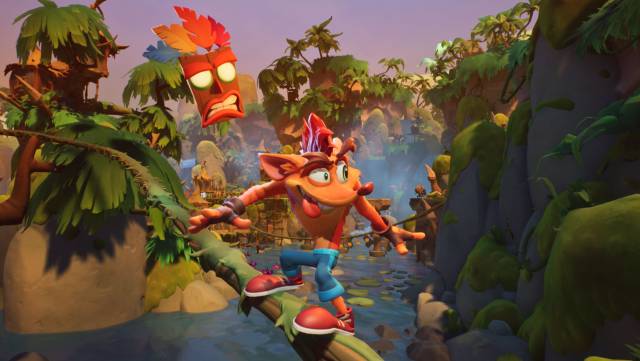 Crash Bandicoot 4: It's About Time (Activision)
While Activision looks to the future with a new chapter of the saga, already officially announced, at FreeGameTips we remember the past with the aim of rebuilding those years of Naughty Dog, when they were not yet part of the network of internal teams of Sony Worldwide Studios. Crash Bandicoot and its creators were under the Universal umbrella, until the Japanese company decided to close the acquisition operation in 2001, already with PlayStation 2 on the market:
"As one of the best software developers, and with a proven track record of success, we are delighted to further strengthen our relationship with talented animators, programmers, and developers of Naughty Dog," Shuhei Yoshida of PlayStation commented in the note from Press in which they announced the purchase of the studio "Through this acquisition, we can continue to ensure that we will provide the most revolutionary entertainment experiences." The thirty developers who were part of Naughty Dog continued in their position, although already integrated into the Sony structure. After the purchase, his next project was Jak and Daxter, an intellectual property that for the moment remains forgotten … but that's a story for another time.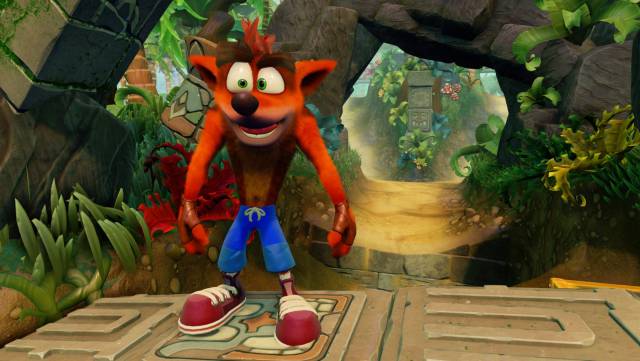 Crash Bandicoot N. Sane Trilogy (Activision)
Naughty Dog and Crash Bandicoot: this is how this story began
Naughty Dog was founded in 1984 by Andy Gavin and Jason Rubin, so they had been developing their games for more than a decade when success came at the hands of the Crash Bandicoot, a triumph that was hopelessly tied to the PlayStation brand. Although it later became a cross-platform saga, it is no wonder that Activision chose a PlayStation 4 conference to announce N. Sane Trilogy. After a PlayStation Experience in which Shawn Layden, then president of Sony Worldwide Studios, was presented with a shirt dedicated to the character (nothing was announced on that occasion, to the disappointment of the fans), the project was confirmed some time later, as a temporary exclusive to the Sony platform.
But going back to the past, the Naughty Dog video game was born under very peculiar circumstances. Nintendo had revolutionized three-dimensional platforms with Super Mario 64, a proposal that forever changed the design of titles in this genre. PlayStation needed a quality product that would help owners of that console to enjoy a good platform game.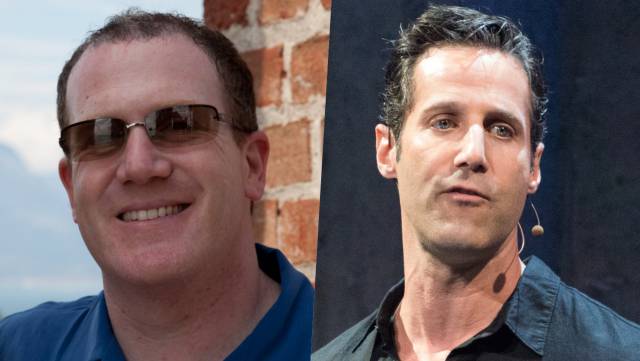 Andy Gavin (left) and Jason Rubin (right), founders of Naughty Dog.
Crash Bandicoot was the answer to that demand, a title that did not mean the revolution that Nintendo's work proposed, but that managed to arouse the interest of many players of the time. The difficulty of its playable proposition waned as the sequels appeared, though the new mechanics, combined with its charismatic characters, fueled the rise of Naughty Dog as a studio.
Why did you decide to create Crash Bandicoot? Jason Rubin recalls it in an interview published on GamesIndustry.biz: "When we were about to complete the development of Way of the Warrior, we rented a space at the Consumer Electronic Show – a prime version of E3 – for $ 10,000." There they managed to sell their project to Universal Interactive Studios, which decided to sign with Naughty Dog for an additional project. "One of the reasons we chose Universal was their enthusiasm for funding our next title and for letting us select which video game we were going to develop. We drove to Boston, to our new home at Universal Studios Hollywood, determined to decide what we intended to develop along the way. " According to Rubin, they chatted about the fact that they had successfully developed a fighting game, so they thought of an action title. "This time, on a budget and with a real team, why not go further and leave out borrowing ideas from past games and trying something that has never been done before?" "The fighting and car games had been moved to three dimensions, but the character action games had not been done in 3D.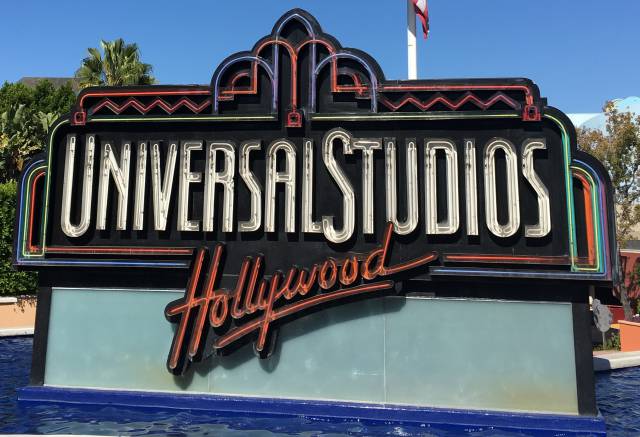 Naughty Dog found its place in Universal … at first.
As a code name, they chose something very funny: "We called it Sonic's Ass [el culo de Sonic], because we realized that in three dimensions you would look at the character from the back most of the time. What would Sonic's ass look like? Who knows, but in our new game, the character's butt would look amazing, since you would have to look at it for hours. "
We have all experienced this situation in which we think we have had a good idea and that nobody else is thinking about the same question. What happened with 3D platforms is that the brains of talents like Shigeru Miyamoto or Yuji Naka were also working at full capacity. "Miyamoto created an open area for Mario 64 and built a form of gameplay that is still copied today; Naka designed a game with characters and art in three dimensions, but with gameplay anchored firmly in the 2D space. Because of this, or perhaps because he thought the 3D risk was too much for a Sonic game, Naka-san also opted to release a new character called Nights. "
Rubin acknowledges that he was unaware of "the important decisions" that two of "the greatest minds in video games" were making. "Andy and I solved the same question differently. […]. We let the characters move in 3D completely, but significantly restricting freedom of movement: the x-axis or left or right movement. " The gameplay was 3D, but it also kept some of the classic aspects of 3D platforms, such as "timimg and simple interactions". At the same time, it was impossible to get around enemies, lose yourself, or stay off camera. On some levels, the camera behind the character, which was displayed from the side, was dispensed with. Even, a perspective was devised in which Crash was viewed from the front. In these phases, the protagonist ran while avoiding obstacles and preventing a giant rock from crushing him.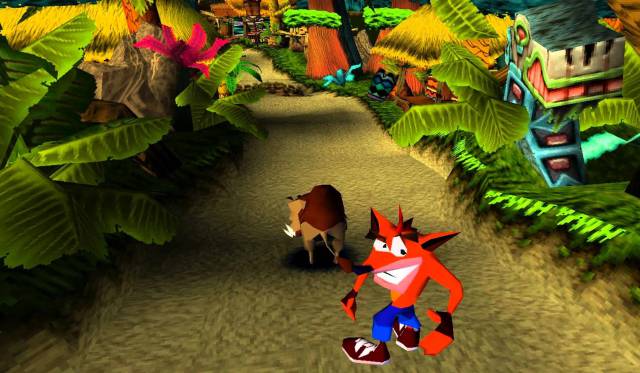 The creation of the Crash character
Andy and Ruben made the decision to develop for PlayStation because Nintendo already had their own pets. "Sony was new to video games, so they didn't have a legacy of characters. We were in Utah after two days of heated discussion when we made the decision. Two 24-year-old boys who had never made a hit game were going to drive to Los Angeles, hire their first employees, figure out what makes an action game great, work on their first 3D title, and create a character and a interesting saga ", all carrying all his belongings" in the back of the car ". Then all that was left was to call Sony and tell them we had created the PlayStation mascot. It was simple, really. "
Although they were aware of the difficulties, they were also sure that they would be able to design a mascot for PlayStation … and all this without knowing whether or not the Japanese company was working on something similar. "At that time we were working for Universal, not Sony. Sony had no way of knowing what we were doing, so we didn't know how they would react. " According to Rubin, to succeed as an entrepreneur you need to have some blind faith. "Andy and I had that kind of faith. At that time, we were already making business plans. We had a budget, employees, and deadlines. Naughty Dog had become a business. " And they never had a problem managing it. They both knew the basics and moved freely in muddy terrain.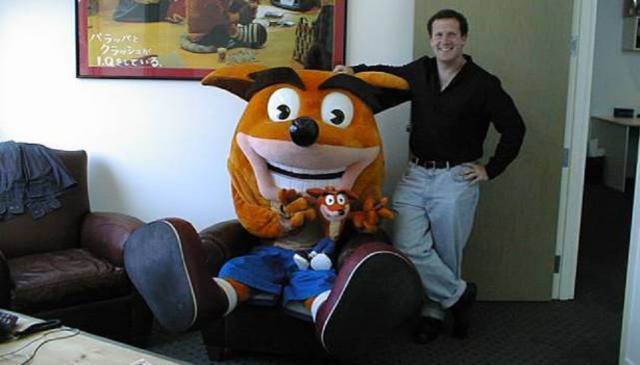 Andy Gavin.
In a report published by Polygon, different protagonists of the Naughty Dog of the time relate how they designed Crash. "We hired some cartoon designers who had made Fievel and other great productions, Charles Zembillas and Joe Pearson. We immediately started working with them, "recalls Rubin. Zembillas says he tried to integrate different things and try different directions. "Joe made it a little longer, slimmer, and crazy. I was trying to make it a bit more manic and crazy. " Somehow, they merged those two visions.
Joe Pearson was hired as an external consultant to develop the character and setting designs: "I wrote the game concept. They had the idea that it was set on an island; They had also thought of a villain, but they did not have a back story, so I wrote one for both Crash and Neo Cortex and set it on three islands, which were based on the idea of ​​the lost continent of Lemuria. "
Andy Gavin claims that Charles Zembillas was an artist who drew sketches very quickly. "I could draw Crash in a minute and a half." He was able to turn any emotion into a cartoon, "that was exactly what we wanted." He says that a minute of description of the level was enough for both artists to make sketches "that basically looked like what they look like in the game. He, like Charles in other things, possessed the ability to translate those vague descriptions "into a tangible and" consistent "drawing with respect to other levels.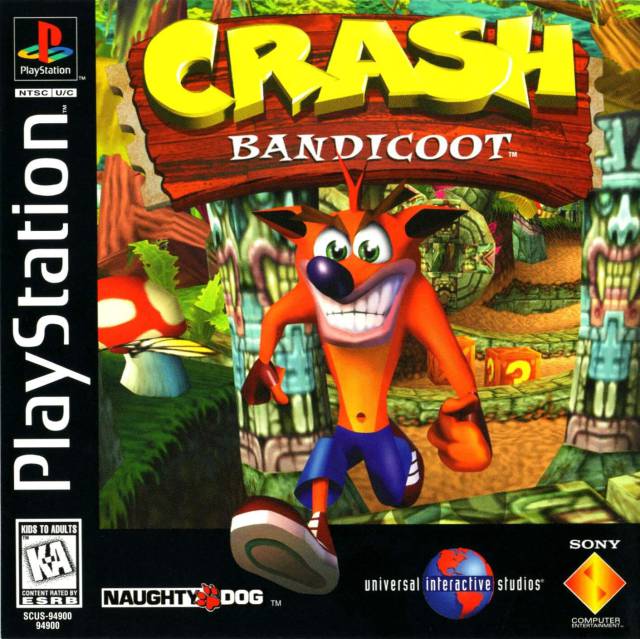 Crash Bandicoot, cover of the first game.
All that glitters is not gold: the agreement with Universal
As part of their agreement with Universal, the company was tasked with providing them with a space at Universal Studios. They had free telephone lines, fax, secretarial staff, etc. "Originally, we didn't owe them a product in exchange for their help. They wanted talented people working in their area, "hoping that this would bring them benefits, Rubin said in the GamesIndustry.biz interview. "It sounds strange, but this strategy worked for Universal. We got pretty much the same deal that Steven Spielberg closed at the time, even though our entire space was the size of his office. "
Ultimately, they signed a three-project agreement with the company, which produced "hundreds of millions of dollars in revenue for them: it worked for everyone." Naughty Dog was the first studio under the Universal umbrella, but it wouldn't be for long. Mark Cerny, vice president of Universal Interactive – currently the architect of the PlayStation 5 – was "confident enough to just join a team more Insomniac Games." All other studios operated under the usual conditions of a development agreement.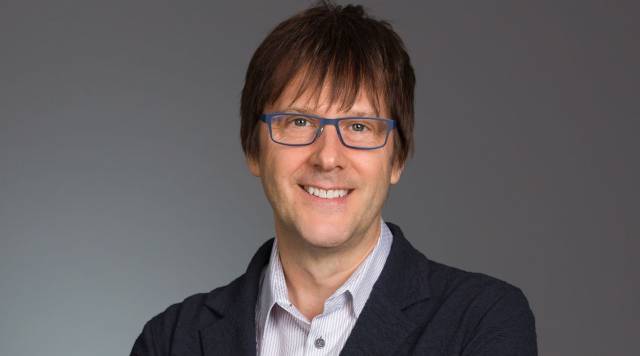 Mark Cerny. Photo: Eurogamer
There has been a long talk about the relationship between Naughty Dog and Insomniac Games. It was a competitive relationship, but in a good way. They criticized each other's work, occasionally shared code, and even made cameos in their games. "We also spent time together outside the office and I still have a close relationship with the Insomniac people," Rubin explains in the interview. During the day they put on their business jackets; in the afternoon, all friends.
What was not for the best was the relationship between the studio and Universal. "Naughty Dog made the decision not to renew its agreement with Universal Interactive." The positive conditions that had prevailed during the development of the first games were deteriorating, to the point that the publisher hardly offered any plus. "Sony financed and published the games, as well as providing valuable advice on production worldwide. Mark Cerny, who started at Universal and was a major contributor to Crash's success, "had become an outsider and continued to work alongside Naughty Dog. "Universal only received payment for the rights to its intellectual properties."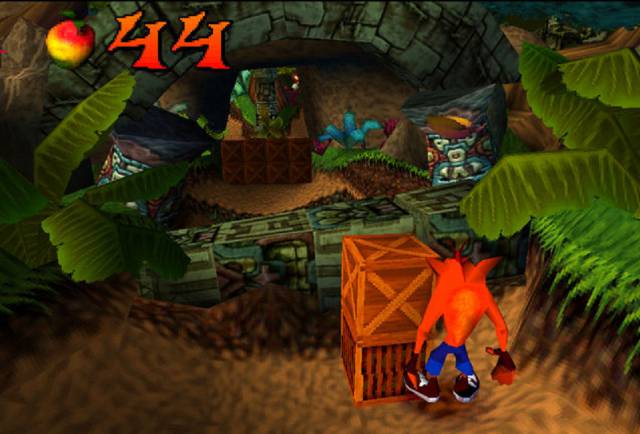 Both decided that they were not in the business of dividing the income with a company that had not contributed and with which it was "extremely difficult to work". They considered that Universal had tried to take advantage of Crash's success as if it had been theirs. "We announced that we would not renew the contract and that we would leave the office after Crash 3. At that time, the managers of Universal Interactive lost their minds."
They were forced to develop Crash 3 "in the corridors of their offices", despite the fact that the contract that was still in force required them to provide them with a space. "They decided to make life impossible for us" and set a strict deadline for them to release the game at Christmas. "We couldn't move the team in the middle of the team. We had to stay in the hallways until the game was complete. Naughty Dog worked 16-20 hours each day without weekends. To make matters worse, Universal refused to pay for air conditioning. " Rubin remembers the unbearable heat they suffered. "It is not an exaggeration. We were forced to buy thermometers and measure the temperature constantly because the heat was affecting "even the hard drives. Since they were not allowed to use portable air conditioning units, they cooled the hard drives using an ice cube and ventilating the hardware with cold air from that cube. That temporarily fixed the problem, but then they introduced an air conditioner by posing as a cooler.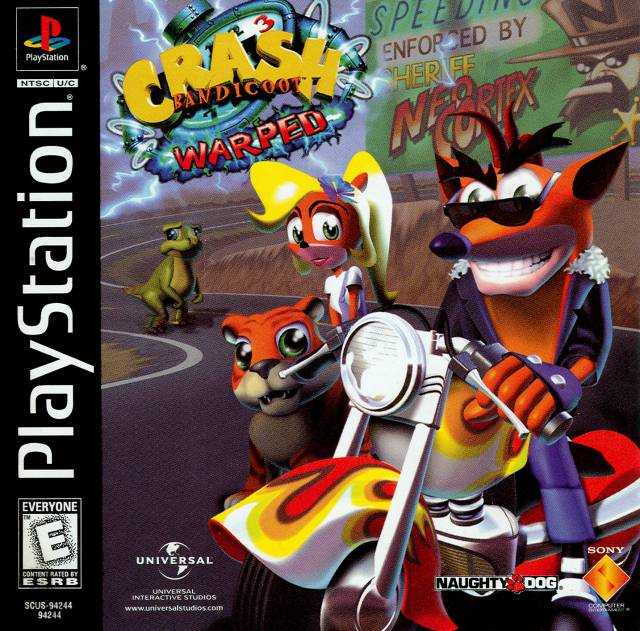 The third installment took place in terrible working conditions.
Rubin maintains that from Universal they tried to break them, but they did not succeed. Crash 3: Warped was released and succeeded again. "Universal made millions of dollars. Still, as a company, they didn't have the decency to accept our decision as an independent study to choose our own destiny. They were vindictive enough to risk their financial assets "in order to see them fail.
And how did they come to create one more Crash Bandicoot game? Jason Rubin explains it like this: "The day Crash 3 ended, Naughty Dog moved permanently and they started working on a kart game, still without known characters. The first version had basic characters. "Our relationship with Sony was incredibly close, so we offered to make a game based on the Crash characters if they were tasked with securing Universal's rights. At the time, Naughty Dog couldn't even speak to Universal's leaders, but Sony did it. " Crash Team Racing was his farewell to the character, before seeking new horizons with Jak and Daxter.
The rest of the story continues to be written. Today, neither Gavin nor Rubin continue on Naughty Dog. The studio changed records with the Uncharted saga and then gave the surprise with The Last of Us, whose second installment has just been released. The team led by Neil Druckmann is preparing for the premiere of the new generation of consoles. What games will they work on for PlayStation 5? One thing is for sure: it won't be Crash Bandicoot.