Captain America's skin has arrived in Fortnite. We tell you how to get this Fortnite Battle Royale skin of the popular Marvel character.
On July 3, 2020 at 02:00 CEST the skin of Captain America arrived at the Fortnite paVos store, which was leaked days ago. Right below we tell you how to get the skin of Captain America, belonging to Season 3 of the Fortnite Battle Pass Chapter 2:
Armed with his indestructible shield and iron will, the Super-Soldier: Captain America will face any obstacle that comes his way.

Find Captain America's outfit in the item shop! pic.twitter.com/auf70nIvpe

– Fortnite_ES (@Fortnite_ES) July 3, 2020
Fortnite: Captain America's skin arrives; how to get it
On the occasion of the celebration of July 4, the Independence Day of the United States, it arrives at Fortnite Battle Royale —although a day in advance, yes-, nothing more and nothing less than Captain America, in the form of skin. It appears in the Battle Royale paVos store, specifically in the "Featured" section: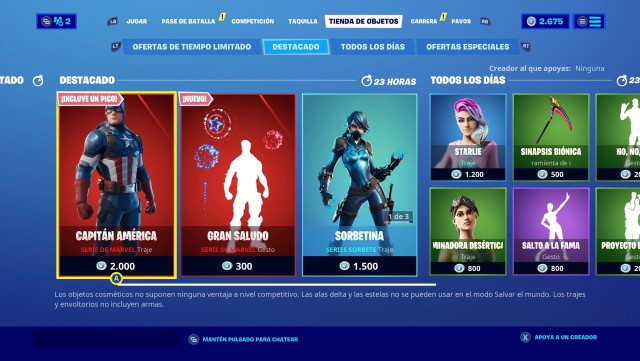 This is how the objects of Captain America appear in the Fortnite store
This is all the content of Captain America that we can obtain in the paVos store: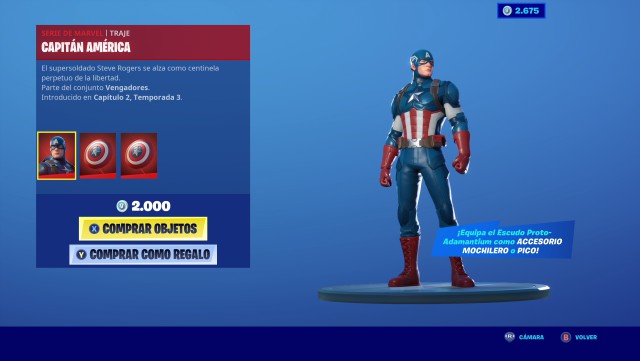 A close look at the Captain America skin
Skin Captain America + Backpack accessory and collection tool Shield of Proto-Adamantium: 2000 paVos
Great Greeting Gesture: 300 paVos
Something that catches the attention of Captain America's beak and backpack is that his shield serves as both. That is, we carry it as a backpack, and when we want to use it as a peak, we will carry it in our hands.
We don't know how long this skin will be available in the game's paVos store, so if you want to buy it, the sooner the better.
We remind you that this type of content is merely aesthetic: it does not give us any advantage over other players in Fortnite Battle Royale. Another thing to keep in mind is the fact that the Captain America skin can only be used in Fortnite's Battle Royale and Creative modes, but not in the Save the World co-op campaign. The rest of the accessories can be used without problems in Saving the World, although they will not provide us with any benefit when it comes to cosmetic objects.
Sources: Twitter / Fortnite_ES, Fortnite Battle Royale, own elaboration