Available to challenge from 7pm with several LaLiga players available on the team in question.
EA Sports unveils TOTW 40, the team of the week known as FIFA 20's Team of the Week that has made a strong comeback after the resumption of domestic competitions after the coronavirus stoppage. This time he does it with players like Saúl, Aubameyang, Dybala, Vardy or Alexis Sánchez among other footballers who have had a great performance during these last days. Of course, it is surprising the absence of some names like Saint-Maxim, who gave three assists and is one of the most loved by the players.
That said, starting today, July 8 at 7:00 p.m., we can play until next Wednesday to get the new cards for the TOTW 40 of FUT 20, only to a limited extent and until the arrival of the next footballers. In addition to the starting eleven in which they are Spanish such as Navas, Raúl Garcia or the aforementioned Saúl, there are also level substitutes such as Matheus Pereira, McCarthy or Oliver Torres.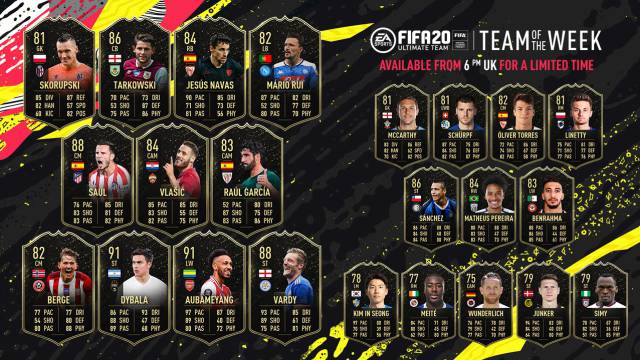 Here we leave you the complete list of players for both the FOT 20 TOTW 40 starting team and the substitutes:
Starting team
Skorupski – 81
Tarkowski – 86
Navas – 84
Mario Rui – 82
Saul – 88
Vlasic – 84
Raúl Garcia – 83
Berge – 82
Dybala -91
Aubameyang – 91
Vardy – 88
Substitutes
McCarthy – 81
Schürpf – 81
Oliver Torres – 82
Linetty 81
Sánchez – 86
MAtheus Pereira – 84
Benrama -83
Kim In Seong – 78
Meite – 77
Wunderlich – 75
Junker – 79
Simy – 79