NVIDIA's cloud gaming system turns one year old with new games added and performance improvements. We value its execution in these twelve months.
The cloud gaming system is seen as the medium or long-term future of the video game world. Not for a large group of important players with a traditional cut, but for those who want to play games anywhere, in a functional way and without showing off. A requirement that is surely inherited from the world of series and the prevailing format with Netflix, HBO and others at the helm, but which is still encountering some obstacles in the world of video games. Google Stadia should be the great revolution and at the moment its business model is not convincing. On the other hand, xCloud stands as the culmination of a Microsoft ecosystem designed to fully exploit the Game Pass. And for a year now, a third contender – of many more – in contention: GeForce Now. A proposal that has been consolidated for several reasons.
GeForce Now is defined as an NVIDIA streaming service with the ability to play from our laptop, Mac, Android device or now in Safari (iOS) our games purchased in the main PC stores, such as Steam, Epic Games Store or GoG. The idea, therefore, is a bit in line with what we have with Xbox Game Streaming: enjoy in the cloud those games that are ours or those free games that are available in the catalog, with the difference that here who makes the server is not the console itself -as in Xbox- but NVIDIA is responsible for that. Therefore, to the question of whether we need to buy the games, the answer is yes.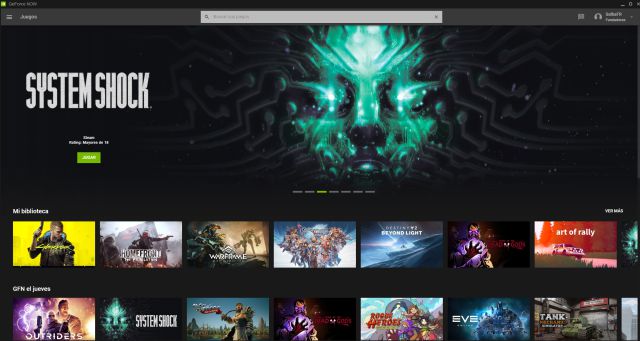 We are not facing a service like xCloud that allows you to play the titles of a subscription such as Game Pass, but neither in a service like Stadia where we exclusively buy access to the cloud of the games. The idea here is that we can enjoy our PC library wherever we want. Not a minor complement for the players. To play we have two options, the free subscription with standard access and sessions of one hour of play and, on the other hand, the founders subscription, which is the one we have been testing and which gives us priority access, prolonged session duration and RTX activated for a better viewing experience.
The highlight of this paid version (currently 27.45 euros for six months) is precisely the priority access: depending on the load on the servers there are certain waiting queues to be able to play, something that is accused especially in new releases. Here this is reduced with this subscription and the RTX quality is added for the games, allowing to see titles with clear graphic improvement (textures, lighting) in this subscription.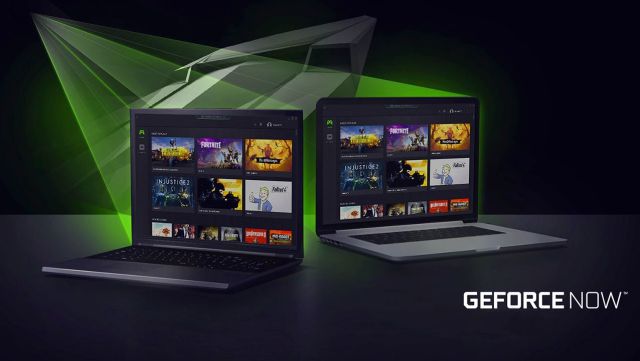 Proposal and performance
NVIDIA speaks of a minimum of 25 megabytes to be able to aim for 1080p and 60 frames per second, but the reality is that if we want a stable and visually remarkable experience, it is better to have a higher connection than the one mentioned above. We have done various tests and with the connection via ethernet, the games work like a charm. Titles like Destiny 2: Beyond Light, System Shock demo or Black Mesa respond with almost no appreciable lag and make the point-and-shoot experience all the more satisfying. It is true that the quality of the stream, due to the bitrate, suffers and that is evident if we compare it with a direct and native source, but the result is more than convincing, especially at the framerate level.
In this sense, we have to say that managing the start of the game is relatively simple, choosing to play the title and activating our Steam account to start it. Something that we did not like is that we have to validate our account each time with our password, by the way. Of course, once the time that passes until the start is done, it does not reach 30 seconds in many cases and we can already be playing normally. Note that games like Cyberpunk 2077 with the Founder's Pack look surprisingly good. The RTX On allows access to DLSS configurations and also to see a game with better treatment in ray tracing, shadows … We are not facing a replica of our experience with the base game on our computer and the differences in this sense are noticeable, but for streaming it complies.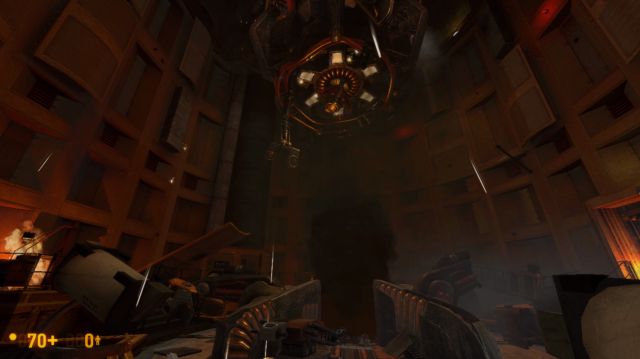 Black Mesa, that not everything is latest releases.
Despite this, we reiterate that the best sensations are present in the response to our controls, something that is noteworthy and that is tremendously important for the future of this type of platform, why fool ourselves. But how about devices that connect via WiFi?
Time to play from your mobile
Here come many more variables that must be taken into account. If we play at a relatively close distance from the router and it has 5ghz technology, something already common in the latest models, the experience can be adequate for almost any type of game. In this case we have been playing with a One Plus 8T, which has a more than generous screen for the occasion. Playing titles like Cyberpunk 2077 without lag problems is worth it, but it is true that there is some fine print in this experience, and never better. As is happening with other streaming services, games adapt to the size of the screens and that can make texts with small fonts, such as the CD Projekt game, suffer a lot, making it not easy to know what each says. character or what options we get in the hud when we interact with the objects. It is also true that the graphic quality -720p- suffers compared to other devices. But it's the latest from CD Projekt … on mobile.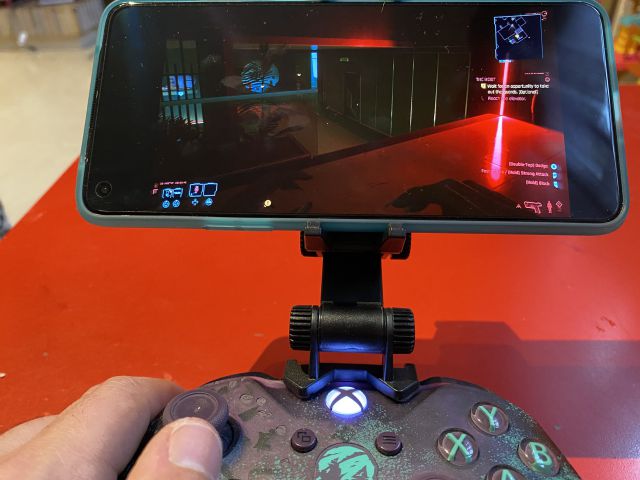 In any case, the sessions that we have done with this and other FPS show us that for the single player game, if there is no indication of low connection – that is when the platform alerts us that there is very high latency – it is perfectly playable. As a complement, it should be noted that in the mobile format we have the option to activate touch controls to speed up some actions -such as putting the password every time we start a game on Steam- and even add virtual controls, something that will not always be useful but in games more leisurely, such as strategy, can be a shortcut for certain moments.
We also wanted to test how some of those games that require an immediate response, such as fighting titles, work. The answer is similar to what we already saw on platforms like Stadia: to play against the CPU, some games where the combos and links are not too demanding, as is the case with Samurai Shodown or Granblue Fantasy VS, the platform can work and in fact , there are no problems in making combinations that we would do on PC or console. But it is true that to play online or games with a greater demand, we are still far from an experience that can really be competitive in this sense, something logical if we take into account that we are asked in some titles to execute combos in a frame.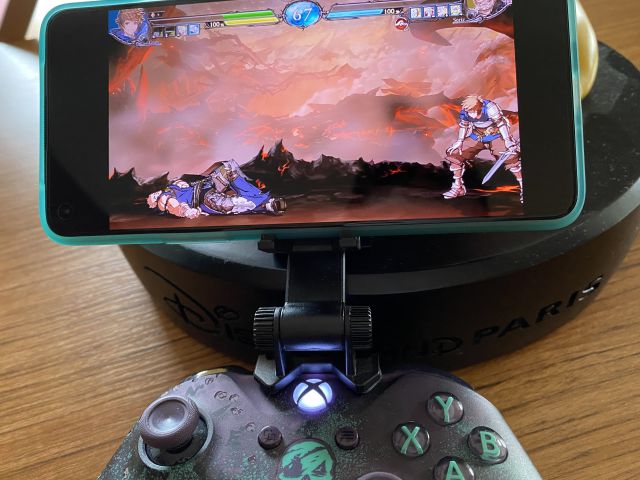 What about iOS?
It is known by all that Apple restricts this type of application for the game in the cloud, so companies have started to work to find alternatives. The one with NVIDIA GeForce Now doesn't look bad on paper, although it still has room for improvement. Basically we must enter play.geforcenow.com from the Safari browser and there, save that address as a direct access icon on our mobile. This allows us to create it as if it were the app we have on Android, and we have to admit it, with very few differences at the level of functionality. Once inside, we simply have to choose the game, load it, enter the password – always, unfortunately – and start playing.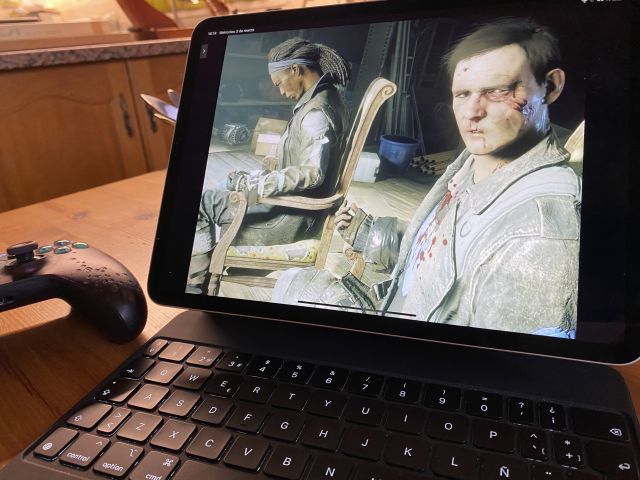 At the performance level we have not found any palpable differences with the application on an Android device, and in the iPad Pro, in fact, the graphic quality of some games is more than surprising. Unfortunately, the system is not fully adapted to each of the screens, and that shows when we are playing titles that adopt a strange format in the case of the iPad, as you can see in the screenshot just above. Surely you have to give this room for improvement, since the sizes of Apple tablets and phones have different formats, but the result in this sense can be improved. In graphic quality and latency, no complaints about it.
Is NVIDIA Cloud Gaming Worth It?
Our experience with GeForce Now has been satisfactory at the performance level on all tested devices as long as the connection is good. The fact of being connected to those games that we have in our libraries and to some of the free games of the moment (Fortnite, Warframe …) means that we can enjoy our titles beyond our usual devices, and that is always a plus. In addition, for a few weeks, every Thursday new games are announced that are added to the catalog that currently has hundreds of games.
It is true that the absence of some proposals from important developers limits the experience according to the catalog of each one, and that in the Founders payment formula, possibly the presence of free games without having them in the library would be a plus to study – seeing about all other business models in subscriptions – especially because the extra RTX graphic quality is noticeable, but speaking of streaming gaming, it is not differential nor does it get close to gaming on hardware. But we reiterate that in performance and general visual quality, GeForce Now is where it stands out and it does not have to envy other platforms. As in these cases, it will be the growing catalog and the differential factor that they manage to give to the subscription that will define a complement to take into account for the PC player.