To get this Pokémon in the Galar region completely free we will have to request our code before next July 29, 2020.
GAME Spain has announced that it will exclusively distribute a Dinamax Crystal for Pokémon Sword and Shield in Spain for a limited time, which will give us access to a confrontation against Copperajah Gigamax; A unique opportunity to add to our team the Gigamax form of this indigenous creature from the Galar region.
Limited time: promotion valid until July 29
As indicated by the chain of stores on its Spanish website, this free and free promotion for all users of Pokémon Sword or Pokémon Shield is individual (one code per player) and can be requested before July 29. With that said, let's move on to the details.
The first thing we must do is access this link and log in with our GAME account. If we do not have a GAME account, in minutes we can create one (it is not necessary to include bank details).
Then, we will see a box to enter an email; therefore, we write an email that we currently have in use to receive the code.
We accept the confirmation email that we will receive.
Within 24 hours, another email will be sent to us with the code and instructions to download it easily in our edition of Pokémon Sword or Pokémon Shield on Nintendo Switch.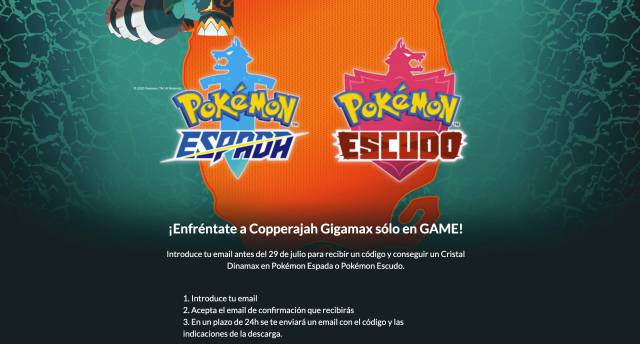 Other additional details that should be noted is that it is a promotion valid only for residents of Spain. Also, the code expires; We must redeem it in our game before September 30, 2020. Finally, it goes without saying that it is essential to have an Internet connection on our Nintendo Switch console.
Pokémon Sword and Shield have received this July 8 version 1.2.1, an update that corrects several errors, as we indicated in this news. On June 17, the first batch of content of that DLC was put up for sale, the so-called Armor Island, the Reviews of which you can read here. The second part of Las Nievas de la Corona will arrive in autumn, with cooperative raids and 100 new Pokémon from previous generations. For any questions, we invite you to read our original Reviews.
More information | GAME