The document is official and suggests that other portable devices from the company may have compatibility of some kind with the console.
Sony Interactive Entertainment has published a new patent related to the compatibility of its devices. The document, registered on February 6 with legal approval on August 20, includes an image in which several peripherals of the company appear, including PS Vita, PS VR, PS Move, keyboards or mice, which would be connected -in should it materialize— somehow with that hardware; presumably, PlayStation 5.
In the event that the usability of this patent is carried out, the different ports of the console —Bluetooth, Ethernet, Wi-Fi, USB, AV… – would be the communication channel of all those peripherals with the console, which would then be in charge to broadcast the information on the screen. As we always indicate, patents suggest applications for use: they do not have to materialize in anything.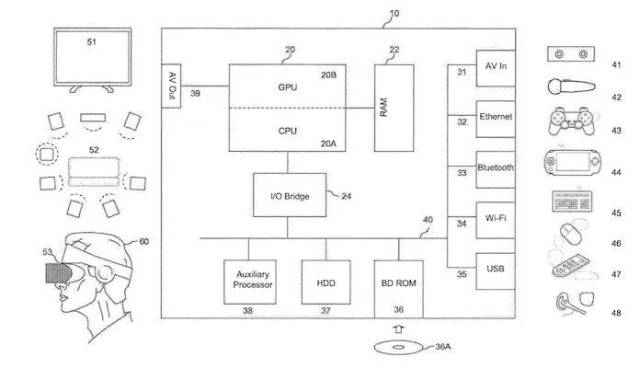 Item 44 evidences a PS Vita. Sony does not forget about the laptop.
PlayStation Vita is compatible with PS4 via Remote Play
At this time, it is unknown if the PS4 Remote Play application with PS Vita will be a reality on PlayStation 5, no matter how much this official Sony patent hints. Currently, all users of any model of PS4 and PS Vita can connect the contents of the first screen as a second screen or as a screen mirroring through streaming.
The process is really simple, similar to what Xbox One does with Android devices through Xbox Console Streaming (not to be confused with xCloud), where the information from the console is sent directly to the screen of a mobile terminal. In the case of Remote Play, with the advantage of being a device with physical buttons and a mapping adapted for all video games on the console despite the lack of L2 and R2 triggers.
PS Vita no longer has production in the market, reason why Sony considers it an obsolete product; symptoms that do not invite optimism for the development of a software application intended to be linked to PS5. If so, it would be the third console with which it would maintain some type of connection, since this functionality was already present with PS3 in the past.
PlayStation 5 will hit stores in late 2020 at an undetermined price; we also do not know their catalog of departure games.